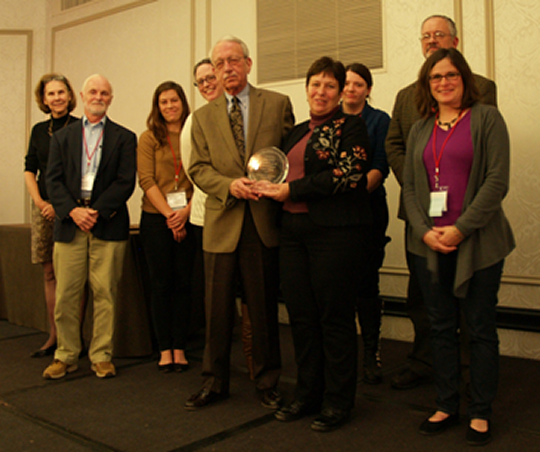 MCA Lab Director Patricia Samford and former Maryland Historical Trust Director J. Rodnet Little, along with several staff members, received the award at the conference banquet.
ST. LEONARD, Md.
(Feb. 4, 2016)—The Maryland Archaeological Conservation Laboratory (MAC Lab) received the Daniel G. Roberts Award for Excellence in Public Historical Archaeology at the Society for Historical Archaeology Conference, on January 8, in Washington, D.C.
This award, established in 2011, was created and endowed by John Milner Associates, Inc., in honor of their colleague Daniel G. Roberts. Roberts, who passed away in 2014, was one of the pioneers of public engagement in historical archaeology. The lab was honored for preserving and making accessible the state's archaeological heritage through its support of collections-based research, its expert conservation services and in sharing its work with the public in a variety of formats.
The lab was one of the first facilities in the United States built as an archaeological repository. It has emerged as one of the premier public archaeology institutions in the entire Middle Atlantic, housing some 8 million artifacts from more than 5,500 archaeological sites.
Since its opening in 1998, the lab has made 150 artifact loans to institutions throughout Maryland and the US and developed numerous small exhibits for off-site display. One of the most popular has been a traveling exhibit built around the Outlander TV show. The exhibit was developed using lab collections and has been on display at four public libraries. The exhibit has captured the interest of the show's director and costume designer and an online exhibit is in the works in conjunction with the airing of the show's second season. The lab has also been a pioneer in making its collections accessible online through its digital artifact type collection, Diagnostic Artifacts in Maryland, though the Curator's Choice webpage and through the Maryland History by the Object blog.
Educational outreach includes mentoring the Huntingtown High School Archaeology Club and working with archaeologists from St. Mary's College of Maryland to process "orphaned" collections as part of SMCM class work. The lab also sponsors an annual public archaeology program; the public is invited to participate in all phases of field and lab work. More than 2,700 people have participated in this program over the last fifteen years.
Jefferson Patterson Park & Museum, a state museum of archaeology and home to the Maryland Archaeological Conservation Laboratory, is a program of the Maryland Historical Trust, a division of the Maryland Department of Planning. It is located on 560 scenic acres along the Patuxent River and the St. Leonard Creek in St. Leonard, Calvert County, Maryland.