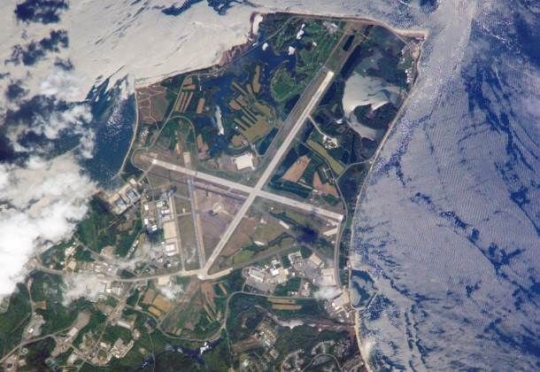 Aerial photo of Trapnell Field at NAS Patuxent River. (U.S. Navy Photo)
PATUXENT RIVER, Md.
(Feb. 1, 2016)—Major repairs are underway at NAS Patuxent River's Trapnell Field, necessitating the closure of Runway 14-32, a 9,700-foot Class B precision approach surface used by all aircraft platforms.
The work, which began in December, was necessary due to the runway's deteriorated pavement condition.
"It was determined [by the Public Works Office] after extensive testing, that the condition of Runway 14-32 was poor," said Cmdr. Tony Rojas, air operations officer. "Of the two main runways at NAS Pax River, it is the runway that needed to be repaired first."
More than $60 million in repairs has been planned for the installation's runways and will be carried out over three phases, withrunway 14-32being Phase One. This initial portion of the project, costing $22 million, is expected to be completed in October.
In addition to the runway, Phase One repairs also include rehabilitation of pavements, overruns and catapult access; reconstruction of threshold and arresting gear slab; and storm drainage infrastructure repairs.
Impact to operations, community
The runway closure requires tenant commands to make adjustments.
"They're having to adjust flight schedules and put forth that extra effort to meet deadlines for test phases on various test platforms," Rojas explained. "We're also adjusting and putting in that extra effort to complete the current class of students at [the U.S. Naval Test Pilot School]. As the primary naval air station for NAVAIR test and evaluation, it is mission critical that we continue to run flight operations during runway repairs to the best of our ability."
During the closure, Runway 06-24 will be the installation's exclusive operating runway and NAS leadership and representatives recently presented the St. Mary's County Board of County Commissioners with information regarding this project and the projected increase in flights over Lexington Park, as a result.
"We expect a similar number of operations during this construction and are ensuring we let our neighbors know," Rojas said. "We are taking every step imaginable, and have procedures in place, to avoid any inconvenience to our neighbors."
Pax River's runways see roughly 120,000 to 150,000 flight operations each year.