Maryland Comptroller Encourages Nursing Students on Future Employment
During his visit to Charles County Feb. 1, Maryland Comptroller Peter Franchot toured the College of Southern Maryland and was briefed on college programs by CSM President Dr. Brad Gottfried, CSM Trustee Chair Dorothea Smith, Calvert Commissioner Steve Weems and Charles County Registrar of Wills Loraine Hennessy.
During the briefing on CSM's new Regional Campus which will house the Center for Trades and Energy Training (CTET), Franchot said, "The private sector is desperate for trained people. The economics is changing—these blue collar jobs used to be looked down on in favor of a college education. These are good jobs, high paying jobs." CTET will be moving from an 18,000 square-foot leased facility in Waldorf to a 30,000 square-foot facility in Hughesville.
Future plans for the Regional Campus include a Health Sciences facility accessible to students from throughout Southern Maryland. "Our goal is to centralize programs, such as health sciences, that would be too expensive to replicate on each campus," said Gottfried.
Franchot also visited the classroom of Professor Kathleen Parsons where he told third-semester nursing students that the economy is changing and that future growth in jobs will be in healthcare.
CSM Dean Recognized for Service to St. Mary's County
The College of Southern Maryland's Vice President/Dean of the Leonardtown Campus Dr. Tracy Harris was recognized by the Commissioners of St. Mary's County for his service on the Sheriff's Office Retirement Pension Plan Board and the Economic Development Commission. The ceremony, held during the Commissioners' Jan. 26 meeting, was to recognize the volunteers involved on St. Mary's County Government's various boards, commissions and committees.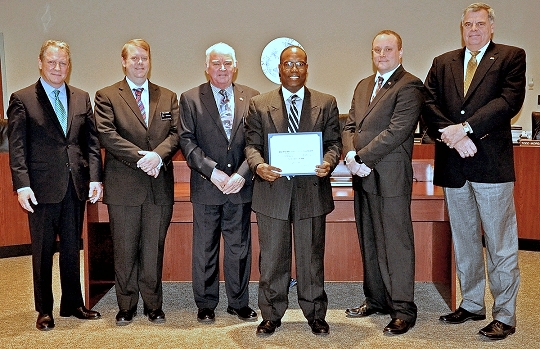 Dr. Tracy Harris, third from right, with the commissioners of St. Mary's County. (Photo provided by St. Mary's County Government).