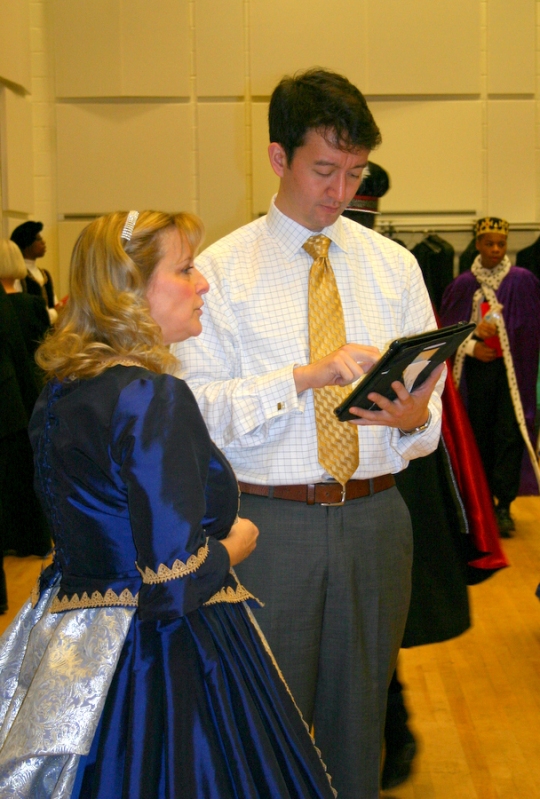 Geoffrey Silver, chorus master of The Washington Chorus with Director T.C. Mazzeo.
LA PLATA, Md.
(Jan. 27, 2016)—With more than 2,000 filled seats, 200 professional voices, professional instrumentalists, and a Grammy-nominated music director—it's pretty much every singer's dream. And that dream is now a reality for the members of the McDonough High School Chamber Choir.
For five December performances, the 19 students of the Madrigal Lords and Ladies (the Chamber Choir's official name) and their Music Director T.C. Mazzeo, were the special guests of The Washington Chorus' annual "A Candlelight Christmas" program at the Kennedy Center in Washington, D.C. and the Strathmore Music Hall in Bethesda, Md.
"I was just in awe—it was indescribable, because this is a really great opportunity," said McDonough senior Noah Perry, who hopes to someday be a music therapist or a music teacher. "Few have the opportunity to go to the Kennedy Center and for us to be able to perform here by ourselves and with The Washington Chorus is amazing."
The invitation by The Washington Chorus is an opportunity that may only come around once for a few, select high school choirs, but for McDonough, this is their second time around.
"This is the 24th year of The Washington Chorus' Side-by-Side program at the Kennedy Center," said Dianne Peterson, executive director of The Washington Chorus. "In all those many years, I don't remember a high school ensemble that, in addition to their amazing talent, radiates such joy among themselves and shares that special spark with everyone around them… on or off the stage."
The Chorus offers numerous educational programs, including the Side-by-Side High School Program, which brought McDonough's top singers to the prestigious Concert Hall in the Kennedy Center.
"One of my favorite educational programs that we do at The Washington Chorus is working 'side by side' with a high school each year for our Christmas shows at the Kennedy Center," said Geoffrey Silver, chorus master of The Washington Chorus. "Observing the excitement and growth of each of these young singers across the course of the run of shows is infectious—for the audience and our own choristers—and for me. We get to hear the very best of small ensemble singing and the results of weeks and weeks of hard work spent memorizing and rehearsing—and they get to hold their own as part of a chorus of nearly 200, with our Music Director Julian Wachner."
Through the Side-by-Side program, the students performed a four-song set of their own as the audience and the Chorus looked on and then the students moved into position with the 200-plus professional voices of The Washington Chorus, which is a three-time nominee and two-time Grammy Award-winner.
"I've come here three times to see shows and operas, so it's really cool to be back here and see what's behind the scenes," said McDonough senior Amanda Unzicker, who performed a solo during the McDonough set. "It's been great to actually communicate with professionals. He's (TWC Music Director Julian Wachner) amazing. I talked to him because I thought I was going to do opera, but I'm pursuing musical theatre—that's what I really love."
The top McDonough singers had the opportunity to interact with and learn from both Silver, a choral specialist and tenor who was a boy chorister at Westminster Abbey and later sang at Cambridge University, and Wachner.
Wachner is a Grammy-nominated conductor who is also the Director of Music and the Arts at New York's historic Trinity Wall Street Church. Immediate past season highlights include his San Francisco Opera debut conducting Handel's Partenope; Handel's Messiah at Lincoln Center; Beethoven's Missa Solemnis at the Kennedy Center; Charles Ives' Fourth Symphony and Ginastera's Turbae and Passionem Gregorionam at Carnegie Hall.
Director TC Mazzeo, "was shocked when Julian Wachner invited us back to sing with The Washington Chorus again this year. Wachner explained that the 2011 Madrigal performance with TWC made such an impression that he and the board wanted us back to sing again. With the pressure on, the chamber choir members started rehearsals last June to prepare. All the dedication and commitment to excellence paid off as the performances were magnificent. It was a thrill and I am one proud music teacher!"
For more information about McDonough's music programs, contact Ms. TC Mazzeo at bmazzeo@ccboe.com.