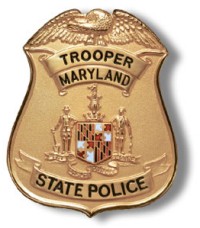 PRINCE FREDERICK, Md.
(Jan. 25, 2016)—The Prince Frederick Barrack of the Maryland State Police (MSP) today released the following incident and arrest reports.
BURGLARY: On 1/20/2016 at 9:55 am, Trooper Megelick responded to the 900 block of Main St. for a reported burglary. A rear window of the home had been broken to gain entry into the residence. Items had been moved and some items were missing from inside the home. Investigation continues.
POSSESSION WITH INTENT TO DISTRIBUTE: On 1/20/2016 at 6:28 pm, Master Trooper Gill stopped a vehicle on Rt. 4 south of Ball Rd. in St. Leonard for traffic violations. The odor of fresh marijuana was emitting from inside the vehicle. A probable cause search revealed 24.5 grams of marijiuana. Matthew M. L. Truitt, 23 of St. Leonard, was arrested and incarcerated at the Calvert County Detention Center.
DESTRUCTION OF PROPERTY: On 1/21/2016 at 9:16 am, Trooper First Class Lewis responded to the 1100 block of Lake Ridge Dr. in Sunderland for a destruction of property complaint. The victim reported that an unknown vehicle had run off the road on his street and drove into his railroad ties which bordered his driveway causing damages. Investigation continues.
DUI ARREST: John D. Barnes, 49, of North Beach, arrested on 01/19/2016 @ 09:38 pm by TFC T. Newcomer.
Disclaimer: In the U.S.A., all persons accused of a crime by the State are presumed to be innocent until proven guilty in a court of law. See: http://so.md/presumed-innocence. Additionally, all of the information provided above is solely from the perspective of the respective law enforcement agency and does not provide any direct input from the accused or persons otherwise mentioned. You can find additional information about the case by searching the Maryland Judiciary Case Search Database using the accused's name and date of birth. The database is online at http://so.md/mdcasesearch . Persons named who have been found innocent or not guilty of all charges in the respective case, and/or have had the case ordered expunged by the court can have their name, age, and city redacted by following the process defined at http://so.md/expungeme.