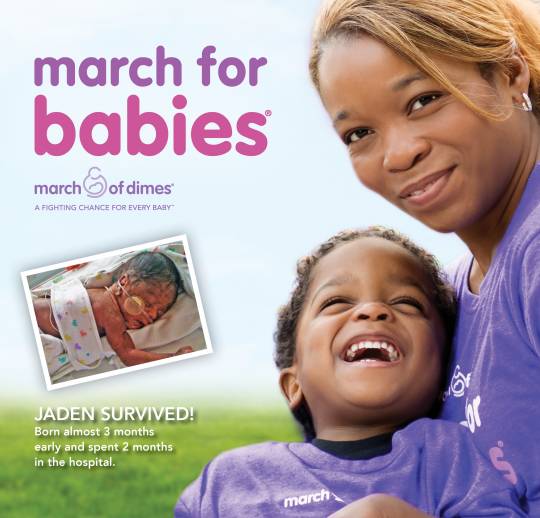 Promotional graphic for the March of Dimes March for Babies campaign.
ST. CHARLES, Md.
(January 20, 2016)—St. Charles Vice President of Public Affairs and Community Relations, Craig Renner, has accepted the role of 2016 March for Babies Co-Chair in Southern Maryland, along with Pat Day, GM of the Southern Maryland Blue Crabs and the New Britain Bees. Renner and Day will play integral roles in raising awareness and funds to advance the lifesaving research, education and programs at the core of the March of Dimes effort to find causes and preventions for preterm birth, birth defects and infant mortality.
"Craig has played a leadership role in the March of Dimes March for Babies for many years, recognizing the impact that this organization has on providing hope to nearly half a million babies and their families each year," said St. Charles Companies President, Matthew Martin. "We appreciate the dedication he has shown and are honored to support his efforts."
The March of Dimes is working hard to help women have full-term pregnancies and healthy babies. March for Babies is their largest annual fundraising event. It gives hope to nearly half a million babies born too soon each year in the United States.
"Premature birth is the leading cause of newborn death. It affects one in eight babies in Maryland," said Renner. "We hope everyone comes out to support this year's event and helps us raise our goal of $45,000 in new revenue."
Last year, more than 1,000 people attended March for Babies in Southern Maryland and raised over $160,000. Renner and Day have committed to raising approximately $45,000 in new revenue as part of this year's March for Babies goal of $169,000. They will also focus on recruiting new companies to participate and lead the community in making a difference for the health of moms and babies.
"We are grateful for both Pat and Craig's commitment and excited to have their continued support of our mission," said Jennifer Abell, Suburban Maryland Division Director for the March of Dimes Maryland-National Capital Area Chapter. "Their passion and commitment to helping the smallest and sickest of babies will be a huge driving factor in the success of our event."
March for Babies will be held on Sunday, May 1 at Regency Furniture Stadium in Waldorf. Visit www.marchforbabies.org to start a team with co-workers, family and friends or to make a donation.
March for Babies 2016 is sponsored locally by the University of Maryland Charles Regional Medical Center, The St. Charles Companies, Southern Maryland Blue Crabs, Calvert Memorial Hospital, SMECO, Outdoor Landscaping Services, Inc., MedStar Southern Maryland Hospital, MedStar St. Mary's Hospital, The Apartments of St. Charles, Safeway and Subway.