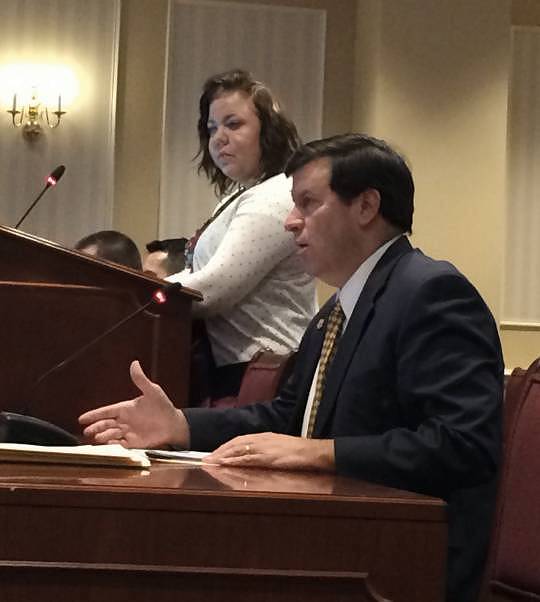 Sen. Bryan Simonaire, R-Anne Arundel, presents the Stolen Valor Act of 2016 at the Senate Judicial Proceedings Committee meeting in Annapolis on January 19, 2016. (Photo by Leo Traub)
ANNAPOLIS
(Jan. 19, 2016)—Two bills introduced Tuesday before the Maryland Senate Judicial Proceedings Committee would expand protection from civil liability to anyone who uses reasonable force to remove a child or animal from a dangerously hot car.
The current law protects rescue and medical personnel, such as members of fire department and ambulance squads, but these bills would allow any pedestrian to get involved without fear of civil repercussion, said Sen. Bryan Simonaire, R-Anne Arundel, the bills' sponsor.
A child can die after sitting in a car for 10 minutes in 90 degree weather, said Simonaire, and there is not always time to wait for emergency services. Before death, other injury to the child can result from sitting in a hot car, including cramps and heatstroke, he said.
The two bills would also provide protection to car owners by only granting civil immunity to pedestrians who act in accordance with certain criteria of responsibility, Simonaire said.
"If they didn't call the police—that's one of the things you would have to do," said Simonaire. "Or if you use excessive force where you broke all of the windows in the car—that would not qualify you for immunity."
The bills could cause more mischief than they prevent, because they provide unnecessary immunities, said Camille Fesche, a government policy consultant for Maryland Association for Justice.
"Nobody has an example of a case where a person was sued because they rescued a dog or a cat or a child. This is not a problem," said Fesche. "People will react when they see an emergency. They will call 911. They will try to open the car door. They will frantically try and find the owner or the parents."
Another bill Simonaire is sponsoring, called the Stolen Valor Act, establishes criminal penalties for anyone who falsely represents themselves as a member of the military or as a recipient of military awards when trying to obtain property, money, or other benefits.
Such benefits include monetary discounts, such as airline upgrades, said Simonaire.
"Our men and women are making the ultimate sacrifice for us, so the least we can do is stand up for them," said Simonaire.