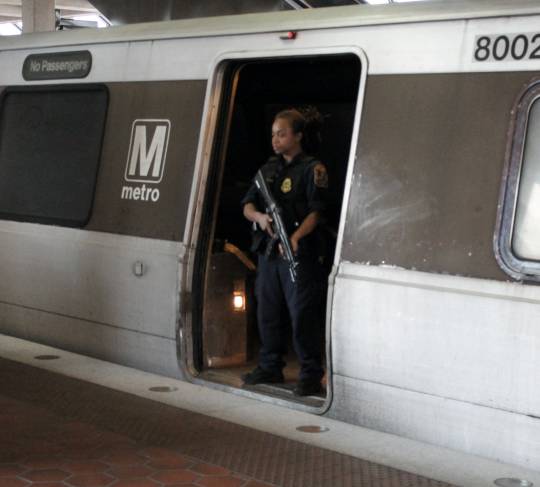 Metro Transit Police at WMATA West Falls Church-VT/UVA Station at 7040 Haycock Road in Falls Church VA on Sunday afternoon, 2 September 2013 (Photo: Elvert Barnes Photography via Flickr, (CC BY-SA 2.0))
ANNAPOLIS
(Jan. 19, 2016)—Paul Wiedefeld, the general manager of WMATA, knows riders don't trust the Metro.
Wiedefeld has been in his position since late November, and on Tuesday he briefed Maryland's House Environment and Transportation Committee.
"From a riders' perspective, we've lost credibility as an agency," Wiedefeld said.
Wiedefeld said he wants to improve both safety and connectivity on the system, which includes installing a 700 megahertz radio system so police and first responders can communicate in the tunnels.
The Metrorail System has come under scrutiny after a woman died from respiratory failure when her Metro car filled with toxic smoke outside L'Enfant Plaza in January 2015. Issues with the radio signals in the tunnels slowed firefighters' response to the incident.
The problem is that the entire system needs to be in place before it can be turned on in order to have redundancies, so Wiedefeld anticipated it wouldn't be ready for a few years.
"I'd like to see it a little faster than a few years," said Delegate David Fraser-Hidalgo, D-Montgomery.
Wiedefeld said he is working with cell phone carriers to expand reception into the tunnels. Unlike the radio system, cell service can be turned on as the cables are hung, instead of all at the end, so improved cell service will likely come before a radio system.
Wiedefeld said Metro will begin that project shortly, once the agency finalizes an agreement with the carriers. He noted that Metro is ahead of other transit systems because there is cell phone service at all of the stations, a feat the New York City subway system has yet to accomplish.
Another problem with the Metrorail system is its aging fleet. There are plans to update it with 738 new cars—the 7,000 series—that have a moving map display and a PA system throughout the compartment.
The problem, Wiedefeld said, is that Metro has only accepted 84 of the cars from the manufacturer, Kawasaki Industries.
"They're not coming off the production line in the state that we want them to, so when they come to us in that condition, we're, in effect, doing a lot of design and engineering on those, which is unacceptable," Wiedefeld said.
Metro will also be able to purchase parts faster for 70 old rail cars in need of repair by using its own money instead of going through federal procurement procedures.
Safety is one of Wiedefeld's primary concerns. He says there are now firefighters at every rail operation center, improved tunnel ventilation and regular drills with first responders.
Currently, the Federal Transit Authority is overseeing Metro safety, but that is supposed to be handled by an independent body, according to federal regulations. The Metropolitan Safety Office needs to be created with the approval of Maryland, Virginia and District lawmakers. Nationally, states have two years to create an independent body for oversight,according to Wiedefeld.
The process of single-tracking certain lines for maintenance midday is also coming under review. In New York City, Wiedefeld said, entire lines or stations will be shut down in order to "get in and get out," as opposed to keeping trains running less frequently while work is done on the Metro. He said he hoped the study would produce some suggestions for improvement in the near future.
He also noted that the Metro alert system is often wrong, and it should improve once the transit agency starts determining whether trains are on time based on when individual passengers' "tap in and tap out" of stations, as opposed to timing train movements.
"I think that fixing the system is going to be a long-term project," House Majority Leader Delegate Kumar Barve, D- Montgomery, said.