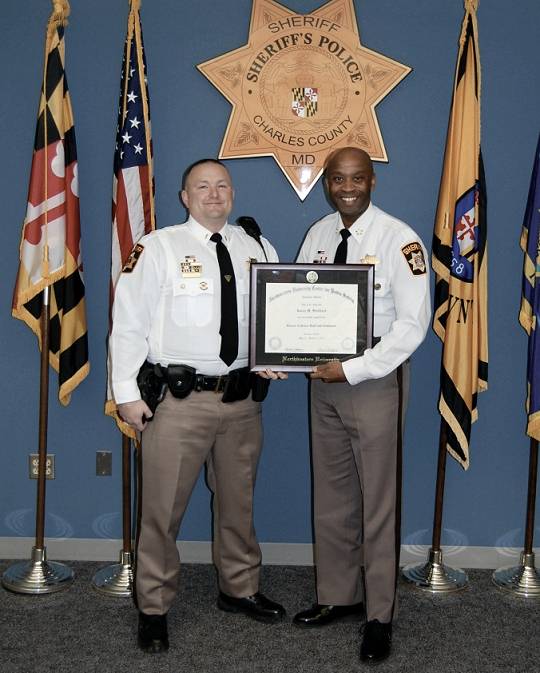 Lieutenant Jason Stoddard and Sheriff Troy D. Berry. (Submitted photo)
Lieutenant Jason Stoddard Graduates from Northwestern University Program
The Charles County Sheriff's Office recognized Lt. Jason Stoddard for his recent graduation from Northwestern University's Center for Public Safety School of Police Staff and Command. The 22-week program provides upper-level college instruction in courses such as Leadership, Human Resources, Employee Relations, Organizational Behavior, Applied Statistics, Planning and Policy Development, Budgeting, and Resource Allocation. "We take pride in our employees who further their education in areas that will expand their talent and knowledge as it relates to the mission of the Sheriff's Office. Lt. Stoddard did this on his own time, after hours, and while raising a family," said Sheriff Troy D. Berry.
In addition to completing the rigorous School of Police Staff and Command, Lt. Stoddard also earned his Bachelor's degree in 2015 and anticipates finishing his Master's degree by the end of 2016. In his 18 years with the CCSO, Lt. Stoddard has gained work experience in many areas including Patrol, Crime Prevention, Community Policing, North Point's Criminal Justice Program, School Resource Office, Joint Terrorism Task Force, and Homeland Security. He worked as a Sergeant in Patrol and, when he was promoted to Lieutenant, served as a Special Operations Commander and Patrol Commander. Lt. Stoddard serves as a leadership instructor for the Maryland Police and Correctional Training Commission's First Line Supervisors and First Line Administrators Program, as well as an adjunct professor at the College of Southern Maryland where he teaches Police Management and Supervision. "With the national attention that our line of work is receiving, this is an exciting time for law enforcement officers to more closely examine what we do," said Lt. Stoddard. "Exposure, education, evaluation, reflection and change are important so that our profession will remain effective in an ever-changing society."
Captain RJ Williams, Patrol Commander of the North Division and Lt. Stoddard's immediate supervisor, said, "Lt. Stoddard is an asset to our agency and to the community in which he serves. It speaks volumes that he took time out of his personal life to be a student in this program."
"Lt. Stoddard's dedication to this agency and to his law enforcement career is evident by his initiative and willingness to go beyond what is expected," said Sheriff Berry. "We encourage our employees to always look for ways to grow through training and education. By participating in these types of programs, we improve our ability to better serve in our communities."
The Center for Public Safety was established at Northwestern University in 1936 with the specific goal of expanding university-based education and training for the law enforcement community. Each student is academically challenged through written examinations, projects, presentations and quizzes in addition to a staff study paper. Upon successful completion of the program, students are awarded six units of undergraduate credit from Northwestern University.
Incident and Arrest Reports
TWO CHARGED WITH POSSESSION WITH INTENT TO DISTRIBUTE DRUGS: On Jan. 16 at 8:35 p.m., Officer C. Chamblee was patrolling the 11700 block of Business Park Drive in Waldorf when he observed a suspicious vehicle. Upon approaching the driver's side window, Officer Chamblee noticed the driver was holding a bag of suspected cocaine. He also detected a strong odor of marijuana. Further investigation led to the discovery of more cocaine and drug distribution paraphernalia in the vehicle. Michael Blake Wiley, Sr., 31, and Aaron Damon Williams, 24, both of Waldorf, were arrested and charged with possession with the intent to distribute a controlled dangerous substance.
THEFTS FROM AUTOS: On Jan. 16, during the overnight hours, two cars parked in the area of Green Meadows Drive and Lox Street in Indian Head were broken into. Officers conducted a neighborhood canvass and located a witness who reported seeing two males looking inside cars during that time; they may have been driving a white vehicle. PFC R.R. Smith is investigating.
ASSAULT: On Jan. 15 at 1 p.m., officers responded to the 2700 block of Hadley Drive in Waldorf for the report of an assault. Investigation showed several teens arrived at a house on Hadley Drive, broke in, and began arguing with several teens who were inside. An altercation ensued and one of the teens, a 15-year-old male, was stabbed in the abdomen. He was transported to a hospital with injuries that were later determined to be non life-threatening. It appears the altercation stemmed from an ongoing dispute. Det. J. Austin is continuing the investigation.
Disclaimer: In the U.S.A., all persons accused of a crime by the State are presumed to be innocent until proven guilty in a court of law. See: http://so.md/presumed-innocence. Additionally, all of the information provided above is solely from the perspective of the respective law enforcement agency and does not provide any direct input from the accused or persons otherwise mentioned. You can find additional information about the case by searching the Maryland Judiciary Case Search Database using the accused's name and date of birth. The database is online at http://so.md/mdcasesearch . Persons named who have been found innocent or not guilty of all charges in the respective case, and/or have had the case ordered expunged by the court can have their name, age, and city redacted by following the process defined at http://so.md/expungeme.