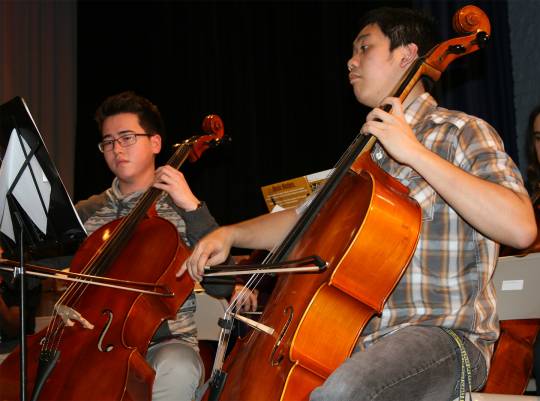 Cello players Aaron Abshire, left, a junior at North Point High School and Gabriel Gonzales, a senior at North Point, were named to the tri-county orchestra.
LA PLATA, Md.
(Jan. 15, 2016)—Something spooky loomed over rehearsals Jan. 8 for Charles County Public Schools (CCPS) middle school musicians named to the Tri-County Orchestra.
The group—made up of violin, cello, bass and viola players from Charles, Calvert and St. Mary's counties—was practicing "Gauntlet," a piece by Doug Spata that ratchets up the suspense before easing the listener into a springy melody.
"See how sneaky that sounds," asked Sandy Goldie, guest conductor who is a string music education assistant professor at Virginia Commonwealth University. "Like something is definitely going to happen."
Music was definitely happening at Thomas Stone High School where the orchestra rehearsed.
In addition to "Gauntlet," the middle school musicians took on "Lullaby" by William Hofedlt, "Deep River" by Carrie Lane Gruselle, "1812 Overture" by Pyotr Ilyich Tchaikovsky arranged by Sandra Dackow, "Blue Rhythmico" by Kirt N. Mosier and "Aeolius" by Margaret Fenske.
Practice makes perfect
Practices leading up to the Tri-County Band, Chorus and Orchestra concerts held Jan. 10 in Calvert took place around Southern Maryland.
While CCPS had middle and high school orchestras, the chorus was hosted in St. Mary's and the band rehearsed in Calvert.
Sarah Jester DelSignore, with Allison Ernst as the accompanist, conducted the middle school chorus. The students sang "Can You Hear" by Jim Papoulis, "Clap Your Hands and Sing!" by Mary Lynn Lightfoot, "Just like Clockwork!" by Greg Gilpin, "Morokeni (Greeting Song)" arranged by Bernard Kruger and "Three a cappella Latin settings" by Jerry Estes.
Karen Keating conducted the high school chorus and Erin Tennyson was the accompanist. The students performed "How Lovely are the Messengers" by Felix Mendelssohn, "I'm a Train" by Albert Hammond and Mike Hazelwood arranged by Peter Knight, "Musik Der Nacht" by Johann Strauss and arranged by Bob Chilcott, "O Shenandoah" by Chilcott, "Stars I Shall Find" by David Dickau and Handel's "Zadok the Priest."
Guest conductor Lori Schwartz Reichl directed the middle school band, which is made up of brass, woodwinds and percussion musicians. It performed "Fanfare for the Third Planet" by Richard Saucedo, "Celebration for Winds and Percussion" by James Swearingen, "An American Hymntune (Amazing Grace)" arranged by Robert Sheldon, "Homeward Bound" arranged by Brant Karrick, "Shaker Variants" by Eliot Del Borgo and "Unity March" by Steve Hodges.
Brian Balmages was the guest conductor for the high school band which performed "La Tregenda" by Giacomo Puccini arranged by Brian Beck, "Endless Rainbows" by Balmages, "Suite Provencale" by Jan Van der Roost, "Melodious Thunk" by David Biedenbender, "Shine" by Michael Markowski and "March of the Trolls" by Edvard Grieg arranged by Beck.
Raising the bar
The tri-county program has been around for about 30 years when music programs in the three counties were so small, combining the groups for a concert was the best way to highlight the musically talented students in the area, said Timothy Bodamer, content specialist in fine and performing arts for Charles County Public Schools.
While the music programs grew, the tri-county concerts continued.
Students in the tri-county groups audition for a spot. Orchestra students play scales from memory; perform a prepared piece and sight-read music for their school music teachers.
"This is above and beyond what they do in a classroom," Bodamer said. The students who make the cut are usually the ones who take music quite seriously. "This is their thing," Bodamer said. "This is what they're good at."
Being named to a tri-county group also presents a challenge.
In school, music class is based on grade levels, not ability levels, said David Somerville, a music teacher at Mattawoman Middle School.
The tri-county program takes the best musicians and puts them with others who play at their level or higher. It ups the challenge, which the students rise to, Somerville said.
In a regular classroom, students are given music in September that they will typically perform during a December concert.
For the tri-county band, chorus and orchestra, pieces are handed out Friday morning to groups of students blended from schools in three counties and by Sunday afternoon they are on stage performing for an audience.
Musicians are used to working together to create a sound, Bodamer said. "There is team work, communication," he said. "The violin has to know what the bass is doing. They have to fit together."
The tri-county orchestra has about 80 middle school students and 60 high school students. The chorus has about 120 middle schoolers and more than 100 high school singers. The band boasts around 70 middle school students and 70 high schoolers.
Josael Andujar, a Mattawoman seventh grader, has been playing violin for about three years. "My dad wanted me to play," he said. "And I thought it would be cool to play in the orchestra."
The high school orchestra rehearsed on Thomas Stone's stage, under the direction of Simeone Tartaglione, a clinical assistant professor at Catholic University. The musicians performed "The Barber of Seville" by Gioacchino Rossini, arranged by James "Red" McLeod, "Pirate of the Caribbean" by Klaus Badelt, arranged by Ted Ricketts and "Serenade in C Major Opus 48 IV Mvt" by Pyotr Ilyich Tchaikovsky, arranged by McAlister.
The group also performed "Bach Aria from Suite #3" arranged by John Peter Petrucci.
Tartaglione directed students to interject longing into their performance of the piece.
"When something in beautiful, you don't want it to end," he said. "This piece is ending, and it's a shame."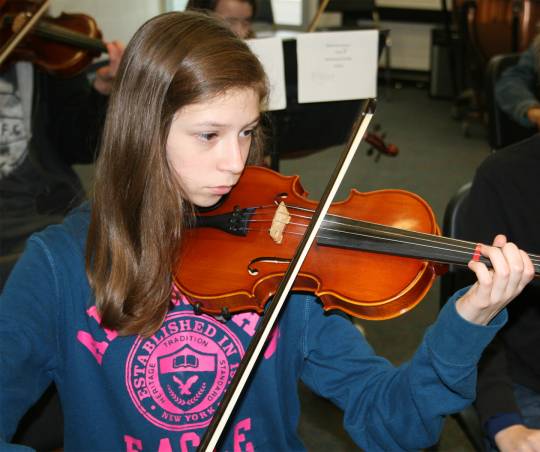 Serenah Illick, an eighth grader at Milton M. Somers Middle School, concentrates on playing "Gauntlet" during Tri-County Orchestra rehearsals held in early January.