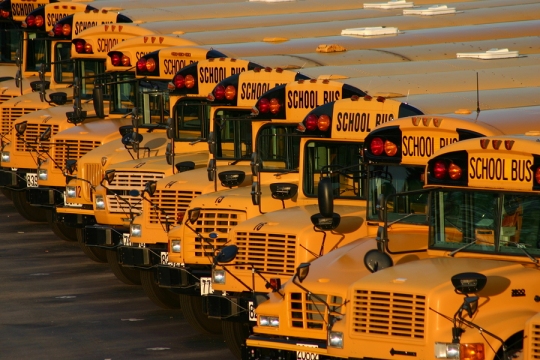 School buses lined up in a parking lot.
LA PLATA, Md.
(Jan. 14, 2016)—Charles County Public Schools saw an increase of 49 students this school year.
The official enrollment count for the 2015-16 school year stands at 26,307 students, a jump from 26,258 last year. This is the first time in four years enrollment grew in the county.
Mary H. Matula Elementary School had the largest primary school enrollment with an additional 65 students bringing the total to 633. C. Paul Barnhart Elementary School's enrollment went up to 610 students, Berry Elementary School enrollment increased to 877 students, J.P. Ryon Elementary School's student population grew to 620 students and Gale-Bailey Elementary School's enrollment is 357 students.
Milton M. Somers Middle School grew to 996 students and Matthew Henson Middle School enrollment went up to 704 students this year. Piccowaxen Middle School's student body is made up of 439 children.
With the addition of a senior class, St. Charles High School has the second largest enrollment in the county with 1,264 students, behind North Point's 1,814 students. Thomas Stone has the third highest enrollment with 1,204 students.
Of the more than 26,300 students enrolled, 54.3 percent are African-American, 28.2 percent are white, 6.9 percent are Hispanic, 6.8 percent are multiracial and 3.1 percent are Asian, according to enrollment reports. Native Americans make up 0.5 percent of the student population and 0.2 percent of students are native Hawaiians.
Throughout the state, enrollment in public schools has been on the upswing, according to a Maryland State Department of Education news release. Nearly 880,000 students attend public schools in the state, hitting a new record, the release states.
Of the 24 school systems in Maryland, 12 reported an increase in enrollment. Public schools in the state have seen an enrollment increase of 35,740 students since 2008.
Source: Charles County Public Schools