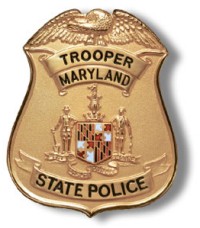 PRINCE FREDERICK, Md.
(Jan. 11, 2016)—The Prince Frederick Barrack of the Maryland State Police (MSP) today released the following incident and arrest reports.
DUI, POSSESSION OF OXYCODONE: On 1/6/2016 @ 05:29 pm, Trooper First Class Barlow responded to the 12000 block of HG Trueman Rd. in Lusby for a possible auto accident. TFC Barlow located the accident and assessed the driver, Susanne Yurchik, 58 of St. Leonard was not injured. A moderate odor of an alcoholic beverage was emitting from Ms. Yurchik's breath. The Standardized Field Sobriety Test was performed and it resulted in Ms. Yurchik being arrested for DUI. A search incident to the arrest located Oxycodone in the vehicle for which she did not have a prescription. Ms. Yurchik was incarcerated at the Calvert County Detention Center.
DISORDERLY CONDUCT: On 1/9/2016 at 11:52 am, Trooper Warrick responded to the Sear's building in Prince Frederick for a reported disorderly subject. Sean L. Braziel was located in the store. A strong odor of alcohol was emitting from Braziel's breath and person. Investigation revealed Braziel had previously been shouting and acting in a disorderly manner at Prince Frederick Dodge next door to the Sear's store. When someone called 911 to report his disturbance, he ran out of the store. He was placed under arrest for Disorderly Conduct. Braziel was incarcerated at the Calvert County Detention Center.
DUI Arrests
Ryan M. Cox, 31, of Lusby, arrested on 01/05/2016 @ 08:07 am by TFC S. Matthews
Susanne F. Yurchik, 58, of St. Leonard, arrested on 01/06/2016 @ 05:29 pm by TFC S. Barlow
Nicole C. Langerman, 35, of Lusby, arrested on 01/07/2016 @ 11:24 pm by TFC C. Esnes
Nicholas E. Large, 34, of Dunkirk, arrested on 01/09/2016 @ 04:03 pm by TFC T. Newman
Clifford D. Tompkins, 54, of Huntingtown, arrested on 01/10/2016 @ 12:37 am by TPR. P. Kaitz
John F. Armour, 31, of Port Republic, arrested on 01/10/2016 @ 10:45 am by TFC S. Casarella
Kiarah A. Gonyo, 21, of Huntingtown, arrested on 01/10/2016 @ 08:44 pm by TFC T. Newman
Disclaimer: In the U.S.A., all persons accused of a crime by the State are presumed to be innocent until proven guilty in a court of law. See: http://so.md/presumed-innocence. Additionally, all of the information provided above is solely from the perspective of the respective law enforcement agency and does not provide any direct input from the accused or persons otherwise mentioned. You can find additional information about the case by searching the Maryland Judiciary Case Search Database using the accused's name and date of birth. The database is online at http://so.md/mdcasesearch . Persons named who have been found innocent or not guilty of all charges in the respective case, and/or have had the case ordered expunged by the court can have their name, age, and city redacted by following the process defined at http://so.md/expungeme.