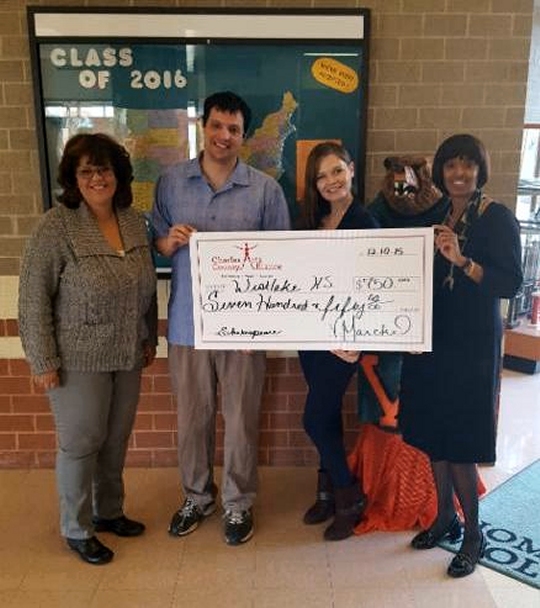 Charles County Arts Alliance Board Member Vicki Marckel (third from left) presents the check for $750 to Westlake High School representatives (from left) Marie Westhall, James Mascia and Ruth Carter.
On December 10, the Charles County Arts Alliance presented a check in the amount of $750 to Westlake High School to support a unique educational partnership between the Westlake English Department and the renowned Shakespeare Theatre Company in Washington, DC. The partnership was the brainstorm of English Teacher James Mascia.
Approximately 80 Westlake students will be reading the play 'Othello' by William Shakespeare, and attending workshops at Westlake presented by Shakespeare Theatre Company teaching artists. When the students have finished reading and analyzing the play, they will be tasked with researching and putting together a scene (including sets, costumes, directing, acting, etc.) to perform onstage, first at Westlake High School, and then at the Shakespeare Theatre Company.
"We are proud to be supporting this very unique and innovative educational experience for Westlake High School students in Charles County," said Arts Alliance President Robert Rausch. "The students will not only delve into the world of Shakespeare and perform 'Othello' onstage at Westlake, but also have the rare and exciting opportunity to perform it onstage at the Shakespeare Theatre Company's own theater in Washington, DC."
Founded in 1986, the critically acclaimed, award-winning Shakespeare Theatre Company has dedicated itself to becoming the nation's premier classic theatre.
Originally named the Shakespeare Theatre at the Folger Shakespeare Library, the Shakespeare Theatre Company's first production, 'Romeo and Juliet,' directed by Michael Kahn, opened in 1986. In 1992, it moved to its new performance space—the larger, more adaptable 451-seat Lansburgh Theatre located in Washington's Penn Quarter neighborhood. In 2007, it opened 774-seat Sidney Harman Hall, featuring a flexible stage that can accommodate theatre, dance, music and film. Together, the Lansburgh Theatre and Sidney Harman Hall comprise the Harman Center for the Arts, a dynamic hub of activity that showcases the Shakespeare Theatre Company as well as outstanding local performing arts groups and nationally-ranked theatrical organizations.
Arts Alliance Opens New Winter Art Show at Waldorf West Library
Show Runs from January 11 to April 2
"Meet the Artists" Public Reception Saturday, January 16, 2:00 to 4:00 pm
The Charles County Arts Alliance presents a new winter art exhibit at the Waldorf West Library, showcasing 31 artists and 51 works of art. This is the 13th Alliance-sponsored art exhibit at Waldorf West since the library opened in 2012. The artworks will be displayed in four separate gallery spaces which include the main conference room on the first floor, and two study rooms and wall space in the Fiction Section on the second floor.
On Saturday, January 16, the Arts Alliance will host a "Meet the Artists" Public Reception, from 2:00 to 4:00 pm, to honor all the artists participating in this show. The public is invited to this event, and will have a chance to meet the artists while viewing their works on display throughout the Library. Light refreshments will be served.
The show's theme was open to the artists and includes works from: Ibrahim Badru, Beverly Adams, Theresa Alo, Sar'där Aziz, John T. Blakeney, Suzanne Cassidy, William Cassidy, Dorothy Crown, Andy Dixon, Cecelia Dunay, Gina Durgin, Donald Faust, Henry L. Font III, William Gibson, Roxana Gonzales, Debbie Grafton, Deborah Harkins, Lonnie Harkins, Gordon Johnson, Amelia Jones, Charles Jones, William Jones, Addison Likins, Susannah Lynch, Vicki Marckel, Ivette Marcucci, Julie Meisel, Nancy Owens, Lee Anne Shontere, Ernest Sinnes and Mary Sokol. Most of the artworks are available for purchase; the Library's information desk will have copies of the price list.
The Library is located at 10405 O'Donnell Place, Waldorf, Maryland. Hours are: Monday-Thursday, 9:00 am to 8:00 pm; Friday, 1:00 to 5:00 pm; and Saturday, 9:00 am to 5:00 pm.
The mission of the Charles County Arts Alliance is to stimulate, promote, encourage and provide recognition of the arts and the creative spirit in Charles County. For more info on the Arts Alliance and becoming a member, contact the CCAA office at 301-392-5900, info@charlescountyarts.org, or www.charlescountyarts.org.