Posted on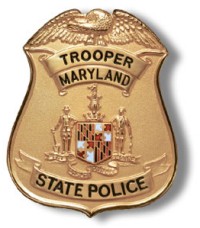 PRINCE FREDERICK, Md.
(Dec. 21, 2015)—The Prince Frederick Barrack of the Maryland State Police (MSP) today released the following incident and arrest reports.
THEFT: On 12/14/2015 at 12:46 pm, Trooper Warrick responded to the 3100 block of North Avenue in Port Republic for a theft complaint. Unknown suspect(s) entered the residence and removed prescription medication from the victim's night stand. A possible suspect was been developed. Investigation continues.
THEFT OF PACKAGES: On 12/15/2015 at 4:23 pm, Trooper First Class Meurrens responded to the 11500 block of Stirrup Lane in Lusby for a reported theft of packages. Shortly after delivery was made, the victim reported upon retrieval and inspection of the packages, noticed a box missing. Contact was made with the postal carrier to verify the delivery and number of packages and during the discussion the driver stated noticing a suspicious vehicle that had been following the delivery vehicle at one point. Investigation continues.
POSSESSION OF HEROIN & CRACK COCAINE: On 12/17/2015 at 11:04 pm, Trooper First Class Lewis stopped a vehicle on Main St. in Prince Frederick for traffic violations. In a search incident to arrest, Regina B. Claggett, 46 of Lexington Park, and Laura N. Hinchman, 27 of Lusby, were found to be in possession of Heroin, Crack Cocaine, Suboxone, Allprazolam, and Ampthetamines. They were arrested and incarcerated at the Calvert County Detention Center.
THEFT AND POSSESSION OF HEROIN: On 12/19/2015 at 3:54 pm, Trooper First Class Rowe stopped a vehicle on Rt. 4 in Huntingtown for traffic violations. The occupants, James A. Bellosi, Jr., 19 of Sunderland, and Jordan B. Hangliter, 19 of Montross, Va., were extremely nervous upon contact. A probable cause search of the vehicle revealed numerous packages of steak, crab legs, and bread that investigation revealed had been stolen from the Safeway in Prince Frederick. Heroin was also recovered inside the vehicle. Both subjects were arrested and incarcerated at the Calvert County Detention Center.
DUI Arrests
Thomas J. Woodward, 29, of Broomes Island, arrested on 12/15/2015 @ 05:09 pm by Sr. Tpr. C. Dawson
Wayne J. Brooks, 23, of Leonardtown, arrested on 12/16/2015 @ 10:11 pm by TFC B. Meurrens
Juvenile, 15, of Chesapeake Beach, arrested on 12/18/2015 @ 09:02 pm by TFC S. Matthews
Timothy A. Halterman, 39, of Prince Frederick, arrested on 12/20/2015 @ 06:42 pm by TPR. J. Warrick
Disclaimer: In the U.S.A., all persons accused of a crime by the State are presumed to be innocent until proven guilty in a court of law. See: http://so.md/presumed-innocence. Additionally, all of the information provided above is solely from the perspective of the respective law enforcement agency and does not provide any direct input from the accused or persons otherwise mentioned. You can find additional information about the case by searching the Maryland Judiciary Case Search Database using the accused's name and date of birth. The database is online at http://so.md/mdcasesearch . Persons named who have been found innocent or not guilty of all charges in the respective case, and/or have had the case ordered expunged by the court can have their name, age, and city redacted by following the process defined at http://so.md/expungeme.