Posted on
LA PLATA, Md.
(Dec. 21, 2015)—The Charles County Sheriff's Office continued its annual tradition last week as members helped the Children's Aid Society gather toys and load up trucks for Christmas Connection—a local program that provides clothing, shoes, essentials and even toys to families in need.
Prior to this, the Charles County Detention Center employees held a toy drive to support the cause, raising thousands of dollars' worth of toys for children in need.
Earl Knapp, chairman of Christmas Connection, expressed his appreciation. "The officers' help means the world to us. Without the support of the CCSO, it would be nearly impossible to get all of the donated goods where they need to go and ultimately in the hands of the people who need them."
"We are very privileged to be able to lend a hand to this wonderful program," said Sheriff Troy Berry. "It is always a humbling reminder to be thankful for what we have."
This year, more than 1,000 local families and over 2,000 children will benefit from Christmas Connection. The CCSO is committed to helping families all year round. To see more of our outreach programs, please visit the Charles County Sheriff's Office web site.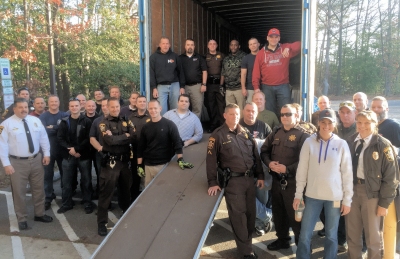 CCSO employees load donated goods into a truck in assistance to the Children's Aid Society. A full size photo is available here. (Photo courtesy CCSO)