Posted on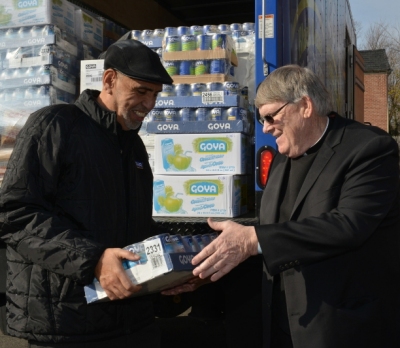 Goya Foods Donates 50,000 Pounds of Food to Catholic Charities of Washington. (Photo: Goya Foods)
JERSEY CITY, N.J.
(Dec. 9, 2015)—Goya Foods, the largest Hispanic-owned food company in the United States, donated 50,000 pounds of food to Catholic Charities of the Archdiocese of Washington to support their food pantries and emergency food programs throughout the archdiocese. The donation is part of a 150,000-pound donation equally distributed to food pantries and emergency food programs through Catholic Charities in New York, Philadelphia and Washington, D.C. in honor of His Holiness Pope Francis' visit to the United States.
The donation will help stock the shelves in several locations run by Catholic Charities, including the food pantry at the McCarrick Family Center in Montgomery County, the
Southern Maryland Food Bank in Waldorf
, and several food pantries run in partnership with local parishes.
"Catholic Charities served more than 123,000 men, women and children last year right here in the Washington, DC region," said Msgr. John Enzler, President and CEO of Catholic Charities of the Archdiocese of Washington. "While we help people with many different needs in their lives, it almost always involves helping families put food on the table. I am so thankful to Goya for choosing to Walk with Francis and partner with Catholic Charities."
"Supporting our communities and those who need help the most has always been a part of who we are and what we do at Goya Foods," said Rafael Toro, Director of Public Relations. "We believe in the work of Catholic Charities and know that our food donations go a long way in providing a warm meal to those who are hungry during the holiday season and throughout the year. For us, it's not just about giving a donation, but it's about making a difference and inspiring others to do the same."
About Catholic Charities of the Archdiocese of Washington: Catholic Charities meets the most pressing human needs, serving tens of thousands of people annually through 65 programs in 47 locations throughout the District of Columbia and Montgomery, Prince George's, Charles, Calvert and St. Mary's Counties in Maryland. For more information, visit
www.CatholicCharitiesDC.org
.
About GOYA: Founded in 1936, Goya Foods, Inc. is America's largest Hispanic-owned food company, and has established itself as the leader in Latin American food and condiments. Goya manufactures, packages, and distributes over 2,200 high-quality food products from the Caribbean, Mexico, Central and South America. Goya products have their roots in the culinary traditions of Hispanic communities around the world; their combination of authentic ingredients, robust seasonings and convenient preparation make them ideal for every taste and every table. For more information on Goya Foods, please visit
www.goya.com
.
Source: GOYA