Posted on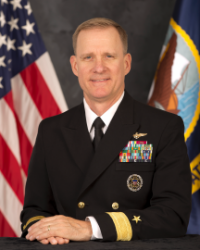 Rear Adm. Yancy Lindsey, Commandant, Naval District Washington.
LEXINGTON PARK, Md.
(Dec. 7, 2015)—The Patuxent Partnership will host a briefing with Rear Adm. Yancy Lindsey, Commandant, Naval District Washington and Capt. Heidi Fleming, Naval Air Station Patuxent River (NAS Pax River) Commanding Officer on Tues., Dec. 15 at the Bay District Volunteer Fire Department Social Hall. Check-in begins at 8:00 a.m. with networking and light breakfast prior to the program start.
Rear Adm. Lindsey became the 89th Commandant of Naval District Washington in June 2015. Naval District Washington encompasses more than 4,000 square miles, including the District of Columbia; the Maryland counties of Anne Arundel, Calvert, Charles, Frederick, Montgomery, Prince George's and St. Mary's, as well as the counties of northern Virginia.
The commandant exercises area coordination over military and civilian employees assigned to Navy activities within the geographic area encompassed by Naval District Washington. One of the main goals of the commandant is to strengthen the operation readiness of shore installations, such as NAS Pax River and Naval Support Facility Indian Head.
Capt. Fleming will provide an update on NAS Pax River installations and readiness.
This event is open to the public. Advanced registration is recommended at
www.paxpartnership.org.