Posted on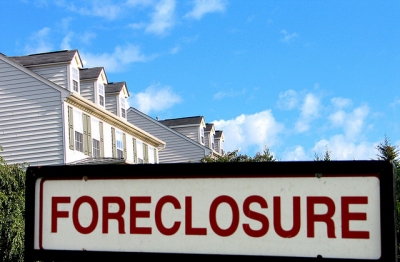 Photo: Taber Andrew Bain, via Flickr, (
CC BY 2.0
)
HOLLYWOOD, Md.
(Dec. 3, 2015)—An on-line real estate service that tracks the numbers of homes that have gone to foreclosure nation wide shows that there has been a significant spike in those kinds of properties in St. Mary's and Calvert counties up to the end of October.
According to RealtyTrac, one in every 481 homes in St. Mary's County is in some stage of the foreclosure process, while in Calvert, one in every 321 homes is either nearing or at the point of foreclosure.
What's more is that in both counties—as in most of the state of Maryland for the month of October—there was a massive increase in foreclosure filings from one month to the next.
RealtyTrac statistics show that there was a 131 percent increase in St. Mary's for the homes receiving a foreclosure filing in October over September, but that was still 31 percent lower than the same time last year.
In Calvert County there was a 76 percent rise for October of this year for homes in foreclosure, but that number was still 29 percent lower than the same time frame last year.
RealtyTrac stated that Calvert's foreclosure rate was .30 percent, higher than the state's average of .21 percent.
The national average is just .09 percent, according to RealtyTrac.
Jan Barnes, a local realestate agent with Century 21, said that despite claims every year that the economy was making a comeback, the evidence was less positive.
"The market is not what it used to be," Barnes told The County Times. "I remember when foreclosures were unusual now they're an everyday thing."
She said the current housing market had some bright spots, not great, but not bad either.
"I think it's fairly stable," she said. " There are plenty of homes selling in the $200,000 range but the higher priced homes are a lot harder to move."
Many of those homes are sold at far less than what they were originally paid for, she said, even eight years after the crash of 2007.
"We've had a lot of short sales, the banks don't want those houses back," Barnes said.
She said the spikes in foreclosures, often seen month to month, had become part of the new normal in the real estate market.
"It comes in waves, we just had another wave this last year," Barnes said. "And I know there are properties that are going to foreclosure than haven't been advertised yet."
Steve Paul, a realtor with the Southern Maryland Association of Realtors, said the housing market was simply a tough one.
"It is in our area, though you see much more activity in the Washington, D.C. area," Paul said. "Sales are up a bit but it's not like it was."
He and his fellow realtors had also seen scant evidence of an economic recovery locally.
"It's still kind of stagnant, the one increase we have seen is in rentals," Paul said.
That meant more homeowners who would normally be trying to sell are realizing the slump in the market means they need other options to recoup their losses. "I've got clients who have become landlords," Paul said.
With the stagnant housing market and the continuing problem of foreclosures, local governments might feel the crunch from declining property tax revenues, he said.
Charles County was already looking at ways to increase their revenue streams from properties, he said, including raising taxes.
He said such a move would only make the housing market worse.
"We hope legislators won't look at our homes like cash cows," Paul said. "That would hurt everybody."
For more local stories impacting Calvert & St. Mary's countues, visit The County Times online at ct.somd.com