Posted on
Students compete in archery tournament
Charles County Public Schools hosted its annual Middle School Archery Tournament on Dec. 1 at Milton M. Somers Middle School. More than 100 students from all eight Charles County public middle schools participated in the event. Participants were divided by grade level into boy and girl teams.
Overall boy and girl winners were chosen at each grade level. They are:
• Nya Brooks, Theodore G. Davis Middle School, sixth grade, 130 points;
• Charles "CJ" Shuff, Somers, sixth grade, 156 points;
• Jordan Pinckney, Matthew Henson Middle School, seventh grade, 140 points;
• Zachary Warren, Somers, seventh grade, 148 points;
• Kalila Queen, Davis, eighth grade, 122 points; and
• Andrew Wheeler, Piccowaxen Middle School, eighth grade, 141 points.
Team winners were also chosen at each grade level. The following teams earned first, second or third place.
Sixth-grade girls:
• Piccowaxen, first place, 252 points;
• Somers, second place, 225 points; and
• Henson, third place, 219 points.
Sixth-grade boys:
• Somers, first place, 297 points;
• Piccowaxen, second place, 246 points; and
• Mattawoman Middle School, 241 points, third place.
Seventh-grade girls:
• General Smallwood Middle School, first place, 228 points;
• Piccowaxen, second place, 218 points; and
• Henson, third place, 193 points.
Seventh-grade boys:
• Somers, first place, 255 points;
• Davis, second place, 195 points; and
• Mattawoman, third place, 185 points.
Eighth-grade girls:
• Davis, first place, 234 points;
• Somers, second place, 182 points; and
• Piccowaxen, third place, 177 points.
Eighth-grade boys:
• Piccowaxen, first place, 245 points;
• Davis, second place, 207 points; and
• Henson, third place, 205 points.
This is the 44th year Charles County Public Schools has hosted an archery tournament for middle school students.
Legislators, Board of Education discuss issues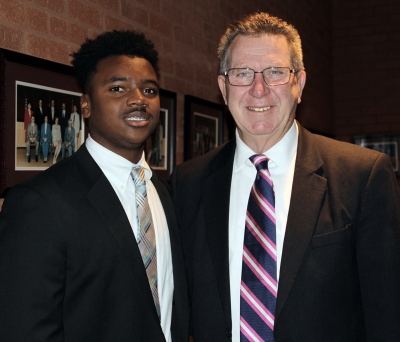 Pearson Benson, left, a Westlake High School junior and Student Member to the Board of Education, talks with Maryland Sen. Thomas "Mac" Middleton, right, at a legislative breakfast hosted by the Board of Education on Dec. 1. The Board met with several members of the Southern Maryland delegation to talk about topics such as testing and teacher retention.
Southern Maryland legislators expressed their support for education and funding at the Charles County Board of Education's annual legislative breakfast, but warned budgets, especially for school construction, get tighter each year.
"We're not going to back off on school construction, on standards, on education funding. … We don't know the end of the story, but the people here are going to stand firm on protecting public education," Sen. Thomas "Mike" Miller said at the close of the Dec. 1 meeting at the Jesse L. Starkey Administration Building.
The annual breakfast is a time for the Board of Education and Charles County's legislative delegation to share information, concerns and educational issues before the Maryland General Assembly convenes in January.
The group tackled topics including testing, teacher retention, construction funding and unfunded mandates. Del. C.T. Wilson expressed concern about the requirement of English Language Learners (ELL) students to take the PARCC assessment. He cited the regional ELL program at Maurice J. McDonough High School and the difficulty students face taking a highly rigorous test when they cannot yet speak English or read the test.
Del. Sally Jameson questioned how much time PARRC testing takes, and Del. Edith Patterson asked about career and college readiness standards. Director of Research and Assessment Cliff Eichel outlined state requirements for PARCC and the reduction of the testing window this year from 40 to 20 days. He said tests are done in three separate sessions that never last longer than one to one-and-a-half hours at a time. "In actuality, we have been able to complete testing in 10 days," Eichel said.
Eichel said the Maryland State Department of Education (MSDE) has been slow in providing score scales and information about how scores will count for different requirements, such as determining if a student is college and career ready. "Students need to know the rest of the story and when the test counts so they know what they are working toward. We would like to know how the story ends," Eichel said.
Hill said the changes to the standards sometime happens so fast, "we get whiplash." She asked the legislators to support staying the course with the new curriculum, test and academic standards.
Human Resources Executive Director Pam Murphy talked about teacher recruitment and retention, noting Charles County Public Schools (CCPS) has shortages in special education, world languages and math. The number of students entering or choosing education as a career has decreased dramatically in recent years, shrinking the pool of applicants and causing a need to recruit outside of Maryland. Staff talked about efforts to encourage local students to pursue degrees in education and ways to entice them to return to Charles County to teach.
Assistant Superintendent of Supporting Services Keith Hettel asked where legislators think the state is headed in the school construction area. Jameson said requests continue to outpace the Capital Improvements Program (CIP) budget, which Gov. Larry Hogan has set at $250 million for the coming fiscal year. Sen. Thomas "Mac" Middleton said Maryland is bumping the limits of its capital debt affordability and the money gets tighter every year while the renovation list continues to grow.
Board Member Barbara Palko expressed the Board's position that mandates from the state should come with full funding. Hill provided the example of prekindergarten, an unfunded requirement by the state, which cost CCPS $4 million in fiscal year 2015. If the state would include prekindergarten students in the funding formula, the school system could receive $3.4 million in additional state funding, Hill said.
All members of the Charles County legislative delegation, including newly appointed Delegate Susie Proctor, Charles County Commissioner President Peter Murphy and Commissioner Vice President Ken Robinson attended the meeting with the Board of Education.
Nominate an outstanding leader for Post Principal of Year award
Charles County Public Schools (CCPS) is accepting nominations for its 2016 Principal of the Year Award. The annual award honors exemplary principals and recognizes those who go beyond the day-to-day demands of their position to create an exceptional educational environment. The selected principal will also serve as Charles County's finalist in The Washington Post Principal of the Year awards program.
The Post's Principal of the Year program is formerly known as the Distinguished Educational Leadership Award program and finalists were named at the local level. Starting with the 2015-16 school year, one finalist in the Washington, D.C. metropolitan area will be selected as The Washington Post Principal of the Year.
Teachers, students, former students, parents, administrators, or community members may submit nominations. Nominees must have a minimum of five year's experience as a principal and three of those years must have been with Charles County Public Schools. Principals may not nominate themselves.
Nomination materials must include a minimum of four statements of support, one of which must be submitted by a professional educator; a career summary (list of positions held, date and location of each, and degrees and certificates earned); a 200-word biography written to highlight the specific award for which the awardee was nominated; and a description of contributions in each of the nomination criteria categories.
The nomination criteria categories are:
• manage effectively;
• demonstrate and encourage creativity and innovation;
• foster cooperation between the school and the community;
• maintain a continuing dialogue with students and parents as well as faculty and staff;
• keep abreast of developments in the field of education;
• encourage team spirit;
• demonstrate leadership and exemplify commitment;
• continue to play an active role in the classroom; and
• maintain their position as principal throughout the 2016-17 school year.
Nomination materials must be included in a presentation binder that does not exceed 100 single pages. Included in the binder should be one laser print of a color vertical headshot photograph of the nominee as well as a disc including the electronic photo as a 3 inch by 5 inch jpeg file with a minimum resolution of 300 dots per inch (dpi).
Nominations are due by Monday, Jan. 4. Binders should be sent to Monica Monroy, Office of Human Resources, Charles County Public Schools, Jesse L. Starkey Administration Building, P.O. Box 2770, La Plata, Md., 20646. Binders must include a completed cover page, which is posted on the Charles County Public Schools website under the
recognition section
.
Charles County's 2016 Principal of the Year will be one of 21 finalists for The Post's Principal of the Year Award. The winner will be selected by a screening committee and kept confidential until The Washington Post runs their advertisement to announce their recipient. Additional nomination information is available on the
school system website
. Contact Monica Monroy at 301-934-7356 or mmonroy@ccboe.com with questions.
Recognize an outstanding parent volunteer for their efforts
The Maryland State Department of Education (MSDE) is seeking local nominees for the Maryland Parent Involvement Matters Award (PIMA) program for 2016. The annual award program recognizes those whose contributions to public education have led to improvements for children, teachers, schools and programs. MSDE also provides the program to encourage parental involvement in education.
In order to be eligible for the award, nominees must be the parent or guardian of a child in a Maryland public school and a consistent advocate of public education. Nominees must have demonstrated involvement in at least one of the five following areas within the last two years:
• Communicating – fostering communication that impacts the school community;
• Volunteering – recruiting or organizing volunteers or supporting school activities, both internal and external;
• Learning – organizing or coordinating learning activities that reinforce homework or classroom skills;
• Collaborating with Community – coordinating resources and services for the school community, which could include fundraisers that would enhance a school's services or environment, or coordinating resources or services from the school community that may serve an external community; and
• Decision Making – participating on decision making committees or in programs that advocate system or policy changes, or serving as a representative for the school or education community.
Nomination materials must include a two-page written narrative or explanation of a project that describes the nominee's contributions as it relates to one or more of the five involvement areas; three letters of recommendation; and completed nomination forms. Judges will choose 24 semifinalists – one person to represent each Maryland county and Baltimore City. A second group of judges will select five finalists for the statewide award. All finalists will be interviewed by a third group of judges, who will recommend one state winner.
The state winner, as well as the names of the five finalists, will be announced at an awards celebration to be held spring 2016. All semifinalists will be recognized at the awards celebration. The Charles County Board of Education will also honor the Charles County semifinalist at a Board meeting later in the school year.
As part of the program, semifinalists, finalists and the state award recipient are provided with opportunities to promote parental involvement that include speaking at educational events and conferences; appearing at Maryland State Board of Education and/or local Board of Education meetings; participating on educational task forces and/or committees; and participating in a best practices publication and website.
Nominations are due to MSDE by Friday, Jan. 29. Nomination materials, including the required forms, are posted on MSDE's website at
http://www.marylandpublicschools.org/pima/
. Incomplete or late applications will not be considered and submissions are not accepted online or by email. Visit
http://www.marylandpublicschools.org/pima/
to learn more about the program and previous award recipients.
Call 1-888-246-0016 or email Barbara.scherr@maryland.gov or young-chan.han@maryland.gov with questions about the nomination process or award program.