Posted on
Motorcyclist Dies in Crash in Waldorf
WALDORF—On Nov. 27 at 5 a.m., officers responded to the intersection of Crain Highway and Billingsley Road in White Plains for the report of a motorcycle crash. A preliminary investigation showed the operator of the motorcycle, Warren Marcel Chamber, 32, of Waldorf, was traveling north on Crain Highway when he lost control of his motorcycle while attempting to drive in between two tractor trailers which were slowing down for a red light at Billingsley Road. Chamber was transported to a hospital where he died a short time later. Cpl. W. Saunders of the CCSO Traffic Operations Unit is continuing the investigation.
Calvert Co. Murder Investigation Continues After Five Years – Reward Still Offered For Information
LUSBY—Maryland State Police homicide investigators are not giving up in their investigation to identify the person or persons responsible for the death of a Calvert County woman who was found murdered in her car near Lusby five years ago today.
The body of Sandra R. Long, 41, of the 11000-block of H.G. Trueman Road, Lusby, Md., was found at about 2:30 p.m. on Tuesday, November 30, 2010, in the front seat of her silver 2009 Ford Focus. The car was parked in the hunters' parking area of Calvert Cliffs State Park, at the intersection of Camp Canoy Road and H.G. Trueman Road in Lusby.
Investigators believe Long's car may have been moved to the location where it was found after she was killed. Evidence indicates Long's death was the result of multiple stab wounds.
Maryland State Police Homicide Unit investigators continue to investigate this murder. They have been assisted by the Calvert County Investigative Team and the Calvert County State's Attorney's Office.
A reward of up to $1,000 is also being offered by Calvert County Crime Solvers for information leading to the arrest of the person or persons responsible for the murder of Sandra Long. State Police investigators continue to believe there are persons in the area who have information about who murdered Long. Investigators are urging these persons to come forward and provide whatever information they may have, regardless of how insignificant they think it may be.
Anyone with information about the murder of Sandra Long is urged to contact Sgt. David Sexton of the Maryland State Police Homicide Unit at 410-977-1519, or the Maryland State Police Prince Frederick Barrack at 410-535-5520, or Calvert County Crime Solvers at 410-535-2880.
Drunk driver tries to evade DUI checkpoint in Prince Frederick; chase ensues
PRINCE FREDERICK—On November 25, members of the Calvert County Sheriff's Office conducted a sobriety checkpoint along Maryland Rt. 231 in the area of Sixes Road in Prince Frederick. The checkpoint began at 6:38 p.m. and had to be temporarily suspended at 7:13 p.m. due to a vehicle pursuit that stemmed from a vehicle evading the checkpoint.
At 7:09 p.m., Cpl. Moschetto was assigned to work a sobriety checkpoint along Maryland Rt. 231 in the area of Sixes Road. Cpl. Moschetto was assigned the observation post at the west end of the sobriety checkpoint. As Cpl. Moschetto was clearing a traffic stop on Sixes Rd at Pasture Lane in Prince Frederick, he observed a blue 1993 Dodge Caravan, Md. registration 7AL9127, traveling south on Sixes Rd approaching him from behind at a high rate of speed. He checked the vehicle's speed by stationary radar at 44 mph in a posted 30 mph zone. The vehicle stopped behind him for several seconds before driving around him.
Cpl. Moschetto activated his emergency lights and the vehicle slowed down, pulled over into a driveway, and appeared as if it was going to stop. The vehicle started to move again traveling southbound on Sixes Rd. The vehicle sped up, began passing other vehicles on blind curves, blind hills, and reached speeds of 60 to 70 mph in a posted 30 mph zone. Cpl. Moschetto activated his siren and the vehicle continued to accelerate in an attempt to elude him.
Cpl. Moschetto notified the Calvert Control Center of the incident and declared a vehicle pursuit. The vehicle was crossing the centerline numerous times, failed to stop at the intersection of Sixes Rd and Sandy Point Rd (stop sign) as well as Sixes and Adelina Rd (stop sign). The vehicle continued south on Sixes Rd. The vehicle was weaving all over the roadway consistent with an impaired driver. Cpl. Moschetto advised Calvert Control that he believed that the driver, who was later identified as Tony Johnson, was impaired/under the influence of alcohol.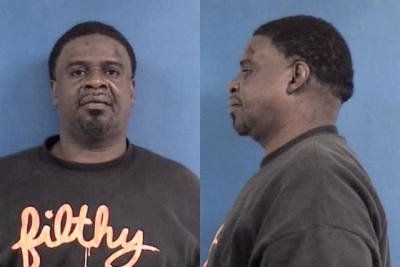 Tony Johnson. (arrest photo)
Mr. Johnson passed several more vehicles in a no passing zone (double yellow center lines), drove into the oncoming lanes in a negligent and reckless manner, and continued at speeds of 60 to 70 mph. Mr. Johnson showed no regard to the public's safety.
Mr. Johnson slowed and attempted to make a left turn onto Joe Harris Rd. Cpl. Moschetto attempted to block him from turning onto Joe Harris Rd by pulling alongside of him to force him towards the intersection of Sixes Rd and MD Rt 4, where other units had deployed stop sticks.
Mr. Johnson stopped, backed up, slightly sideswiping Cpl. Moschetto's patrol vehicle, and turned onto Joe Harris Rd in front of him. Cpl. Moschetto pursued Mr. Johnson to 1790 Joe Harris Rd, where Mr. Johnson attempted to make a right into the dirt driveway. Mr. Johnson was traveling too fast and yawed straight into the bushes. Cpl. Moschetto blocked Mr. Johnson from backing up by placing his patrol vehicle directly behind his vehicle.
Mr. Johnson exited his vehicle from the front passenger side door and attempted to flee the scene on foot. Cpl. Moschetto exited his patrol vehicle, pursued Mr. Johnson on foot and yelled for him to stop. Mr. Johnson failed to obey Cpl. Moschetto's commands. Cpl. Moschetto deployed his agency issued Tazer which was effective and caused Mr. Johnson to fall to the ground. Cpl. Moschetto gave Mr. Johnson loud verbal commands to roll onto his stomach and place his hands behind his back, where he complied.
Cpl. Moschetto detected a very strong odor of an alcoholic beverage on Mr. Johnson's breath and person. Mr. Johnson had slurred speech and very red glassy eyes. Mr. Johnson was helped to his feet where he was unsteady on his feet, had poor balance, and took very wide based steps as he walked. Mr. Johnson stated that he was ok.
A records check on the vehicle revealed the registration plates belonged to a 1998 Ford Crown Victoria and the Dodge Caravan was unregistered and uninsured. A records check on Mr. Johnson revealed his license was suspended and revoked as far back as 1980's and 1990's. A search of the vehicle revealed 2 unopened 18 ounce "Bud Lite" beer bottles and an unopened small miniature bottle of "Fireball". The alcohol was located in a plastic bag attached to the driver's seat arm rest.
Based on Mr. Johnson's driving, odor of an alcoholic beverage emitting from his breath and person, red glassy eyes, slurred speech, poor balance, and his wide based steps, Cpl. Moschetto determined that Mr. Johnson was under the influence of alcohol and was unable to operate a vehicle safely.
Mr. Johnson was charged with DUI Alcohol, DWI Alcohol, DWI Drugs or Drugs and alcohol, Fleeing and eluding, Reckless Driving, Negligent Driving, Failure to drive right of center, Passing in a no passing zone, Driving on a suspended license, Driving on a revoked License, Driving an unregistered vehicle, Driving an uninsured vehicle, and other moving violations.
Cpl. Moschetto's patrol vehicle sustained very minor damage from the collision with Mr. Johnson's vehicle.
At 7:29 p.m., deputies continued the checkpoint operation until 8:40 p.m. During these time frames a total of 806 vehicles entered the sobriety checkpoint. Two vehicles were pulled to the side which resulted in two CDS arrests being made for possession of marijuana and paraphernalia. The sobriety checkpoint was conducted as an educational effort to deter impaired driving during the Thanksgiving holiday season.
CCSO Offers Citizens New Web-Based Program to Monitor Sex Offender Registry
LA PLATA—The Charles County Sheriff's Office is utilizing a new program that allows citizens to better see where registered sex offenders live. The CCSO will be part of a nationwide network of over 5,000 law enforcement agencies which use the OffenderWatch program. The new service is a citizen-friendly, easy-to-use website that enables citizens to search for sex offenders by entering any address and viewing a map listing all offenders within a user-defined radius (of .25 miles out to 2 miles) of the address. The information is available 24 hours a day, seven days a week and is updated in real time by the CCSO. As part of this new, innovative service, citizens can register an address to be continuously monitored by the Sheriff's Office, which in turn will send an e-mail alert if an offender should register at an address within the specified radius. Citizens may register as many addresses as they like, at no cost and confidentially. In addition, OffenderWatch has a unique tool allowing citizens to send a tip directly to the Sheriff's Office about any unusual activity involving a known registered sex offender.
Sheriff Troy D. Berry said OffenderWatch will also help law enforcement agencies better manage the sex offender registry. "The new system allows detectives to maintain all information about an offender in one database, whereas before, there were multiple databases to manage," Sheriff Berry said. Offender Watch could also be a useful tool should a child go missing – the program has the capabilities to search information about offenders based on their physical description or the cars they drive. In addition, OffenderWatch allows data-sharing between law enforcement agencies.
Citizens can access the OffenderWatch registry at the Charles County Sheriff's Office sex offender search page at:
www.sheriffalerts.com/md/charles.