CSM #GivingTuesday on Dec. 1 Adds Mobile Giving, Tweeting to Impact Student Scholarships
College Participates in Worldwide Online Giving Event
The College of Southern Maryland Foundation has added new ways that make it easy and fun for supporters to participate in the 24-hour online #GivingTuesday event Dec. 1, a one-day social media campaign to raise $30,000 for CSM scholarships.
This year, in addition to giving online
bit.ly/1O7ZBWv
, supporters can also make donations directly through mobile giving by texting GiveCSM to 27722 or by tweeting the donation amount to @CSMHeadlines and #tinygive. CSM's #GivingTuesday also provides opportunities for supporters to win hourly prizes.
An international day of generosity following Black Friday and Cyber Monday, GivingTuesday focuses on philanthropy and giving to others after those days of frenzied consumerism. Donations to CSM's 24-hour, online GivingTuesday event will support scholarships to help students afford degree programs as well as career and trades programs; attract the best and brightest in our region; encourage completion of degrees and certificates; and support student life and athletics.
This fall the CSM Foundation awarded more than $400,000 in scholarships.
"The foundation's goal is to raise more funds for scholarships to strategically address the affordability, access and completion barriers that our residents face in trying to attend college or obtain the career and workforce training needed to develop and advance in a rewarding career. It is critical that we help our students afford college without incurring thousands in debt so they reach academic goals, they are our region's future—the educators, engineers, nurses, electricians and welders that will support our workforce tomorrow," said Rané Franklin, chair of the CSM Foundation.
Supporters and donors can choose to double their impact by giving to a "matching" scholarship fund, in which every dollar donated to specific scholarships will be matched by the donor. A listing of these matching scholarships can be found on the CSM Foundation's website
impact.csmd.edu
.
CSM's #GivingTuesday Matchmaker Sponsors include: AVIAN, Calvert County Chamber of Commerce, Linda Cox in memory of Donald R. Cox, Toni Zanelotti Kruszka and Neany, Inc. CSM's Power Hour Sponsors include: Coldwell Banker Jay Lilly Real Estate, Exelon Generation, Mason Investment Advisory Services, Inc., SMECO and Vyalex Management Systems. #UNselfie sponsors are CSM Foundation Directors Leah Estevez, Ruth Ann Ferrell, Brenda Lowe, Nancy Hempstead, Jean Marie and Donald McDougall, Kim Rosenfield, Birdie Shannon and Gary Simpson.
Donations made during power hours on Dec. 1 will be eligible for prize packages. Power hours are Early Bird, 7 to 8 a.m.; Morning Delight, 10 to 11 a.m.; Lunch Break, 2 to 3 p.m.; Dinner Dash, 7 to 8 p.m. and Last Call, 11 to 11:59 p.m. Prizes include a spa package from Jacqueline Morgan Day Spa, zip line passes at Empower Adventures, gift certificate to Brick Wood Fired Bistro, tickets and parking to a University of Maryland men's basketball game, and tickets to the Wizards vs. Celtics basketball game.
To #GiveCSM on #GivingTuesday beginning at 12 a.m., Dec. 1, visit
bit.ly/1O7ZBWv
.
'Thank yous' Abound as CSM Students Meet Donors
Scholarships for 2015 Fall Semester total More Than $400,000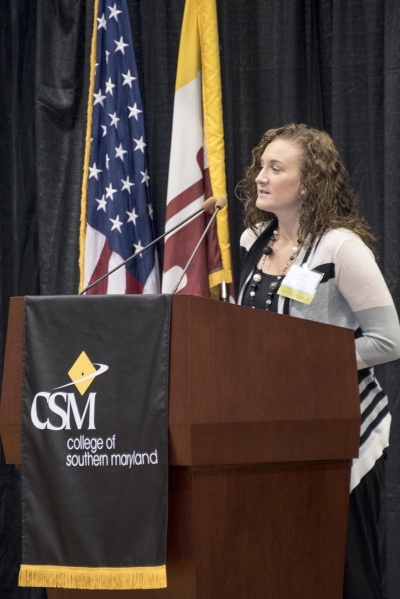 Scholarship recipient Kara Merritt of Indian Head told scholarship donors at the CSM Foundation Scholarship Reception Nov. 6 at the La Plata Campus of her journey to Southern Maryland and her dream to become a nurse. (Submitted photo)
Scholarship recipients at the College of Southern Maryland began their Thanksgiving holiday a little early, by showing their thanks and appreciation to donors at the Nov. 6 CSM Foundation Scholarship Reception at the La Plata Campus. For the 2015 fall semester, the foundation awarded more than $400,000 to students through 351 scholarships. Spring scholarships will be awarded in January 2016.
CSM President Dr. Brad Gottfried acknowledged scholarship donors for the difference they make in the lives of CSM students. "I am honored to recognize the many scholarship donors who are making an impact in our Southern Maryland community. They have chosen to partner with the CSM Foundation in keeping education affordable and accessible, which in turn enhances the health and welfare of our local economy."
Speaking to scholarship recipients, CSM Foundation Chair Rané Franklin said, "As an active member of the Southern Maryland community, I see the impact of CSM. Everywhere I turn there is something CSM-related: a campus, a student, a program or an employee. That says a lot about CSM and its presence and you are now a part of this great tradition. On behalf of the CSM Foundation, I would also like to thank all of our donors for their strong support. You are providing a lasting impact on the lives of these students."
Two scholarship recipients spoke at the reception, Kara Merritt of Indian Head, who received the Chiaramonte Hope Scholarship, the GRPA Foundation scholarship and the Thomas Goldsmith Scholarship, and George Jenkins III of La Plata, who received the Albert L. Elder Jr. Family Memorial Scholarship, the CSM Alumni Association Scholarship, the Helen and Mickey Todd Scholarship, the International Systems Safety Society, Washington D.C. Chapter Scholarship and the CSM STEM Scholars Program Scholarship.
Merritt, a nursing student, told donors that she always wanted to help others and that even as a child, she would care for her brothers and neighborhood kids when they had scraped knees. She served in the Navy and then decided to go to nursing school. "I moved to Southern Maryland, started taking classes at CSM and I made the soccer team. I was 27 years old, which was about nine years older than most of my teammates. I was taking seven classes and working part time." She knew that she couldn't keep up the pace of working to support herself, pay for college tuition and attend CSM full-time in the nursing program. She applied for several scholarships and was overjoyed, she said, when she received the funds to continue her studies as CSM. "I have learned if you try your hardest you will accomplish what you have set your mind to... it just takes time. You cannot plant a seed today, and expect flowers tomorrow," she said.
Jenkins, valedictorian of Henry E. Lackey High School's class of 2014, said that CSM was the best option for him. "While my initial decision to come to CSM was based on finances, I soon realized that CSM offered me so much more. Scholarships at CSM enabled me to concentrate on academics rather than finding a part-time job. This seriously improves the quality of my life. Also by receiving the funding I do, I am able to be a part of the CSM VEX robotics team--which was ranked 10th in the world last year--as well as a part of the math team and the engineering club. The scholarships enable me to enjoy the full college experience and have time to give back to the community through the VEX Robotics team by volunteering with elementary and middle school children," said Jenkins.
"Many of you are hearing in the news daily the staggering statistics about student loan debt and how more than 70 percent of college students have debt averaging $27,000. The most unfortunate statistic is that more than 30 percent of the students who take out college loans never finish college and have nothing to show for that debt," said Gottfried. "This is why CSM is taking great strides to educate our students, their spouses and parents about the opportunity and wise decision to save more than $29,000 by starting college here at CSM for your freshmen and sophomore years."
Last year 1,762 CSM students transferred to 226 different four-year colleges in 45 states and the District of Columbia.
Scholarships awarded for the 2015-16 academic year include:
Academic Excellence Scholarship: Caleb Bickerstaff, Kathryn Newsom, Tori Nguyen, Foram Patel, Kristin Richards, Hassan Yousaf
Adjunct Faculty Scholarship (Merit): Erica Jones, Ashlyn Liverman
Adjunct Faculty Scholarship (Need): Cheryl Fowler, Jeanette Warren
Albert L. Elder Jr. Family Memorial Scholarship: Arica Chaney, George Jenkins
Anna Mae Ziencik Hess Memorial Scholarship: Yvette Smith, Nora Suntich, Joshua Tettimer
Besche Family Scholars and Mentoring Program Annual Scholarship: James Eppley, Wesley Olsen
Brad and Linda Gottfried Against All Odds Annual Scholarship: Keidra Douglas, Adrienne Smith
Brock Nikolas Guerrieri Memorial Scholarship: Sarah Whitehair
Bryce T. Sanders Memorial Scholarship: Juana Davidson
C. Emmitt Woodey Theatre Scholarship: Francis Bowles Jr.
Calvert Chamber of Commerce Annual Scholarship: Brianna Mason, Brian Whitworth
Calvert Chamber of Commerce Endowed Scholarship: Jeanine Arndt
Calvert County 350th Anniversary Celebration Endowed Scholarship: Jacquelyn Mason
Captain Billy Robertson Endowed Scholarship: Laurie Jameson
Castles and Foundations Scholarship: Sierra Barnes, Brooke Graham, Aimee Pellegrino
Chaney Scholarship for Sustainable Land Use Endowed Scholarship: Melissa Buckler, Jessica Busey, Robert Gomez, Matthew Janey
Charles County Chamber Scholarship: Elizabeth Soens
Charles County Nursing and Allied Health Programs Scholarship: Michelle Campbell, Sabrina Knott, Valerie Rahill, Rosanna Swann
Charles County Woman's Club Scholarship: Kim Hagens
Chiaramonte Hope Scholarship: Savana Brindle, Charlane Campbell-Garner, Melissa Gonzalez, Christian Hess, Kristen Mattingly, Annie Mendoza Rojas, Kara Merritt, Gina Mostert, Stephanie Ryan, Heather Santimays, Melinda Smith, Liah Watters, Julie Yerdon
Coldwell Banker Jay Lilly Real Estate Scholarship for Construction Trades and Industrial Training: Ward Washington
Concerned Black Woman of Calvert County-Women in Transition Scholarship: VonCeal Foote
Cove Point Natural Heritage Trust Ruth Mathes Scholarship: Tabish Nawaaz
CSM Alumni Association Scholarship: Brian Harris
CSM Foundation- Realize Your Potential Scholarship: Tamarah Beale, Lindsey Bowersox, Renesha Bowman, Nicholas Combs, Jenna Courville, Ivelisse Cruz, Angelica Cusic, Sambhav Devkota, Crystal Dodge, Abby Halloran, Candice Hicks, Nataijia Houser, Jeanette Jacobs, Nicole Kearney, Morgan Mabry, Annie Mendoza Rojas, Raheem Omotosho, Wayne Thomas, Kimberly Viera, Michaela Wallace
CSM Foundation Scholarship: James Carino
CSM Foundation Scholarship for Returning Adults: Shelly Cain, Amanda Higgs, Elizabeth Kennedy, Crystal Leon, Suzanne Spicer, Carlyn Tatroe, Scott Teed, Coretta Thompson, Bonnie Warring, Kathy Weimer
CSM Foundation Scholarship Sponsored by Community Bank of the Chesapeake: Ashley Taylor
CSM Prince Frederick Campus Student Association Scholarship: Megan Elliott
Dennis Lake Smith Memorial Art Scholarship: Jeanette Warren
Dr. Elvear B. Johnson Scholarship: Alicia Ahl
Dr. Nallan Ramakrishna Scholarship: Hannah Schneider, Candice Stokes
Educational Systems Federal Credit Union Scholarship: Erin Brown, Tabish Nawaaz, Diandrea Scott, Enzo Walker
Ethelmae M. Lilly Nursing Memorial Scholarship: Valerie Dowell
Fanny Louise Sullivan Sine Henderson Scholarship: Elena Wilcox
Florence B. Trueman Scholarship: Jeanine Arndt, Blain Bartz, Angelica Cusic, Valerie Dowell, Raheem Omotosho, Angel Shores, Lindsey Thorne, Dayna Whitehouse, Brandi Wightman
Gary D. Smith Memorial Scholarship: Jordan Hipkins, Alyssa Latuff
GRPA Foundation Scholarship: Melissa Gonzalez, Kara Merritt, Ashley Yonek
Hank Willoughby Foundation, Inc. Scholarship: Alicia Ahl, Jacquelyn Austin, Tamarah Beale, Nicole Burgess, David Callahan, Tamara Collins, Michelle Collins, Abby Halloran, Suzanne Hammett, Jordan Hipkins, Nataijia Houser, Becky Jacks, Jeanette Jacobs, Laurie Jameson, Valeisha Johnson, Morgan Mabry, Jordan McIver, Marie Miller, Rebecca Mueller, Thomas Nguyen, Michael Russell, Wayne Thomas, Joseph Turner, Rachel Turner, Kaitlyn Willen
Harland and Lula Cravat Scholarship: Adrienne Waymer-Dorsey
Helen and Henry Lawlor Scholarship: Crystal Dodge, Justina Gray
Helen and Mickey Todd Scholarship: Krista Ayers, Will Brooks, Amy Delahay, Brian Harris, Laurie Jameson, George Jenkins, Gina Mostert, Michael Neal, Melinda Smith, Candice Stokes
Home Towne Real Estate Scholarship: Krista Caruso, Taylor Facen, Krystan Gaffney, India Gillum, Brian Harris
International Systems Safety Society, Washington D.C. Chapter (ISSSWDC) Scholarship: Katrina Canlas, George Jenkins, Adam Jiroun, Ashlyn Liverman, Carolyn Sherwood
J. Ivey Cline Scholarship: Jacalyn Triplett
Jack Love Sprague Scholarship: Cassondra Nicholson
James C. Mitchell Nursing Scholarship: Rebecca Scott, Saba Warraich
Jane Hale Sypher Scholarship: Darleen Allen, Jacqueline Davis, Doralee Kusztos, Rebecca Mueller
Jaye S. Ives Freedom Scholarship: Kristina Sproul, Scott Teed
Jerome A. Zanelotti Sr. Memorial Scholarship: Ricku Cook
Joanne Zwick Nursing Scholarship: Heather Santimays
Kavetsky Family Foundation Endowed Scholarship: Grina Hwang
L.K. Farrall III Memorial Scholarship: Rachel Carter, Marcia Kennedy, Mallory Tevis, Nieda Tice
LaVerda Francis and Richard Blair Scholarship: Rebecca Butner, Valerie Dowell, Terrance Jones, Tabish Nawaaz, Barbara Sheldon, Dayna Whitehouse, Joseph Wright, Julie Yerdon
Louis P. Jenkins Sr. Endowed Scholarship: Ariel Canaday, Arica Chaney, Barbara Sheldon
Lucy Detig Student Success Endowed Scholarship: Latisha Washington
Marguerite Cox Family Memorial Scholarship: Erin Park, Alexis Sullivan
Marrick Homes CSM Foundation Golf Classic Scholarship: Michaela Ada, Diana Cruz
Marrick Homes Scholarship: Joshua Reeves
Maurice J. McDonough Endowed Scholarship: Michelle Collins, Kimberly Culver, Melissa Humphrey, Robert Humphries, Katelyn Kimble, Amber Moon, Vernicia Morgan, Andrea Muschette, Amber Nelson, Sarah Persinger, Desire' Phifer, Amanda Wright, Jenee Young
Maurice J. McDonough Foundation Annual Scholarship: Alicia Ahl, Maria Estevez, India Gillum, Stephanie Milanowski, Emily Smith, Rachel Turner, Liah Watters
McNelis Family Scholarship: Nora Suntich
McWilliams Family Endowed Scholarship: Crystal Berry
Neale Chaney Slater Memorial Endowed Scholarship: Elizabeth Jenkins, Lenyk Scott
NRL Federal Credit Union- Southern Maryland Blue Crabs Strikeout Scholarship: Christina Day, Ashlyn Liverman
Nu Zeta Omega Scholarship of the Alpha Kappa Alpha Sorority, Inc.: Damon Brooks, Barbara Mashtare
Nyce Annual Scholarship: Patrick Fitzwater
Old Line Bank Business Program Annual Scholarship: Jessie Adkins, Valerie Allen, Rebecca Byrnes, Melissa Fenwick, Krystan Gaffney, Melanie Kidwell, Joseph Pulliam, Micah Reid, Julia Sanabria, Joi Sullivan
Oreta Stinson Memorial Engineering Scholarship: Henry Dent
Patty Schwier and Norma LeFleur Scholarship: Erin Brown
Peter Cangelosi Memorial Scholarship Fund: Ashley McWilliams, Dayna Whitehouse
Professor Debra L. Wyvill Teacher Education Scholarship: Jenny Brewer
Rebekah Compton Boone and Vivian Bounds Edelen Scholarship: George Jenkins
Shani-Jinaki Whipple Scholarship: Amber Nelson
Sidney John Francis Waugh, Sr. Memorial Scholarship: Samantha Lancaster
Southern Maryland Women's League Scholarship: Valerie Dowell, India Gillum, Laurie Jameson
Spring Dell Center, Inc. Richard "Dick" Gregory Memorial Annual Scholarship Fund: Patrick King
St. Mary's County Government Endowed Scholarship: Michael Bell, Amanda Brown, Lindsey Bush, Anthony Cole, Courtney Coltrane, Henry Dent, Nichole DiFrank, Diana Ellis, Nicholas Fastnaught, Alan Frampton, Emily Gilroy, Shekera Grayson, Kyle Harlow, Jessica Hernandez, Helga Hertlein, Donna Hill, Joann LeBeaux, Justin Owens, Devin Reynolds, Hannah Schneider, Riley Stanton, Christina Thompson, Lauren Young
St. Mary's County Government Annual Scholarship: Mohammad Ali, Kaitlin Benitz, Lindsey Berry, Samata Bhusal, Alana Bradley, Charlene English, Jessica Eversberg, Sandra Fischer, Alexandra Forsythe, Melissa Gonzalez, Samuel Griffith, Hannah Heathman, Jennifer Jones, Erica Jones, Aimee Pellegrino, Tyaira Priest, Isabella Sarlo, Judith Taylor, Brittany Thomas, Mia Wilson
Susan N. Behmke Legacy Scholarship: Monica Emrick
Tau Lambda Lambda Chapter Omega Psi Phi Fraternity Scholarship: Jacqueline Davis
Thomas F. Goldsmith III Scholarship: Rebekah Carson, Kara Merritt, Mallory Tevis, Kaitlyn Willen
Tri-County 40/8 Nursing Scholarship: Hannah Arnold
Veterans Educational Endowed Scholarship: Delaney Bramos, Erica Dispenza, Robert Osborne, Lamont Taylor
Virginia B. Darrow Memorial CSM Nursing Scholarship: Dayna Whitehouse
Walter B. Grove II Memorial Art Scholarship: Nataline Beckley, David Boarman II, Selene LaMarca, Renae Thomas
WFA Cancer Survivors and Friends Scholarship: Jessica Washington
Wigberto "Willie" Martinez Jr. Memorial Scholarship: Ashlyn Liverman
Zonta RAVE Walk Scholarship in Memory of Gayle Cooke: Three recipients
For information on creating or donating to a scholarship, visit
www.csmd.edu/foundation
. The Nov. 6 reception was one of several ceremonies to join scholarship donors with their scholarship recipients.