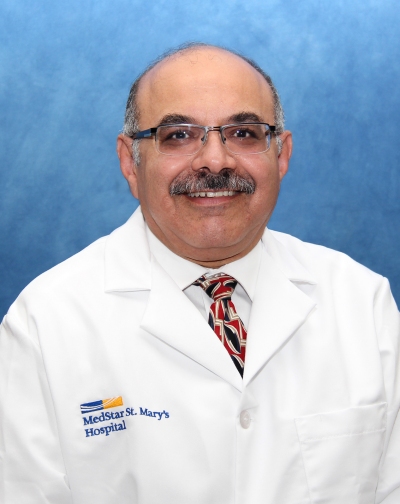 LEONARDTOWN, Md.—MedStar St. Mary's Hospital is working to offer much-needed primary care to the southern portion of St. Mary's County with the addition of Fahmi H. Fahmi, MD, to the MedStar St. Mary's Hospital's Primary Care office located at 20945 Great Mills Road, Suite 203, in Lexington Park, Maryland.
Dr. Fahmi is board certified in internal and pediatric medicine and has been practicing medicine in St. Mary's County for more 16 years.
"The patient population here has complex medical conditions," said Dr. Fahmi. "It presents a challenge, not just from the medical aspect, but from the standpoint of community health."
In addition to seeing patients at his Lexington Park office, Dr. Fahmi is also the Medical Director of MedStar St. Mary's Health Connections, the community outreach department of the hospital. MedStar St. Mary's Hospital's Primary Care office will be working closely with Health Connections and the Access Health office in Lexington Park. Access Health was established as part of Maryland's Health Enterprise Zone (HEZ) program, a state-wide initiative designed to bring medical services to disadvantaged neighborhoods. Greater Lexington Park was selected as one of five HEZ sites for the four-year, $16 million pilot project.
"With Health Connections and the HEZ, this office is the third piece of the pie," said Fahmi. "Our office will rely heavily on the services of Health Connections, and Health Connections will be able to utilize this office to present programs. It is a win-win situation."
Dr. Fahmi received his bachelor of medicine, bachelor of surgery degree from the University of Khartoum, Khartoum, Sundan. He performed a medicine/pediatrics residency at Seton Hall University in New Jersey. He is a member of the American Medical Association and the American Academy of Pediatrics.
Dr. Fahmi is currently accepting new patients of all ages. To schedule an appointment with Dr. Fahmi at MedStar St. Mary's Hospital's Primary Care, call 240-237-8557. Office hours are 8 a.m. to 4:30 p.m. Monday through Friday.