Waldorf Girl Scout Receives $20K Scholarship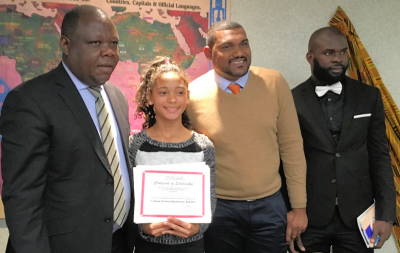 Pictured: (L-R) African Union ECOSOCC chairman H.E. Joseph Chilengi, Sierrah Remalia - GS Troop 6202, Motivational Speaker, Youth Advocate, & Author of "The Wealthy State of Mind," Dr. Garth Vickers, and Director of Conseil De La Jeunesse Congolaise de Washington, Noel Karl Lebondzo from the Congo Africa.
On Saturday, November 21, Sierrah Remalia of Waldorf Troop 6202 was awarded a $20K Scholarship by Building Bridges at the Global Africa Diaspora Convention. Sierrah was one of six Girl Scouts from the Waldorf Troop who competed for the scholarship. Under the leadership of Dewanna Knight, the Scouts were able to participate in the Global Africa Diaspora, the African Union's Formal Opening Reception and two-day convention. Building Bridges is founded by Motivational Speaker, Youth Advocate, & Author of "The Wealthy State of Mind," Dr. Garth Vickers, the mission of Building Bridges is "Strengthening Youth Competencies in Global Communities."
St. Mary's College of Md. Recognizes County High School Students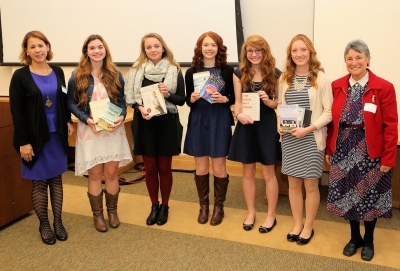 Shown in photo from left to right: Angie Draheim (SMCM Zeta Chapter president), Cristalyn Doig (King's Christian),Victoria Tacquard (Great Mills), Alexis Spiotta (Chopticon), Casey Bacon (Leonardtown), Grace Goodley (St. Mary's Ryken), and Laraine Glidden (SMCM acting provost and dean of faculty).
On Nov. 12, the Zeta Chapter of Phi Beta Kappa at St. Mary's College of Maryland held its 18th annual book awards, presenting book prizes to five county high school seniors in recognition of their outstanding academic record.
Founded at the College of William and Mary in 1776, Phi Beta Kappa is the nation's first — and most prestigious — academic honor society. St. Mary's College was approved for a chapter in 1997, after a rigorous review process that took more than three years to complete. Election to membership in Phi Beta Kappa is based on three criteria: academic achievement in the liberal arts and sciences; breadth of intellectual interests; and good moral character. There are 283 Phi Beta Kappa chapters across the United States today, with a membership exceeding 600,000.
Patuxent River Appreciation Days Was a Hit
It was perfect weather for the 2015 Patuxent River Appreciation Days (PRAD) held on October 10 and 11, 2015 on the grounds of the Calvert Marine Museum. With almost 7,000 in attendance the PRAD Committee could not have been happier. The committee is comprised of volunteers from the Calvert County Waterman's Association, The Calvert Artists Guild, Arick L. Lore Post - American Legion, The Pa Po Peake Shrine Club and staff from the Calvert Marine Museum. This event could not happen without the financial support from the Calvert County Board of Commissioners and the volunteers at the Calvert Marine Museum.
Not only does PRAD celebrate the Patuxent River, but it recognizes the efforts by organizations that want to help protect the largest and longest river entirely within Maryland. Many non-profit environmental organizations participate, as well as many local artists and crafters. This year, the best in show was awarded to Joan Tornell with her "Day on the Bay" crafts. Tornell will receive a free space for the event in 2016.
On Sunday, the Boumi Temple and the Pa Po Peake Shrine Club organized the PRAD parade. There was participation from nearly 40 various non-profit organizations and six floats that entered the parade float competition. It was difficult to choose winners, as all of the groups did a wonderful job. First Place prize of $300 was awarded to Cub Scout Pack 451. The Second Place prize of $200 went to the Jobs Daughters Bethel #42. Third place was awarded to Calvert County United Way and they were awarded $100. The committee encourages non-profit organizations to participate and the efforts are recognized by the community. The PRAD committee would like to extend their invitation now for environmental organizations, artists and crafters, as well as non-profits to consider participation in the parade on Sunday, October 9, 2016.
Sarah Mead of Leonardtown Joins Bay-CSS Board of Directors
The Board of Directors of Bay Community Support Services, Inc. (Bay-CSS) is pleased to announce that Sarah Mead of St. Mary's County has been appointed to the Bay-CSS Board of Directors. Sarah who earned a Bachelor of Arts Degree in Psychology from St. Mary's College of Maryland and a Masters of Social Work Degree from the University of Maryland School of Social Work understands the issues and challenges relating to individuals with special needs through her extensive work as a Psychotherapist for almost 10 years.
Sarah will draw on her wealth of experience in her work serving on the Agency's Professional Services Program Committee, and shares, "I am honored to serve on a board that serves such a great need in the community."
Bay-CSS Board of Directors and its Executive Director, Mitzi Bernard, would like to extend a warm welcome to Sarah, and notes that, "Sarah brings to our Board of Directors a thorough knowledge of the mental health system in St. Mary's County."
Prayer Vigil for Gov Larry Hogan
All around the state of Maryland prayer vigils are being held for Governor Larry Hogan and his fight against cancer. Sunday night, November 15th at 6pm, a vigil was held in St. Mary's County. Life Community Church of God, lead by Bishop Brian Shepard, hosted the event and it was attended by several clergy and members from local churches. Speakers included Pastor Michael Barber from Dominion Apostolic Ministries, Pastor Lori Hays from Lexington Park United Methodist Church, Pastor Henry Briscoe from the House of Disciples and Pastor Roderick McClanahan from the First Missionary Baptist Church. The prayer vigil lasted about two hours and focused on praying for a cure for cancer, as well as healing for Gov. Hogan who is battling non – Hodgkin's lymphoma. Delegate Ric Metzgar, who organized the event, mentioned his plans to hold a prayer vigil in every county in Maryland.
Life Community Church of God is located at 22512 Chancellors Run Road in Great Mills, Md.
New Eagle Scout Recognized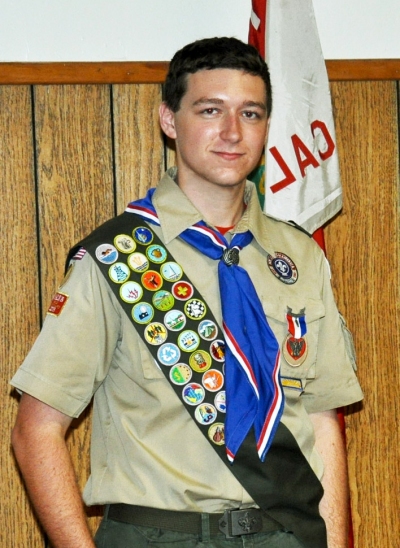 Daniel Lathrop of Lexington Park was awarded the rank of Eagle Scout in a ceremony at the Knights of Columbus Hall in Ridge, Maryland, on November 7th. Daniel, a member of Boy Scout Troop 561 in California, Maryland, joined the Boy Scouts of America as a Tiger Cub in 2003. He progressed through the scouting program in units in Ohio, New Jersey and Maryland. Daniel earned a total of 30 merit badges during his scouting career, and led the design and construction of a stone sidewalk at the historic Sotterley Plantation in Hollywood, Maryland, for his Eagle service project.
Daniel concluded his comments at the ceremony by saying, "My memories of Scouting go from some of the greatest moments of my life to some of the hardest times I've had to endure. Thinking back on it all, I've discovered scouting didn't make me who I am…it showed me."
Daniel is now a freshmen at Salisbury University, and plans to continue in scouting as an adult leader with Troop 561.
Eagle is the highest rank in Boy Scouting, and requires the completion of numerous leadership, community service, knowledge and skill requirements. According to the National Eagle Scout Association, only around 5 percent of boys who join Boy Scouting earn the rank of Eagle.
Mikaela Grace Duffié, Mini Miss Maryland, to compete in National Pageant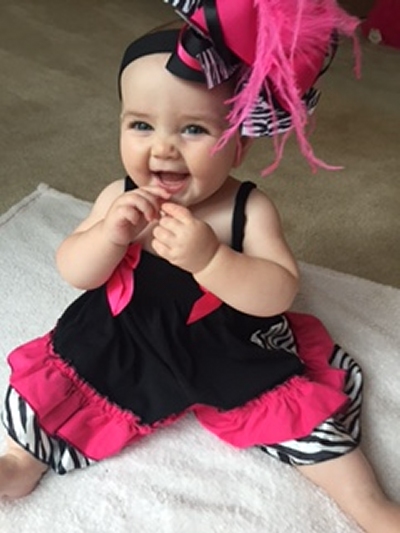 Mikaela Duffié, 7 month old daughter of Saint Mary's County residents Jason and Michelle Duffié, was chosen from hundreds of applicants as Mini Miss Maryland, to compete for the Baby Miss America National Title in Houston, Texas November 25-29, 2015.
The Baby Miss America Pageant, open to all children ranging in ages of six months to six years, chooses its contestants through the Candidate-At-Large System. The Pageant is a 100% Natural Competition. Rules and regulations include no make-up, no hair pieces, no fake teeth, no spray tanning, and absolutely no go-go juice of any kind. Unlike any other children's pageant, there is no modeling or talent involved.
Contestants will be judged on natural beauty, personality and attire, competing in Western Wear, 1950's Attire, Minnie Mouse Pink Polka Dot, Disney Princess and Party Dress.
Former Baby Miss America Winners traveled around the world including London, Cancun, Puerto Rico and across the entire continental USA, being honored by Senators, Governors and Congress, meeting celebrities and participating in local state and national functions, growing up to become self-confident, poised, determined, confident, successful young women.
The Baby Miss America Pageant is dedicated to the purpose of inspiring children with the highest ideals of character, conduct and confidence, assisting in the development of a child's poise and self-esteem, developing a positive attitude to reach their fullest potential.
The Official Baby Miss America Charity is "The Water Project." America's children are blessed with an unlimited supply of fresh, clean water. 4500 Children die every day because they do not have access to clean water. The Baby Miss America Pageant believes we can make a difference with "children helping children."