Ruiz Earns UMD Transfer Academic Excellence Scholarship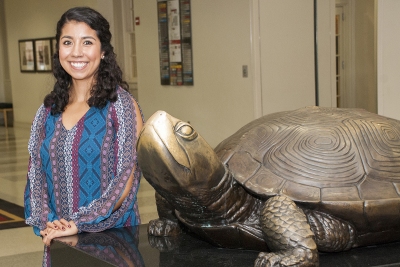 College of Southern Maryland alumna Kayla Ruiz, of California, was awarded the University of Maryland Transfer Academic Excellence Scholarship (TAES) which covers full tuition for four consecutive semesters. The scholarship, the most prestigious offered to transfer students, is awarded to students who earned an associate degree with a grade point average of 3.5 or higher and who demonstrate civic engagement in their community.
Ruiz began her studies at CSM as a dual enrollment student while at Leonardtown High School taking math, English and anatomy classes at the Leonardtown Campus. "I had a general idea that I wanted a career in kinesiology and CSM offered exercise science which would allow me to explore the field," said Ruiz. "I was fortunate to have Professor [Turner] Coggins at CSM who pushed me to go above and beyond what I would have in high school," said Ruiz. In addition to excelling at academics at CSM, Ruiz played soccer for the CSM Hawks for two years and was on the team that went to the National Championship in 2013.
Ward Virts Concert with Brian Ganz Rescheduled to Dec. 13
The College of Southern Maryland has rescheduled its 2015-16 Ward Virts Concert Series with a performance by classical pianist Brian Ganz to 3 p.m., Dec. 13. Ganz's performance is the second of six in the series, all of which are held at the Prince Frederick Campus, 115 J.W. Williams Road, Prince Frederick in the Multipurpose Room of Building B.
Having performed as a soloist with the St. Louis Symphony, the St. Petersburg Philharmonic (of Russia), the Baltimore Symphony, the National Philharmonic and many more, Ganz is widely regarded as a leading pianist of his generation. He is a laureate of the Marguerite Long-Jacques Thibaud and the Queen Elisabeth of Belgium International Piano Competitions and has performed with conductors such as Leonard Slatkin, Marin Alsop, Mstislav Rostropovich and Piotr Gajewski.
Since 2011, Ganz has been fulfilling a 10-year project, "Extreme Chopin," in which he will perform the more than 200 complete works by Frédéric Chopin at the Music Center of Strathmore in Bethesda.
Ganz is on the piano faculty of St. Mary's College of Maryland, where he is artist-in-residence, and he is a member of the piano faculty of the Peabody Conservatory. He is the artist-editor of the "Schirmer Performance Edition of Chopin's Preludes" (2005).
The Ward Virts Concert Series is presented and sponsored by the CSM Foundation and is also sponsored by Dr. and Mrs. Henry Virts, Edward and Patricia Mehosky, Exelon Corporation, Nancy Powell Hempstead in memory of Roger Powell, and Stovy and Anne Brown.
Grants are provided by the Arts Council of Calvert County and Maryland State Arts Council.
Admission is free and seating is open but limited. Doors open for seating at 2:30 p.m. the day of the concert. For information, contact 443-550-6011, rfleming@csmd.edu or
www.csmd.edu/calendar/arts/prince-frederick/brian-ganz-piano
.
The complete schedule for the 2015-16 Ward Virts Series is Brian Ganz (piano), Dec. 13; the Barry Gurley Trio (pop/classical), Feb. 14; the Merling Trio (classical), March 6; David Kane (jazz/classical), April 3; and the Octtava Duo (piano), May 1.
CSM, Local Agencies Test Emergency Preparedness
Working with MEMA, College Runs Drill on La Plata Campus
In partnership with the Maryland Emergency Management Agency as well as with local and regional emergency management and public safety agencies, the College of Southern Maryland conducted an emergency exercise Nov. 7 on its La Plata Campus. The exercise was designed to test the college's preparedness in collaboration with local first responder and emergency management agencies.
"The drill was the culmination of more than a year of planning among many partners, including Maryland Emergency Management Agency, Charles County Sheriff's Office and Charles County Fire and EMS, and the college to test emergency notification systems, communication and response procedures, as well as to identify areas in need of improvement," said CSM Public Safety and Preparedness Executive Director Don Frick. More than 150 CSM students, faculty and community volunteers, as well as evaluators and observers from Calvert and St. Mary's counties participated in the drill.
For photos from the emergency drill, visit
csmphoto.zenfolio.com/emergencyexercise11-15
.
For information on CSM's public safety and preparedness efforts, visit
ready.csmd.edu
.
College Honors Larry Chappelear with Memorial Gallery
Long-time CSM Professor Taught, Inspired Many Artists in Southern Maryland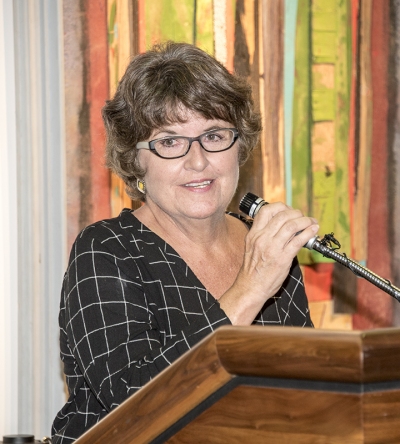 "This gallery reflects an artist's courage to transition and try new things….and reflects a dictionary of techniques," said former professor Susan Chappelear on the pieces chosen to represent her husband's body of work.
The College of Southern Maryland honored one of its own with the dedication of the Larry Chappelear Memorial Gallery in the Fine Arts (FA) Center on the La Plata Campus Sept. 29. The gallery celebrates the legacy of former professor Larry Chappelear, described as an inspiration to students, colleagues and community members alike over his 40 years of teaching, said CSM Communication, Arts and Humanities Chair Dr. Stephen Johnson.
The gallery showcases 13 of his many artistic drawings, mixed media and paintings, reflecting what his wife Sue Chappelear described as an artist's courage to transition and try new things.
"When you walk into a fine arts building you expect to be impressed—Larry's art greets us and invites us into the Fine Arts Center on the La Plata Campus," said Walter Grove, who spoke during the gallery dedication. He and his wife Jane Grove are among the donors supporting the gallery. Other donors include the Chappelear family, Marti and Ron Brown, Henry and Janice Nicowski in memory of Rebecca Chappelear, Sue Gregg and the CSM Faculty Senate.
For photos from the dedication ceremony, visit
csmphoto.zenfolio.com/chappeleargallery
. For information on arts programing and gallery hours, visit
www.csmd.edu/community/the-arts/
.
CSM's Hungerford Memorial Art Gallery Displays Travel Photographs
A group exhibition curated by Alexandra Silverthorne will be displayed in the Tony Hungerford Memorial Art Gallery in the Fine Arts (FA) building on CSM's La Plata Campus Nov. 16 to Dec. 11. Silverthorne's art lecture will be at 2:30 p.m. on Nov. 17 in the Learning Resources (LR) Building, Room LR-102 with a reception immediately following in the Tony Hungerford Memorial Art Gallery.
The exhibit brings together the work of four photographers, Caleb Charland of Maine, Candace Gaudiani of California, and E. Brady Robinson and Alexandra Silverthorne of Washington, D.C., whose works focus more on the journey than the destination.
While each photographer tackles the journey through landscape with different constraints and styles, the viewer is ultimately presented with a unified series that prompts consideration of movement whether through landscape or even activities of daily life.
The gallery is open Monday through Friday from 9 a.m. to 9 p.m. and Saturday from 10 a.m. to 6 p.m.
CSM Breaks Ground on Regional Hughesville Campus
Center for Trades and Energy Training to be Phase I of Master Plan for Site
Southern Maryland elected officials, and business and community leaders joined College of Southern Maryland students and employees in dedicating the new Regional Hughesville Campus and in breaking ground for the Center for Trades and Energy Training (CTET). More than 200 people attended the Oct. 27 ceremony at the new 74-acre campus where congratulations and words of gratitude flowed for the efforts that made the concept of a regional campus a reality.
"Today we are going to do two things that will definitely mark that this is truly a regional college that serves the needs of the residents of all three counties," said CSM President Dr. Brad Gottfried. "First, we are going to dedicate our new campus, and also we are going to break ground for our first building, our Center for Trades and Energy Training. I believe that these two events really indicate that the college values equal service, equal proximity, equal access to high-quality programs that are convenient to the citizens of all Southern Maryland."
CSM Board of Trustees Chair Dorothea Holt Smith welcomed guests to a new chapter in the college's history, saying, "It may be a cool, cloudy October day in Hughesville, but many of us are experiencing the warmth, the joy, the relief, that this day has arrived."
Smith said CTET marked the first phase in the development of the campus. The second phase is the construction of a state-of-the-art medical sciences building that will provide training to the healthcare professionals of the future. Other proposed phases for the campus could include a fine arts building, a field house and relocation of the college's athletic fields.
Gottfried said placing CSM's Regional Campus in Hughesville is important so that the new campus is central to the region. "To have kept [CTET, a currently leased facility] in Waldorf would have denied who we are. We know that citizens of St. Mary's and Calvert counties were not getting the services they needed and desired," Gottfried said.
"We are going to find the resources that we need so that every person in Southern Maryland gets the education that they need. That's something that means so much to me as college president and so much to others—no one should ever be denied an education," said Gottfried.
Among those offering remarks during the ceremony was Maryland State Sen. Thomas "Mike" Miller, who said that state and local government coming together to make the Regional Hughesville Campus a reality revealed participatory government at its best and that the dirt floor beneath the tent used for the ceremony was a 'glorious' dirt floor because it represented a new beginning for the college and for regionalization.
Dr. Jennie C. Hunter-Cevera, acting secretary for the Maryland Higher Education Commission, brought greetings from Maryland Gov. Larry Hogan and asked guests to think about how leaders from three counties came together to create one great community college that has blended the distinct characteristics of each of the counties. "The concept was groundbreaking and the result is a model to be replicated. Talk about effective and efficient use of taxpayer dollars and a great return on the investment."
"The College of Southern Maryland is a vibrant hub of aspiration, learning and workforce training…it is an educational home where many students can launch a lifetime of success," Hunter-Cevera said.
Providing a student perspective was Anita Hawkins of Brandywine who completed Fundamentals of Welding Part I earlier this fall. "I've always enjoyed working with my hands and being creative. I feel proud of myself after completing a project," Hawkins said. "From the first time I learned to strike an arc, welding carbon steel and aluminum through the processes of shielded metal arc welding, gas metal arc welding, and gas tungsten arc welding—I was hooked. Now at 24 I've found a field that I love: welding."
Hawkins thanked the people behind the creation of the central campus so that a greater number of Southern Maryland residents can receive trades training close to home. Speaking on behalf of fellow members of the Southern Maryland Delegation, Maryland Delegate Sally Jameson told guests, "We have all been behind the College of Southern Maryland since it was Charles County Community College. We love this [institution], it has grown a lot and it is serving the needs of the counties not just today but into the future."
The 30,000-square-foot CTET will include labs, classrooms and administrative space, and is expected to be completed for fall 2016. Architects are Grimm + Parker, and construction will be completed by Scheibel Construction. Construction funding of $8,934,000 will be provided by the state, providing 75 percent, and Charles County, providing 25 percent.
"We are so proud of the futures—I want to pluralize that—that the college has built and continues to build on its campuses," said Charles County Board of County Commissioners President Peter F. Murphy on behalf of the Board of Charles County Commissioners and residents of the county. "The College of Southern Maryland is proving to be a catalyst for growing our communities, for the county partnerships that we have with St. Mary's and Calvert, for employment, for economic growth, for continuing education not just for our younger people but for our adults as well, for career enhancement and for personal enrichment for all of our residents—for all generations of our residents."
"What we are about to break ground on I see as the intersection between education and economic development," said Charles County Commissioner Ken Robinson. "The education part is obvious—the college has been doing a marvelous job for generations. What will be taking place here will be education of energy and trades, teaching entrepreneurs and workers for a new green economy, and that is very exciting. Also with economic development, this is breaking ground on the revitalization of a very important village in our region."
Quoting from Vice President Joe Biden, Robinson said, "This, is a big deal."
"If I brought this microphone any closer to me, I swear you would hear my heart pounding out of my chest," said Pauleen Brewer, president of the Hughesville Business and Civic Alliance, Inc., of the excitement she felt at the groundbreaking ceremony and what it means for the village of Hughesville.
Providing a historical perspective, Brewer said, "Because Hughesville is designated as a village, we are a state and county recognized Priority Funding Area. We are the largest village in Charles County encompassing over 600 acres of land. The fact that we are uniquely situated in the central portion of the Southern Maryland, Tri-County region, is a strategic asset."
"Hughesville provides access to the entire region, and with the completion of the bypass, we have an opportunity to revitalize the village and attract new development consistent with our approved revitalization plan. We were thrilled the day CSM announced their decision to build their regional campus here, and we are thrilled and beyond proud to be here today to witness this groundbreaking. This location will truly serve the entire region and defines this learning institution's name, The College of Southern Maryland," said Brewer.
"Students who attend training [at CTET] will be among the most highly sought-after in Southern Maryland," said St. Mary's County Board of County Commissioners President James R. Guy. "It will also help St. Mary's and our neighboring counties to continue on the road to diversifying our respective economies. CSM continues to be a great partner in St. Mary's County and, with the addition of this campus, I'm confident that all of our citizens will be the ones to reap the benefits."
Also offering congratulations was Calvert County Board of County Commissioners President Steven R. Weems, an alum who played soccer for CSM. "There was a slogan for Maryland, 'Unity, Through Diversity,' years ago and I really think that encapsulates what the College of Southern Maryland is all about."
"It is our goal to offer residents of Southern Maryland and the Washington Metropolitan region the opportunity to learn a skilled trade here at CSM and thus earn a living wage, career mobility, job satisfaction, the ability to use their hands to create something and the pride that comes with it," said Dr. Daniel Mosser, vice president, Division of Continuing Education and Workforce Development. "CSM's total enrollment in workforce development last year was just under 13,000 enrollments with 1,500 of those enrollments at our currently leased Center for Trades and Energy Training in Waldorf. We look forward to expanding our offerings at this new facility to provide even more enrollments."
A regionally accredited community college that provides programs and services with a special focus on local workforce development to maintain and grow a healthy economy and community, CSM serves students and the community at its campuses in La Plata, Leonardtown and Prince Frederick, as well as at the Waldorf Higher Education Center and Center for Transportation Training in La Plata. The Regional Hughesville Campus will centrally locate specialized, high-cost programs.
For information about CSM, call 301-934-7765 or visit www.csmd.edu. For a gallery of photos from the groundbreaking ceremony, visit
csmphoto.zenfolio.com/ctetdedication
. For information on the Regional Hughesville Campus, visit
www.csmd.edu/about/locations/regional-campus/.