By MATT BEINART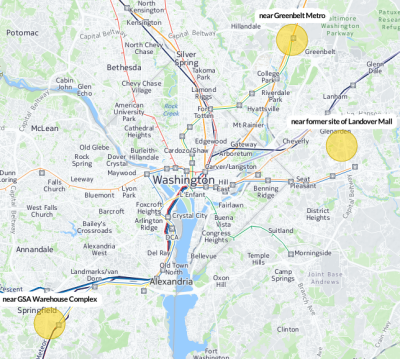 WASHINGTON (Nov. 5, 2015)—The push for an FBI headquarters move to Maryland is underway, with Sen. Ben Cardin and other Maryland officials making the case for two possible locations in Prince George's County.
The FBI announced its plans on Oct. 14 to consolidate its new headquarters and is considering sites in Landover and Greenbelt, as well as in Springfield, Va.
"Three potential sites for the new headquarters facility have been identified and work is well underway to evaluate security, environmental and transportation impacts on the sites," the FBI said in a statement,
Maryland and Virginia officials have submitted their site proposals to the General Services Administration (GSA), who are in the process of conducting environmental and transportation analysis.
"The Landover and Greenbelt sites have the adequate space for a full consolidation," Cardin said recently in an interview, emphasizing the commuting convenience for the many FBI workers located in Maryland. "The Virginia site is pretty crowded."
The Greenbelt location fulfills the FBI's criteria that the new site is near the Metro system and the Capital Beltway, according to Greenbelt community planner Jessica Bellah.
"The GSA has been working over the last year on analyzing the impact of the site," said Bellah, who believes a final decision won't take place until December of 2016.
Maryland's location options face competition from the Springfield site in Virginia.
"The best part of the whole thing is that the land is already owned by the GSA," Taylor Holland said, the chief of staff for Fairfax County Supervisor Jeff McKay said. "They can go start building whenever they want."
The Springfield site includes a GSA warehouse located near the Franconia-Springfield Metro station. "You can't get much cheaper than free," Holland said.
Fairfax County officials released their own transportation analysis of each of the sites on June 4.
The average travel time on public transportation to Springfield, based on where the largest concentration of FBI employees live, would be 2 minutes shorter than Greenbelt and 23 minutes shorter than Landover, according to Fairfax County's report.
The GSA is not expected to make a recommendation for a site until late next year.
For now, Maryland officials are continuing to promote the economic and transportation benefits of locating the FBI headquarters in Prince George's County.
"These (Prince George's County) sites are not hampered by development in the immediate area, which the Springfield site is," Cardin said. "We have two very viable sites and developers that are interested."