By Darcy Costello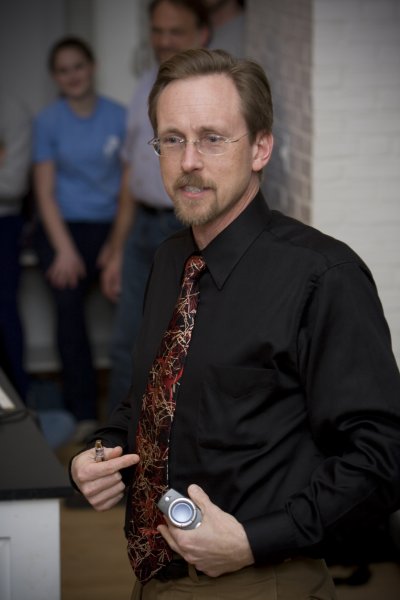 Jeff Byrd. (Submitted photo)
ANNAPOLIS (Sept. 18, 2015)—It wasn't until a stranger approached him after a Mass he visited at a church on the Eastern Shore that Jeff Byrd knew his voice was back.
For nearly two and a half years, damage from a 2012 bout of laryngitis prevented Byrd from singing, and he had only recently begun cantoring at his home church, St. Cecilia Parish in St. Mary's City, again. But when the woman complimented his singing voice, inviting him to join their choir, he felt confident it had returned.
Byrd explained to the woman that he was just visiting their parish, but mentioned an invitation he'd just received to audition for the Archdiocesan Papal Choir. The stranger was amazed.
"She was like, 'No, you have to audition. You need to,'" Byrd said. "It was almost like an angel sent to me. I really needed that push. I wasn't sure whether I would do it, but it's like she made me realize that it was important and I should take the leap."
Byrd, who has had no formal voice training, is a biology professor at St. Mary's College of Maryland. When he isn't instructing a principles of biology course and lab sections, he cantors at St. Cecilia's.
It's through this cantoring, he said, that he received an invitation in his inbox to audition. After serious consideration and some hesitation about the strength of his voice, Byrd was one of more than 300 people to audition — he balanced learning the sheet music with grading his students' final exams — and one of 90 to make the official choir.
When the papal choir performs Wednesday on a lawn in front of the Basilica of the National Shrine of the Immaculate Conception, where the pope is scheduled to celebrate Mass, it will be a significant change in Byrd's typical Wednesday afternoon location: the lab.
Samantha Elliott, an associate professor, will cover Byrd's courses on "Pope Day," as the department has dubbed Sept. 23. They also plan to broadcast coverage of the performance in a lecture hall on campus for students and faculty members to try spotting their longtime colleague and instructor.
"It's such a huge honor for him and he's a really humble guy," Elliott said. "You're talking about a guy who's very talented, but this is not something he does professionally. This is not even partially his day job. He does this because he loves it."
According to students, Elliott said, the best description of Byrd's speaking voice is something akin to Kermit the Frog. When he sings, though, he is a bass, the lowest vocal range of all voice types.
The difference in tone is surprising, but may not shock students, said administrative assistant Frances Titus, who also attends St. Cecilia's.
"He sings all the time on campus. As he's coming down the hall, running from point A to point B, you can hear him singing. He's always singing," Titus said.
And, Byrd said, that might include some odd locations.
"It's been interesting, a lot of times I'll find myself working on the pieces mentally while I'm in the bathroom, not knowing if someone was listening to me," Byrd said, laughing.
---
Out of a pool of over 350 applicants invited to audition by the Archdiocese of Washington, Byrd was one of 90 to advance through the rigorous audition process where musical selections were performed in English, Latin, and Spanish. Those invited were only given days to prepare.
Despite the demanding process, Byrd says he felt at ease. "I wasn't nervous then," he says, "but now I'm getting nervous realizing I have to sing for a Mass that will be telecast live around the world."
Byrd's choir is the biggest of five singing at the 25,000-ticketed event—with millions expected to tune in, as it will be the first-ever canonization Mass on U.S. soil.
Rehearsals commenced in September and are held in Hyattsville, Md. And at two-and-half-hours long without break, Byrd says rehearsals are intense, yet rewarding. "It's an incredible experience and a once in a lifetime opportunity that has pushed me more than anything else I can imagine."
The choir is directed by Thomas Stehle, who is the chief music director for the Mass. The music list includes arrangements of "Simple Gifts" and "Zion's Walls" by American composer Aaron Copland, songs by Argentine composer Pablo Sosa, as well as Latin acclamations and hymns.
Byrd is singing bass.