By JON BANISTER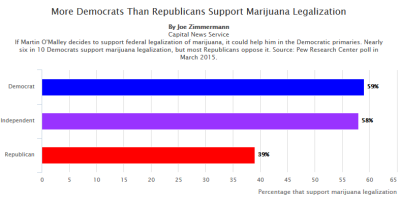 (Click on the image to see a larger rendition.)
WASHINGTON (Sept. 18, 2015)—Former Maryland Gov. Martin O'Malley met with marijuana policy experts in Denver Thursday to hear about how legalizing the drug has affected communities in Colorado, but he isn't yet ready to endorse federal legislation legalizing recreational use of pot.
Among the issues the Democratic presidential candidate has touted as he has campaigned around the country is his move while governor to decriminalize marijuana.
But he is being cautious about the next step on the federal level.
"I think we still have to watch, and we have to learn in Colorado and Washington state," the ex-governor told reporters after the meeting, according to The Denver Post. "I'm not there yet, but I am watching very closely what's happening."
Throughout the 90-minute Denver meeting, lawmakers, administrators, business owners, police officers and veterans detailed positive impacts of the state's legalization experiment.
"Colorado's economy is doing well, it's going up," State Rep. Jonathan Singer told O'Malley. "Teen use has either stayed stagnant or gone down and we're seeing our law enforcement able to focus on crimes that hurt people."
After listening to several speakers, O'Malley addressed the group, stressing the importance of learning from the states that have legalized marijuana.
"I think as Americans, given the hard truths about drug overdose, violent crime and incarceration, we should have this conversation and be informed by true facts and experiences that people of Colorado are having on the ground here," O'Malley said.
The meeting was hosted by Vicente Sederberg LLC, a Denver-based marijuana law firm. Managing partner Brian Vicente said he appreciated O'Malley taking the time to hear from Colorado's leading minds on marijuana policy.
"It showed that he's a thoughtful candidate and he is in touch with the issues that are really hot topics in our country right now," Vicente said. "It speaks volumes that he came to Colorado and sat down with experts to hear about how it's going here and educate his viewpoint."
Vicente wrote Colorado's constitutional amendment that legalized recreational use of marijuana.
As part of his criminal justice reform proposal, O'Malley has said he will move to reclassify marijuana from a Schedule I drug, alongside Heroin and LSD, to a Schedule II drug. The reclassification is largely a symbolic move, said Vincente, who advocated for full declassification, but it will help make it easier to conduct research on marijuana.
On the campaign trail, O'Malley has highlighted his marijuana policy record in Maryland.He signed a bill in 2014 decriminalizing the possession of small amounts of marijuana, making Maryland the 18th state to do so. He also made Maryland the 21st state with a medical marijuana program, allowing the state to issue licenses to growers and dispensaries and for patients to possess up to a 30-day supply.
While O'Malley oversaw the loosening of Maryland's cannabis laws, some activists worry about his previous opposition to marijuana reform and his inactive role in his own state's policy changes.
"He presided over [decriminalization and medical marijuana] but he is certainly not viewed as championing that legislation," Vincente said. "He's simply not."
The Marijuana Policy Project, a legalization advocacy group who had a spokesperson present at O'Malley's meeting, has graded each 2016 presidential candidate on marijuana policy. O'Malley received a C-minus, the lowest grade of any declared Democratic candidate.
"He has always been steadfastly an opponent of marijuana policy reform as governor, although it is certainly a welcome development his change in approaches more recently," said Dan Riffle, MPP's federal policy director who focused on the Maryland region between 2009 and 2012, during part of O'Malley's time in office.
Riffle said it is not important that candidates support federal legalization, but rather that they respect states' rights to legalize marijuana.
"What I would like to see from O'Malley and other candidates is a pledge to work to change federal law so that not only are we not enforcing federal law in states like Colorado but we're actually changing federal law so that people who are in compliance of state law in Colorado aren't violating federal law," Riffle said.
Marijuana business owners at Thursday's listening session said because of federal drug enforcement, banks refuse to deal with marijuana-related companies, forcing the businesses to operate exclusively with cash.
The issue of a state's rights to decide its own marijuana laws came up in Wednesday night's Republican debate, with libertarian-leaning Rand Paul arguing against federal government interference.
"I would let Colorado do what the Tenth Amendment says," said the Kentucky senator, who received MPP's highest grade of any candidate, with an A-minus. "This power, we were never intended to have crime dealing at the federal level, crime was supposed to be left to the states. Colorado has made their decision."