County Receives Financial Reporting Excellence Award for 13th Year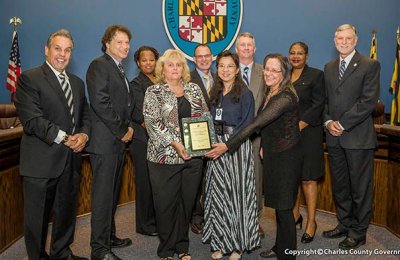 Pictured, left to right: Commissioner Bobby Rucci (District 4); Commissioner Vice President Ken Robinson (District 2); Commissioner Amanda M. Stewart, M.Ed. (District 3); Lisa Wood, Department of Fiscal and Administrative Services; David Eicholtz, Department of Fiscal and Administrative Services; Holly Sun, GFOA; William DeAtley and Jacqueline Garland, Department of Fiscal and Administrative Services; Commissioner Debra M. Davis, Esq. (District 2); and Commissioner President Peter F. Murphy.
On Tuesday, Sept. 15, the Charles County Commissioners recognized the Department of Fiscal and Administrative Services' Accounting Division for their 13th consecutive year earning a Certificate of Achievement for Excellence in Financial Reporting. The Government Finance Officers Association of the United States and Canada (GFOA) selected Charles County Government for its comprehensive annual financial report (CAFR). The Certificate of Achievement is the highest form of recognition in the area of governmental accounting and financial reporting, and its attainment represents a significant accomplishment by a government and its management.
Commissioners Recognize Turkish Cultural Heritage Month
On Tuesday, Sept. 15, the Charles County Commissioners proclaimed September 2015 as Turkish Cultural Heritage Month. This recognition works to build relationships between those of Turkish heritage and other cultures, as well as recognize Turkish-American contributions to our society. Today, more than 500,000 Turkish Americans live in the United States.
In honor of Turkish Cultural Heritage Month, the 13th annual Turkish Festival will be held in Washington, D.C. on Sunday, Sept. 27 from 11 a.m. to 7 p.m. The festival will feature authentic Turkish art, culture, cuisine, music, children's activities, guest speakers, and folk dance performances. For more information about the festival, visit
www.turkishfestival.org
.
Charles County Site Selected as 2016 Bassmaster Elite Series Destination
The Bassmaster Elite Series announced its 2016 tournament schedule, which includes Smallwood State Park in Charles County. Next year's tournament will allow the nation's top professional bass anglers to compete in some of America's top-ranked bass fisheries.
Chief of Tourism and Special Events Tim Morgan said, "We're excited to host the Bassmaster Elite Series- Potomac River fishing tournament. This is one of the largest U.S. fishing tournaments and expects to bring $1 million in economic impact to our county. We look forward to hosting anglers from across the United States and working with community partners to offer an exciting two-day festival on August 13 and 14. More details on the festival will be available in early 2016."
The lineup will take anglers to 10 fisheries in nine states, and includes 10 Elite events, an increase from nine Elite tournaments in 2015. The world's premier bass tournament circuit kicks off in Tulsa, Okla. on March 4-6, when the GEICO Bassmaster Classic presented by GoPro, widely known as the "Super Bowl of Bass Fishing," unfolds on Grand Lake O' the Cherokees.
"We believe the 2016 Elite Series lineup of lakes is the best we've ever put together," said Bruce Akin, CEO of Bass Anglers Sportsmen Society (B.A.S.S.). "Our Elite anglers will find a lot to love about it, and we are expecting to attract new fans in new places this year. That's the key to growing the sport."
As in most Elite events, the anglers will have three days of "official" practice immediately preceding the competition. Akin said special announcements are planned later for other events in 2016, including the third annual BASSfest and the 2016 Toyota Bassmaster Angler of the Year Championship.
The popular marshal program, which permits fishing fans to ride along and observe the Elite pros during competition, will continue in 2016. Enrollment for B.A.S.S. Nation and Life members begins Dec. 1 online and Dec. 3 by phone. Registration for other B.A.S.S. members begins Dec. 8 online and Dec. 10 by phone. Entries will be accepted beginning at 9 a.m. CT each of those days.
For more information about the tournament and the full 2016 schedule, visit
www.bassmaster.com
.
Indian Head Rail Trail Partial Closure from Middletown Road to Bensville Road, Sept. 15-17
A portion of the Indian Head Rail Trail, from Middletown Road to Bensville Road, will be closed Tuesday, Sept. 15 through Thursday, Sept. 17 for pipeline repair. Other portions of the trail will not be affected, and will remain open for public use.
Repairs will involve the use of heavy equipment and material transport. The closure is necessary to ensure public safety and to expedite completion of repairs.
For more information, contact the Department of Public Works' Parks Division at 301-932-3470 or 301-870-2778. Citizens with special needs may contact the Maryland Relay Service at 711, or Relay Service TDD: 800-735-2258.
Community Services Announces Fall Recreational Opportunities
The Department of Community Services is pleased to announce upcoming fall recreational activities:
• Recreation Gymnastic Classes (Registration Date: Monday, Sept. 14)
Is your child interested in gymnastics? Sign them up for our second session which consists of eight classes from Oct. 26 to Dec. 20. Elite Gymnastics offers classes for ages tot (2 years old) to high school, using a beginner to advanced level system. Placement depends on age and skill level. For safety reasons, all class sizes are limited to maximum number of participants. For more information about times, prices, and types of classes, visit the fall GUIDE at
www.CharlesCountyParks.com
or call Community Services at 301-934-9305 or 301-932-6004.
• Fall Princess Party (Event date: Friday, Oct. 16)
Looking to pamper your little princess? Bring your daughter ages 2 to 12 dressed in her fanciest party or princess dress to the Fall Princess Party. The party will be held at Wade Community Center (2300 Smallwood Drive, Waldorf) from 6:30 p.m. to 8:30 p.m. A wand and tiara will be given at the door. Enjoy nail painting, corsages, bracelets, balloons, fabulous rings, and decorative fans. You might even spot Snow White! Bring your camera to capture every precious moment. All princesses must be accompanied by an adult. Fees are $15 for residents and $17 for non-residents, or $20 at the door. For more information, call Community Services at 301-934-9305 or 301-932-6004.
• 5K Run/Walk For a Healthier Charles County (Event date: Saturday, Oct. 17)
Take out your walking/running shoes for this fun 5K, starting and ending at La Plata High School (5980 Radio Station Road, La Plata). Enjoy scenic trails around Tilghman Lake and Laurel Springs Park. Walkers and first-time racers are encouraged to participate. Check-in registration is at 7 a.m., and start time at 8 a.m.
Registration fees for those 18 years old and older are $30 before Oct. 1; $35 from Oct. 2-16; and $40 on Oct. 17. For those under 18 years old, the fee is $10. Those who register by Oct. 1 are guaranteed an event shirt. Limited shirts will be available on first-come, first-serve basis day-of registration. Awards will be given to first place male and female finishers in the specific age categories. For more information or to register, call Community Services at 301-934-9305 or 301-932-6004.
• Baby Bazaar (Saturday, Oct. 24)
Buy and sell pre-loved baby, toddler, and maternity items during the annual baby bazaar at Somers Community Center (300 Willow Lane, La Plata) from 9 a.m. to noon. Shop for all things baby and toddler-sized. The event will be held rain or shine. Children must be supervised at all times.
Interested in being a seller? Sell baby and toddler-themed items, out-grown toys, clothes, furniture, and gently-used maternity items. Setup is from 8 a.m. to 9 a.m. The deadline to reserve your space is Friday, Oct. 23. Table availability is limited.
For details about the baby bazaar or if interested in selling, call Somers Community Center at 301-932-6679.
The Department of Community Services provides a variety of fun activities. For a complete list of the fall recreational events and activities, please visit the fall edition of the GUIDE at
www.CharlesCountyParks.com
.