Calvert Marine Museum Helps Grant Last Wish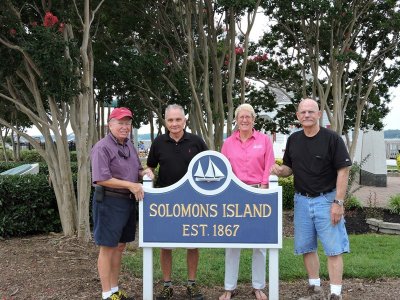 (Pictured left to right) Jim Shepherd, Jim Langley, Melissa McCormick, and Skip Edwards stand behind the newly installed Solomons Island sign. (Photo courtesy Robert Hurry)
Alton Kersey, who died February 20, 2014, was the unofficial "mayor of Solomons" and one of the founding fathers of the Calvert Marine Museum. Throughout his life he worked to make Solomons the special place that it is through dozens of projects, large and small. In his last years, he tended the garden at the Waterman's Park as if it were his own front yard, and paid out of his own pocket for new American flags that he personally raised and lowered on the flagpole. Alton took enormous pride in his adopted home and dedicated his tireless energy to preserving its heritage. His last wish was for a sign that would designate the official beginning of the island for, as any old timer will tell you, "Solomons Island starts after the tide box."
Skip Edwards, member of the Calvert Marine Museum exhibits team, built the sign designed by Jim Langley. Tim Scheirer painted the sign and Jim Langley added the gold leaf. Skip and Jim had done many projects for Alton over the years, and were happy to help out with this final wish. Also pictured is Jim Shepherd, the current president of the Solomons Civic Association, which helped raise the funds to make this project possible. Representing the Kersey family is Melissa McCormick, Alton's daughter.
Republican Women of Calvert Donate Sporting Gear to Local Police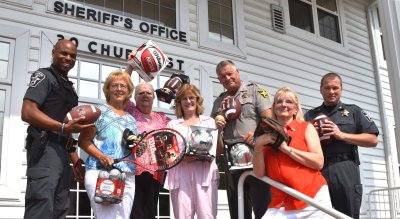 Pictured above: Sheriff Mike Evans, Major Dave McDowell, DFC Andre Mitchell, Kathy Baker, Carol Benke, Susan Ude and Jo Ann Martin.
On September 2, Kathy Baker, Carol Benke, Susan Ude and Jo Ann Martin of the Republican Women of Calvert County donated an assorted variety of sports equipment to the Calvert County Sheriff's Office. In the spring of 2015, Sheriff Mike Evans had a conversation with Betty Figgins-Hill of the Republican Women of Calvert County where he explained to her that when he was a Maryland State Trooper back in the 80's, he would carry around a football in his police car so that when the opportunity presented itself, he would play catch with the kids in the neighborhoods where he patrolled. The Republican Women of Calvert County thought it would be a great idea to give current sheriff's deputies the same opportunities to connect with the youth of Calvert County that Sheriff Evans had when he patrolled the same neighborhoods.
The sports equipment will be distributed to deputies, so they will be able to keep the equipment in their vehicles and when the opportunity presents itself, they too will be able to play catch, Frisbee or soccer with any youth that they may come into contact with. In this day and age, it is important for our local law enforcement to not only engage with youth in the community, but also to foster positive relationships and memories with the youth of Calvert County.
Calvert County Department of Economic Development Seeks Input for 2016 Visitors Guide
The Calvert County Department of Economic Development is compiling information for the 2016 Calvert County Visitors Guide. Museums, restaurants, hotels, inns, recreational boating organizations and other tourism-related facilities with locations in Calvert County are welcomed to submit information for possible inclusion in the 2016 guide, free of charge.
Sites included in last year's Visitors Guide are requested to contact us only if there are changes. New sites and those that wish to note changes should call Katie Brittain at the Department of Economic Development at 410-535-4583 no later than Nov. 1, 2015.
Every effort will be made to include complete descriptions for each listing. However, due to space limitations, the Department of Economic Development reserves the right to edit or omit listings as necessary.
The 2015 Visitors Guide can be found by visiting
www.choosecalvert.com/visitorguide
. For information on the Calvert County Department of Economic Development, call 410-535-4583 or 301-855-1880; send an email to info@ecalvert.com; or visit online at
www.ecalvert.com
.
Work on Stafford Road in Prince Frederick for Gas Line Installation
Work began on Tuesday, Sept. 8, to install a new natural gas line along the west side of Stafford Road in Prince Frederick. The project will take approximately 30 days to complete.
Stafford Road will remain open during the installation, though motorists may experience periodic delays due to temporary lane closures and flagging operations. Facilities located on Stafford Road include Calvert Substance Abuse Services, the Calvert County Detention Center, the Barstow Convenience Center and the county's Highway Maintenance Facility.
For more information about the project, contact Project Inspector Roy Milstead at 443-532-1841 or email milsteer@co.cal.md.us.
Calvert Is a Top County for Effective Use of Taxes
Calvert County is ranked third in the state for its effective use of property taxes according to a new study released by SmartAsset, a financial technology company focusing on personal finance.
SmartAsset developed the ranking to show counties "where people are getting the most bang for their buck, or where their property tax dollars are going the furthest."
Measurements included public school quality, crime rates, median home values and property tax rates. County schools received the highest ranking on SmartAsset's scale while the county tax rate is among the lowest in the state.
View the full report at
smartasset.com/taxes/maryland-property-tax-calculator#map