Calvert County Public Schools SAT Scores Increase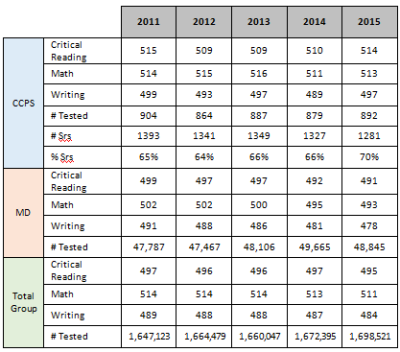 The average composite SAT score for the class of 2015 in Calvert County Public Schools increased 14 points, from 1510 in 2014 to 1524 in 2015. The scores for the critical reading and math components of the SAT increased to 514 and 513, respectively. The most notable gain was an eight-point increase to 497 in the writing component.
Participation continues to increase, as well. Seventy percent of the senior class took the SAT, a 4% increase over the prior year.
Dr. Daniel Curry, Superintendent, said, "We can't help but be pleased with our progress, but we should aim for even more students taking the test."
Although the scores show a slight five-year dip, the one-year increase comes at a time when the composite scores in Maryland dropped to 1462 from 1468 in 2014.
Calvert County Public Schools Receives $37,000 to Support Engineering in Elementary Schools
Calvert County Public Schools (CCPS) is the recipient of a $37,000 Raytheon-EiE District Scholarship to support engineering in elementary schools. The district will use the award to implement the EiE (Engineering is Elementary) unit "A Sticky Situation: Cleaning an Oil Spill" with all fifth graders this fall.
"This is a great investment in the Calvert County schools," says Janel McPhillips, the district's PreK-8 science supervisor. "We're surrounded by water here in Calvert County-the Patuxent River and Chesapeake Bay. The activities in the oil spill unit will also link to our state standards for environmental literacy."
Each $37,000 Raytheon-EiE scholarship supports a professional development workshop for 25 teachers, EiE classroom materials for each teacher, and tuition for a district representative to attend a Teacher Educator Institute to build the skills to deliver EiE professional development for more teachers in the district. "We would not have been able to do this without the Raytheon scholarship," McPhillips says.
Raytheon-EiE District Scholarships are one element of a $2 million award by Raytheon to the Museum of Science, Boston to jumpstart use of the curriculum in schools nationwide. Twelve district scholarships have been awarded to date.
Board of Education Appoints Citizen Advisory Committee
At its meeting on August 13, 2015, the Calvert County Board of Education appointed members of the Citizen Advisory Committee (CAC) for the 2015-2016 school year. The Calvert County Board of Education recognizes the importance of meaningful family and community input and annually appoints members to this committee. Citizens are encouraged to apply when applications are made available every June. Members are appointed on the basis of high school district. The membership typically consists of 25 members by district and 5 at-large members, plus a minimum of one student from each high school.
Calvert County Public Schools Policy #1210 states, "The CAC provides interested persons a means for taking an active role in public education. The committee reports directly to the Board of Education and serves in an advisory capacity. The CAC serves as a channel for feedback, advice and information on matters affecting the school district; provides a forum whereby the Board of Education or members of the Superintendent's Office may discuss pending policy, budget, management, and instructional issues for comment by the CAC prior to determination; and provides a vehicle through which information can be shared with the community."
During the 2015-2016 school year, the CAC plans to study and review equal opportunity for girls under Title 9, the academic achievement gaps among students in various groups, attendance, and opportunities for advanced learning.
CAC members for the 2015-2016 school year are:
Calvert High District: Maricarol Blanco Cloak, Mariann Crisman, Margaret Dunkle, Judy Hooker, Abiodun Ijaola, Elaine Reilly, Terese Wells, John Williamson
Huntingtown High District: Donald Clime, Derek Sabedra, Dee Dee Shirley, William Wiggins
Northern High District: Inez Claggett, Nicole Cooksey, Stefany Lang, Angela Novak, Debra Ruzinsky, George Sisson
Patuxent High District: Jack Fringer, Wanda Hassler, Culver Ladd, Richard Sanchez
More information about the CAC is available at
www.calvertnet.k12.md.us
.