Charged on new law that is less than one year old; Law says threat did not have to be real, only that at least 5 people needed to be "placed in reasonable fear that the crime will be committed"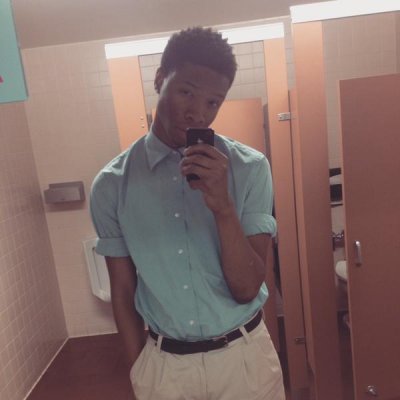 Carlos Anthony Hollins, 20, of Waldorf, Md. ("Selfie" photo via Facebook)
CALLAWAY, Md. (Sept. 10, 2015)—The twenty year-old Waldorf man, Carlos Anthony Hollins, who was arrested on Sept. 2 for Threat of Mass Violence is still in the Charles County Detention Center in La Plata as of today. Bail was set at $250,000 on Sept. 4. Neither online court records or county detention center records list an attorney for Hollins.
Hollins was arrested on the eve of Sept. 2 after turning himself into the Charles County Sheriff's Office's Waldorf station in response to an arrest warrant that had been issued earlier in the day. The warrant was issued after a single post Hollins made on Twitter caught the attention of several citizens who notified the La Plata Police Dept.
Hollins posted, "IM NOT GONNA STAND FOR THIS NO. MORE. TONIGHT WE PURGE! KILL ALL THE WHITE PPL IN THE TOWN OF LA PLATA #BlackLivesMatter"
According to subsequent posts on Twitter, Hollins didn't believe that any one was taking his post seriously. "obviously was joking lol no cops are taking them serious," Hollins tweeted.
But, the cops were taking it seriously.
"We took it very serious. In today's society where we're seeing mass shootings at schools and at malls and in churches, we have to take it serious," La Plata Police Chief Carl Schinner told NBC4 News in Washington. "People were staying home—they were scared."
A trial has been set for Tuesday, Nov. 10 at 8:45 a.m. in the Charles County District Court in La Plata.
Hollins is accused of "Threat of Mass Violence," Section 3-1001 of the Code of Maryland Regulations (COMAR), which is a misdemeanor punishable by no more than 10 years in prison and/or a $10,000 fine.
This law just went into effect less than one year ago on October 1, 2014.
The law reads in part: "A person may not knowingly threaten to commit or threaten to cause to be committed a crime of violence, as defined in § 14 – 101 of this article, that would place others at substantial risk of death or serious physical injury, as defined in § 3 – 201 of this title, if as a result of the threat, regardless of whether the threat is carried out, five or more people are : (1) placed in reasonable fear that the crime will be committed."
So, even though Hollins maintained that his post was not meant to be taken seriously, if the prosecution can prove Chief Schinner's statements regarding the perceived reality of the threat by his citizens and the resulting fear, Hollins may very well find himself being found guilty.
RELATED INFORMATION:
Maryland lawmakers plan to try again to make mass violence threats a crime, Washington Examiner, April 17, 2013
http://www.washingtonexaminer.com/maryland-lawmakers-plan-to-try-again-to-make-mass-violence-threats-a-crime/article/2527457
HB 0697, Crimes - Threat of Mass Violence
http://mgaleg.maryland.gov/webmga/frmMain.aspx?pid=billpage&stab=01&id=hb0697&tab=subject3&ys=2014RS
Black Man in Custody After Threatening to "Purge" La Plata of White People, September 02, 2015
http://somd.com/news/headlines/2015/19726.shtml