By Donna Cipolloni, NAS Patuxent River Public Affairs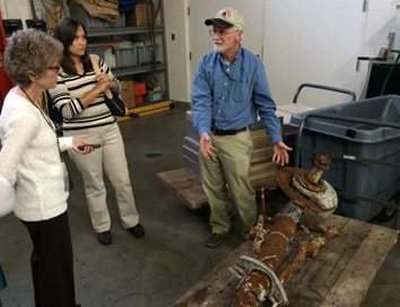 In the pre-treatment area of the Maryland Archaeological Conservation Lab, NAS Patuxent River Cultural Resources Manager Mike Smolek explains that the first steps in the conservation process of the recovered A-1 Skyraider landing gear are cleaning, desalination and coating. (U.S. Navy photo by Shawn Graham)
PATUXENT RIVER, Md.—Approximately one year ago, fishermen in the Chesapeake Bay snagged something when pulling up their anchor offshore of NAS Patuxent River – the landing gear from an A-1 Skyraider.
"At first, they didn't know exactly what they had found but by the time I was contacted, the landing gear had been identified by others as belonging to a Skyraider," said Mike Smolek, NAS Pax River's cultural resources manager.
In its 70-plus years of existence, a number of aircraft have gone down at Pax River.
"Aircraft testing can be a dangerous business and this was particularly true in the 1940s and 50s when the loss of planes was a more common occurrence," Smolek explained. "Some of these aircraft ended up ditching in the waters of the Chesapeake Bay and it's not always clear from the records, which are pretty sparse on details, whether some of them were recovered. Truth is we really don't know how many are still out there."
At this point, the origin of the landing gear is not yet certain. Historical references to downed Skyraiders in the vicinity of Pax River don't quite match up, although the area where the artifact was found corresponds to the location of a submerged aircraft – believed to be a Skyraider – captured in sonar images in 2013 by the Institute of Maritime History and, again, by a team from Naval History and Heritage Command surveying offshore Aug. 25.
Currently, the landing gear is submerged in water undergoing a desalination process as part of conservation efforts at the Maryland Archaeological Conservation Lab at Jefferson Patterson Park Museum (JPPM), a state-of-the-art facility that does work for the Navy and other agencies worldwide. Its particular area of expertise is underwater artifacts.
"Because metal absorbs salts, you have to remove the salt for it to be stable and not deteriorate," said Smolek, who before coming to Pax five years ago, oversaw the lab's operation as executive director of JPPM. "They'll keep checking the salinity in the water to see how much salt is still in it, but it could take months."
As a submerged Navy artifact, the Skyraider's landing gear is the property of Naval History and Heritage Command (NHHC), who will add it to their collections and determine its final destination. Efforts are ongoing to learn more about its exact history and any serial or bureau numbers that may be recovered by the lab during conservation will assist in identifying its origins.
The Douglas A-1 Skyraider was an American single-engine attack aircraft that saw service between the late 1940s and early 1980s. According to the National Naval Aviation Museum website, the plane that became the AD Skyraider – redesignated A-1 in 1962 – evolved from a 1943 Navy decision to combine dive-bombing and torpedo missions in one aircraft.