By Guy Leonard, St. Mary's County Times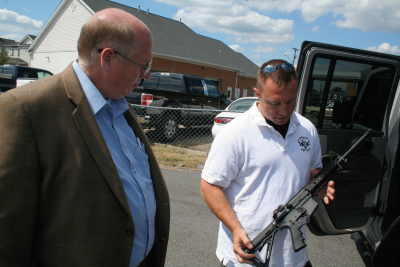 St. Mary's Dep. Mike Worrey, right, talks to La Plata Police Chief Carl Schinner about the finer points of one of two custom built AR-15 rifles Worrey built for patrol rifle use by Schinner's officers. Worrey operates Legion Rifles based in Mechanicsville. (Photo: St. Mary's County Times)
HOLLYWOOD, Md.—When Chief Carl Schinner of the La Plata Police Department took over command of the agency two years ago, officers lacked a key piece of gear they needed to respond to the new reality of active shooters.
They needed sleek, accurate rifles that could stop a lethal threat quickly from long range.
When Schinner learned of Legion Rifles, a Mechanicsville-based firearms manufacturer operated by St. Mary's County Sheriff's Deputy Michael Worrey, he found someone who specialized in exactly what his department needed.
Worrey delivered two custom-made AR-15 rifles, similar to the military's M4 carbine, to La Plata officers Aug. 27.
"It gives the officer the tools they need to neutralize an active shooter," Schinner said, remembering his long career with Greenbelt police before coming to Southern Maryland.
"I went on an active shooter call before it was known by that name. I understand the need for patrol rifles.
"It gives them accuracy at a distance." Traditionally police have used shotguns to augment their firepower but for more than a decade now police have seen the need to upgrade to semi-automatic rifles with high-capacity magazines.
One of the events that signaled the trend became known as the North Hollywood Shootout in police circles, when in 1997 two-heavily armed and armored bank robbers with illegally modified automatic weapons became embroiled in a 44-minute firefight with Los Angeles Police Department officers.
During that confrontation, officers, mostly armed with 9mm Beretta automatic pistols, went to a nearby gun store to get AR-15 rifles to help combat the assailants.
In recent years active shooters and terrorist threats have shown the need for better weapons, with more power and accuracy for law enforcement.
But with that comes the need for much more training.
Schinner said the new rifles, paid for by the department's budget, come with a plan for an increased training regimen and plenty of ammunition for practice.
When he took over the department, officers didn't even have a patrol rifle program and since then officers have used their own personal rifles to place in their trunks.
Schinner said he was impressed with Worrey's workmanship.
"We like to buy local when we can," Schinner said of the choice to buy from Legion Rifles.
Worrey has been a member of the St. Mary's agency for 12 years and has served on its elite tactical team.
"They got all the right parts," Worrey said of the rifles he was requested to build. "None of it's low-grade."
Worrey said the barrels used in the new guns were designed for fully-automatic fire, which means they should last for decades without much appreciable wear.
Schinner said there are no plans to convert the new rifles to full-automatic capability.
Worrey is currently building two rifles that will be raffled off to support local charities including the Mechanicsville Braves youth football league and for the Wounded Warrior Project.