By John Joyce, NSWC Dahlgren Division Corporate Communications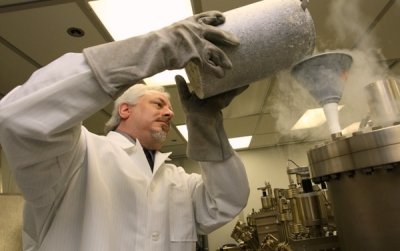 DAHLGREN, Va. - Naval Surface Warfare Center Dahlgren Division (NSWCDD) scientist Dr. Kevin Boulais uses liquid nitrogen in a molecular beam epitaxy system to create photocapacitors for light guide film applications. Boulais was one of three NSWCDD inventors presenting their patented and patent pending innovations before a panel of university professors, business owners and entrepreneurs at the ninth Office of Naval Research-sponsored Innovation Discovery event, Aug. 20, 2015. The program - identified as a best practice by the Navy Technology Transfer Program - enables NSWCDD to exploit the government's intellectual property generated during the research and development process. The patents' technical transfer can result in royalty income for the Navy. If commercial product sales are made that include these patents in the future, a percentage of those sales will also come back to the inventors and NSWCDD in the form of royalties. U.S. Navy photo by Master Chief Mass Communication Specialist D. Kevin Elliott (Released)
DAHLGREN, Va. - Three inventors stood before the Navy's version of ABC's "Shark Tank" panel of tycoons, famous for investing in budding entrepreneurs' creative ideas and making dreams a reality.
The U.S. Navy inventors - Adam Simonoff, Dr. Kevin Boulais and Gerhard Thielman - emphasized the military applications of their patented and patent pending innovations before the panel at the University of Mary Washington Dahlgren campus, Aug. 20.
Then they explained how their innovations can be commercialized for the public to enjoy.
Like their multi-millionaire counterparts in the TV reality show, this Naval Surface Warfare Center Dahlgren Division (NSWCDD)-sponsored panel of distinguished university professors, business owners and entrepreneurs were clearly more interested in the commercial applications as they peppered the inventors with questions.
Panel members questioned the inventors about possibilities in health, medicine, law enforcement, agriculture, and aviation industries.
Technical transfer of patents into these industries - or anywhere in the public domain - can help the Navy save money by reducing cost and increasing product availability.
No stone was left unturned. The panel also discussed how the transfer of technology could ignite a whopping new crop of web-based games for adults or children.

Naval Surface Warfare Center Dahlgren Division (NSWCDD) inventors join Innovation Discovery sponsors, partners, and a panel of university professors, business owners and entrepreneurs at the ninth Office of Naval Research-sponsored Innovation Discovery event, Aug. 20, 2015. The Innovation Discovery process has been identified as a best practice by the Navy Technology Transfer Program and is a prototype that federal research laboratories throughout the United States can implement to give their development personnel a step-by-step system to discover, document, and protect intellectual property and its commercialization potential. U.S. Navy photo by Tammy Indseth (Released). [Click on image for larger rendition]
"The panelists added a new dimension and a fresh look at the commercial applicability of NSWCDD intellectual property," said Lorraine Harting, NSWCDD Technical Partnering Office acting director, regarding the non-federal panel members' view of federal technology and its applications.
The fresh look could not begin until event facilitator Mike Riley of TechLink was sure everyone was creative, positive, and free from any inkling of critical thinking.
Riley asked the panel, participants, and observers, to cite two unique things about themselves - one true, one false - followed by crowdsourcing, a guess, and feedback on what was in fact true. After a round of fascinating factual and fictitious stories with lots of laughter, Riley declared that the TechLink Innovation Discovery process was ready to begin.
The primary activity of TechLink - a DoD partnership intermediary - is brokering Cooperative Research and Development Agreements and patent license agreements between DoD labs and U.S. industry for the manufacture and use of DoD inventions. These inventions involve virtually all technology fields, including medicine, software, electronics, communications, advanced materials, and energy-related technologies.
Juxtaposed to the "Shark Tank" moguls, the Innovation Discovery panel nurtures pressure free, non-critical, imaginative brainstorming sessions for ideas that improve the transfer, transition, and commercialization of inventions under development, leading to enhanced defense capabilities and positive economic impact.
"The more relaxed you are, the more creative you are," said Riley, who taught college students for 30 years at Montana State University. "It's highly important that we have no criticism - it will block creative thinking. When you think you will be judged, it will block you creatively. We are being creative as we see what everyone sees but thinking what no one else thinks."
The brainstorming - and a technique inspiring creativity called brainwriting - began immediately after each inventor briefed his innovation to the panel.
Thielman spoke about his innovation - the Spherical Armored Mobile Platform. Boulais briefed the panel on the Light Guide Film for Electronics, Distributed Computing, Sensing and Electromagnetic Control. Simonoff presented the Collaborator Common Collaboration Environment.
In the end, the panel - and the witnessing audience of scientists and engineers - generated scores of commercial applications for the inventions.
"They brainstormed many great commercialization ideas for our technologies and patent claims to strengthen our patent applications," said Harting. "We will work hard to bring some of the great ideas generated to fruition. Ideally, the panel members will become ambassadors for NSWCDD. As they become aware of our inventions and the potential of these inventions to help create new technology start-up companies and assist existing businesses in the region, they will help get the word out: NSWCDD is a valuable national asset that has the potential to be a powerful engine of innovation and economic development."
The Innovation Discovery process has been identified as a best practice by the Navy Technology Transfer Program and is a prototype that federal research laboratories throughout the United States can implement to give their development personnel a step-by-step system to discover, document, and protect intellectual property and its commercialization potential.
"They were all extraordinary ideas, each in a different way, each looking in a different domain," said event co-sponsor Dr. Charlie Daniels, an Old Dominion University Batton College of Engineering professor and a summer fellow at the NSWCDD Technical Partnering Office. "The idea is to get this technology into the hands of people who can exploit it. The Navy can also be paid back with licensing fees. We're rewarding the inventors and the Navy for investing in these innovations. Plus, whoever receives and uses the license doesn't have to do all the research themselves. It's really a win, win."
Before the Innovation Discovery Process, there were limited resources in place to thoroughly identify and capture intellectual property aspects. Moreover, there was little thought among scientists and engineers about the technology transfer and commercialization potential of the innovations developed and implemented within their military projects.
The Innovation Discovery event - NSWCDD's first and the ninth sponsored by the Office of Naval Research (ONR) - was part of a pilot program intended to increase the number of invention disclosures, improve existing disclosures, or identify commercial applications to existing inventions.
The program enables NSWCDD to exploit the government's intellectual property generated during the research and development process. What's more, the patents' technical transfer can result in royalty income for the Navy. If commercial product sales are made that include these patents in the future, a percentage of those sales will also come back to the inventors and NSWCDD in the form of royalties.
"I was impressed with how the panel brainstormed many commercial applications for Collaborator," said Simonoff. "If Collaborator transfers to a licensee, I hope to see it transition back to DoD even better to benefit the warfighter."
The Collaborator Common Collaboration Environment is designed to meet a variety of applications including a secure shared situational awareness by providing a web-based chat room equipped with a synchronized, multilingual, multilayered, multi-privileged, multimedia whiteboard with active dynamic intelligent content. Users log in using a commercial-off-the-shelf web browser for anytime-anywhere 24-7 availability. Originally designed for military mission planning and execution, Collaborator is equally useful for modeling and simulation, telemedicine, distance learning, logistics package shipping, emergency management, meteorology, virtual social gatherings, group gaming, virtual town hall meetings, virtual corporate meetings and conferences, architecture and construction trades, interior design and product engineering meetings. If it can be visualized, then it can be shared - securely. Collaborator maximizes use of the cloud and protects the privacy of its users' data.
"An aircraft company can license this," Daniels asserted, after the panel and participants, mostly scientists and engineers, brainstormed the Light Guide Film for Electronics, Distributed Computing, Sensing and Electromagnetic Control invention.
Boulais told the panel that the flexible dielectric waveguide for light - like fiber optics but flat - is often used for flat panel displays, keypad illumination, and advertising. He added that the invention will secure communication with no radio frequency interference and it will network electronics, sensors, and radiating elements in a two-dimensional fashion.
The light guide film will also improve "flexible electronics". In other words, there will be "no copper interconnects to break," explained Boulais.
"The idea of being able to safely and efficiently replace all the copper wiring in airliners is huge." said Daniels. "One of the biggest issues in the airline industry today are fuel costs. Think of the cost savings, the efficiency, and the reliability increases. Had we not done this, this idea may never have come into the public domain, and the Boeings and the British Air Spaces of the world would not be able to exploit this technology."
Thielman, an engineer and attorney, told the panel that his Spherical Armored Mobile Platform will provide a highly maneuverable reconnaissance vehicle for hostile urban environments. The patent claims include an armored transport and a version for recreational vehicles. He filed a follow-on application for an unmanned remote-control reconnaissance device called the Spherical Infrared Robotic Vehicle, patented last year. The inventive spherical vehicles provide unique mechanisms for steerable locomotion designed to enhance capability for the warfighter.
"The panel provided suggestions for additional uses of the overall concept besides operation on solid terrestrial surfaces, so those options are expected to be included in follow-on patent applications," said Thielman, who is an NSWCDD patent counsel.
For example, the panel suggested that a miniaturized version of the vehicle could explore the human body for healthcare diagnostics.
"Without the contributions from panel members, these additional purposes might have been overlooked," he added.
The event supports President Barack Obama's October 2011 Executive Order, "Accelerating Technology Transfer and Commercialization of Federal Research in Support of High-Growth Businesses" that requires federal laboratories to share its research products with the private sector in order to boost economic development. The order's underlying statute requires that all federal laboratories take an active role in technology transfer.
"We are going to start taking these ideas back to ODU and replicate it in as many places as we can," said Daniels. "We will start looking at our own inventions and intellectual property and ask ourselves, 'why can't we do the same things here?' We have intellectual property that hasn't been exploited and many of our stakeholders have this level of intellectual property."
TechLink assists DoD in licensing its inventions to industry, enabling companies to create new products and services using these inventions. There is no charge to either DoD labs or companies for these services.
"We are very excited to see these events continue to multiply across not only the Navy labs, but all the federal labs and academia," said Dottie Vincent, ONR Technology Transfer program manager.
NSWCDD, a Naval Sea Systems Command warfare center division, is a premier research and development center that serves as a specialty site for weapon system integration. The command's unique ability to rapidly introduce new technology into complex warfighting systems is based on its longstanding competencies in science and technology, research and development, and test and evaluation.