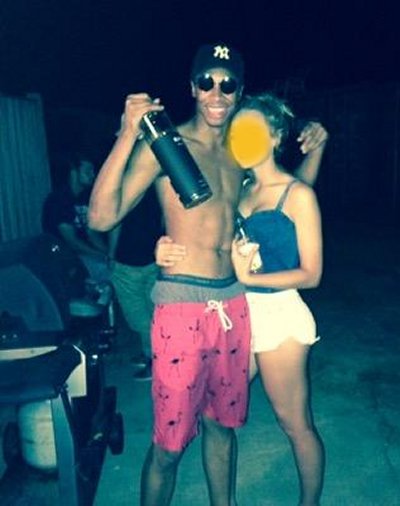 This photo was posted as the profile picture on Carlos Anthony Hollins' @_TRVPCOCAINE Twitter page. While not confirmed, it is believed to be Hollins himself, who was arrested in Waldorf Wednesday evening for "Threats of Mass Violence."
CALLAWAY, Md. (Sept. 2, 2015)—Carlos Anthony Hollins, age 20, of Waldorf is sitting in a Charles County jail tonight after an arrest warrant was issued for him this evening charging him with "Threats of Mass Violence." At 4:45 p.m. Wednesday, Hollins posted the following on his Twitter account:
"IM NOT GONNA STAND FOR THIS NO. MORE. TONIGHT WE PURGE! KILL ALL THE WHITE PPL IN THE TOWN OF LA PLATA #BlackLivesMatter"

Hollins' user identifier on Twitter is
@_TRVPCOCAINE
and his tagline reads, "black guy in avi." The account was suspended sometime between 2 a.m. and noon on Thursday.
Several other Twitter users picked up on the threat and retweeted it back to the FBI and Charles County Sheriff's Office. At 6:11 p.m., a user who goes by "@Hellno2hillary2016" posted that he called the police in La Plata, which has its own force separate from the sheriff's office. Hollins even retweeted the post.

The La Plata Police Department subsequently issued the following press release:
"THREATS MADE AGAINST THE CITIZENS OF LA PLATA
"On September 2, 2015 at approximately 4:43 P.M., the La Plata Police Department was alerted to a threat of violence against La Plata residents that was made on social media. The agency is working with allied law enforcement agencies to establish the creditability [sic] of the threat and the identity of the individual. The tweet read, "IM NOT GONNA STAND FOR THIS NO. MORE. TONIGHT WE PURGE! KILL ALL THE WHITE PPL IN THE TOWN OF LA PLATA"
"More information will be forthcoming. The Department has added extra officers to patrol in an effort to protect the public."
According to subsequent posts on Twitter, Hollins didn't believe that any one was taking his post seriously. "obviously was joking lol no cops are taking them serious," followed by three emoticons indicating laughter with tears.
His apparent acquaintances also had a hard time believing that anyone was taking the post seriously. "why you got so many people on your ass about this lp purge (4 strong laughter emoticons)," wrote someone who goes by the handle
@whiitegucci
.

At 7:41 p.m., Hollins posted
a video of himself walking into the sheriff's office's Waldorf station
, saying that he was turning himself in. From that point until the time of this article, Hollins had not posted again on his Twitter account.
A subsequent press release from La Plata police solved the mystery. Hollins was arrested at 8:47 p.m.