Protecting and Serving Calvert County for 25 Years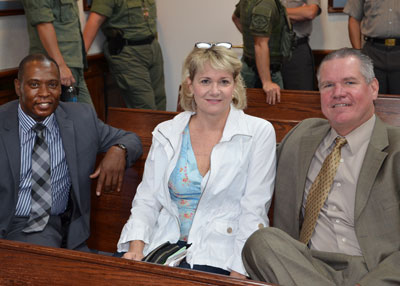 Calvert County Sheriff's Office 1st Sgt. Keith Hicks, Evidence Property Manager Susan Fischer and Capt. Steve Jones share a moment before Keith and Steve were recognized with proclamations for their individual 25 years of service. (Photo: Calvert Co. Gov.)
The Board of County Commissioners this month recognized Calvert County Sheriff's Office 1st Sgt. Keith A. Hicks and Capt. Steve Jones on their retirements. Both Hicks and Jones marked 25 years of service with Calvert County's local law enforcement.
It was noted that Keith's career-long involvement with the D.A.R.E. program has "made a significant impact on the youth of this county, through countless hours of mentoring, guiding and teaching students good decision-making skills."
Steve's career saw him move up the ranks holding positions with the Criminal Investigative Bureau, the Patrol Bureau, the Special Operations Team and as the Sheriff's Office Public Information Officer.
Both men were called "amazing men who strive to improve the quality of life for all county citizens."
Calvert County Unveils "Prepare Me Calvert" Mobile App for Citizens app
The Calvert County Department of Public Safety Division of Emergency Management announces the launch of a new app that will help residents and visitors prepare for emergencies. The official launch of the "Prepare Me Calvert" app occurred today, Tuesday, Sept. 1, 2015, after the Calvert County Board of County Commissioners proclaimed September "Calvert County Preparedness Month" at its weekly public meeting.
The "Prepare Me Calvert" mobile app is a must-have app for emergency preparedness and information. It puts critical, real-time information at users' fingertips in the unlikely event of a regional emergency and helps residents stay prepared. Citizens are encouraged to download "Prepare Me Calvert" now for iOS (Apple) and Android devices for free through the Apple App Store or the Google Play market.
Some of the many features of the app include:
• Alerts for actual emergencies that scroll across the screen
• A weather section providing information based on users' geographical locations along with guidance on how to respond to the weather conditions
• Information on traffic, shelters, school closings and power outages
• An "I'm OK" feature allowing users to send messages to loved ones—when phone systems are clogged in an emergency—letting them know their status during an emergency
• A "Where Am I" feature that can send the user's exact location to any recipient via text, email, Facebook or Twitter
• A sign-up area for people to register themselves if they, or a loved one, have special needs, want to sign up to receive Calvert Alerts or who wish to join the Community Emergency Response Team (CERT)
"Our primary mission is to minimize the effects of future disasters through mitigation, planning, training and response efforts. This is the first app of its kind in our county and we feel it is a great tool for our citizens to better prepare themselves and to stay informed," said Jacqueline K. Vaughan, Calvert County Public Safety Director.
For more information about the Department of Public Safety Division of Emergency Management, call 410-535-1600, ext.2638; send an email to oem@co.cal.md.us, or visit online at
www.co.cal.md.us/emergencymanagement
.
New Video Highlights Fresh, Fun Finds at Local Farmers Markets
Calvert County's rich agricultural heritage is reflected in its lively local farmers markets. Learn more about the markets and what you can find at them in a new video.
The one-minute preview captures the mouth-watering local produce available at the markets, along with the breezy, fun atmosphere where locals gather and visitors get a taste of the good life. From North Beach to Solomons and from May to November, Calvert County farmers markets are spreading the local flavor.
View the new farmers market video at
http://www.co.cal.md.us/index.aspx?NID=1889
Mt. Hope Convenience Center Improvement Project is Underway
A $2.6 million expansion project is now underway at the Mt. Hope Convenience Center that will improve traffic flow, increase services and enhance safety at the site.
The 12-month project, overseen by the Calvert County Department of Public Works, will enlarge the center and include new traffic patterns allowing the exchange of full bins without disrupting convenience center users. The center remains at its 96 Pushaw Station Road location in Sunderland.
New features at the center will include covered recycling areas and raised platforms adjacent to the bins affording easier access for offloading. The center will remain open throughout construction, though residents may experience periodic delays as work progresses.
The salt dome at the site will be relocated to the area where the current convenience center stands.
For more information about the Mt. Hope Convenience Center improvement project, contact Project Engineer Ian Liong at 410-535-2204, ext. 2217 or email liongkh@co.cal.md.us.
View the project page at
http://www.co.cal.md.us/index.aspx?NID=1887