St. Mary's College of Maryland Receives NIH Grant to Support Research Infrastructure
St. Mary's College of Maryland, the state's public honors college, was one of only six institutions awarded a grant in the 2014-15 award cycle from Eunice Kennedy Shriver National Institute for Child Health and Human Development, one of the National Institutes of Health (NIH).
The $435,620 award will be distributed over a five-year period and will support faculty and staff professional development at St. Mary's College, as well as infrastructure upgrades for the college's Office of Research and Sponsored Programs. Sabine L. Dillingham, director of research and sponsored programs, will serve as principal investigator with Laraine Glidden, acting provost and dean of faculty, as senior administrator and co-principal investigator.
"The overarching goal is to increase opportunities for students, faculty, and staff to engage in research by expanding current research opportunities, capacity, and services of the college as a whole," said Glidden. "I anticipate that this award will have a significant positive impact on the research culture of the college and the faculty support for sponsored projects."
The award reported in this press release was supported by the Eunice Kennedy Shriver National Institute of Child Health & Human Development of the National Institutes of Health under Award Number G11HD085545. The content is solely the responsibility of the authors and does not necessarily represent the official views of the NIH.
Ninth Annual Film Series at St. Mary's College to Focus on Baltimore Interests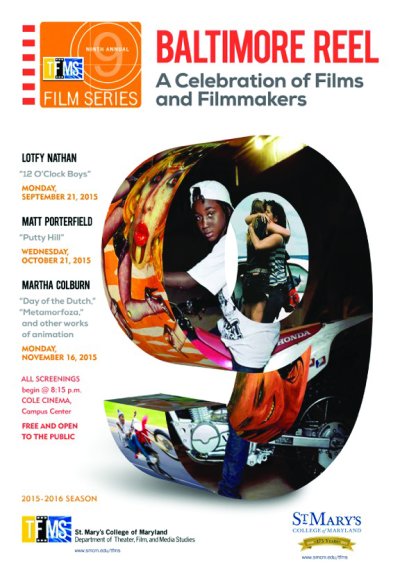 "Baltimore Reel: A Celebration of Films and Filmmakers" Begins Sept. 21—Free and Open to the Public
St. Mary's College of Maryland's ninth annual film series, "Baltimore Reel: A Celebration of Films and Filmmakers," begins Sept. 21 and runs through Nov. 16. The series will focus on the work of Baltimore, Md., filmmakers in a range of genres: documentary, narrative, and animation.
Maryland Film Festival filmmakers and Maryland Institute College of Art alumni Lotfy Nathan ("12 O'Clock Boys"), Matthew Porterfield ("Putty Hill"), and Martha Colburn ("Metamorfoza" and "Day of the Dutch") will be in person to screen and discuss their works.
The series is presented by the Department of Theater, Film and Media Studies. "This year we're turning our attention to regional practice, particularly to films written, directed, and produced by Baltimore interests," said Mark Rhoda, series curator. "We have chosen to feature the Baltimore area in order to underscore the richness and diversity of practice coming from the region, especially from schools like MICA and through film festivals enjoying an increasing prominence on the national circuit, like the Maryland Film Festival."
All screenings take place at 8:15 p.m. in Cole Cinema, Campus Center. They are free and open to the public. For more information and to view the complete schedule, select the "film series and archive" tab at www.smcm.edu/tfms/.
SMCM Professor Releases Brain-Exercising Video Lecture Series for The Great Courses
St. Mary's College of Maryland Professor of Mathematics David Kung has released a new video lecture series titled "Mind-Bending Math: Riddles and Paradoxes." The 24-lecture course teaches participants how to break down, examine, and solve famous riddles and paradoxes through basic logic and math principles.
"The brain needs exercise just like the body does," says Kung. "Stretching your mind to try to solve a good puzzle helps improve your ability to focus—and to solve the problems that arise in your own life."
Conundrums covered in the half-hour lectures run the gamut from simple to complex, including:
• Zeno's paradoxes: "All motion is impossible," said the ancient Greek philosopher Zeno, because an infinite number of intervals must be traversed to take even a single step. This and Zeno's other paradoxes set the stage for two millennia of speculation about space and time.
• Liar's Paradox: "This sentence is false." A simple sentence, it traps you in an endless logical loop – with the conclusion that it is neither true nor false. Professor Kung traces the path from this simple idea to Kurt Gödel's revolutionary theorems showing that no axiomatic system will ever prove all the true mathematical statements.
• Life in a 3-Torus: Imagine life in a cube where the left wall is glued to the right. Walk out one side – you'd come back in the other! Now glue the front wall to the back and the floor to the ceiling and you're in a 3-torus. Watch as Professor Kung walks around this crazy space, even playing catch … with himself!
• Banach-Tarski Paradox: This most famous of all mathematical paradoxes shows that you can take a solid ball, split it up into six pieces, reassemble three of them into a complete ball the same size as the original, and reassemble the other three into another complete ball – also the same size as the original. Dr. Kung sketches the main ideas that prove this bit of mathematical alchemy.
Each lecture features a short segment called "Quick Conundrum" that presents a simple but perplexing phenomenon that you can easily explore at home. "The world is full of surprises," says Kung, whose First Year Seminar course is based on the videos. "Spaghetti noodles don't break like you think; autumn leaves don't fall—they're pushed; and light filters can turn subtraction into addition."
Mind-Bending Math is the second of two online mathematics courses released by Kung through The Great Courses. The Great Courses, the nation's leading producer of premium-quality video courses, provides lifelong learners with versatile courses in a multitude of fields. The courses are available on DVD, streaming, or video download at www.thegreatcourses.com. Kung's first 12-lecture course, "How Music and Mathematics Relate," has sold more than 44,000 copies since its release in 2013.
Kung earned his B.A. in mathematics and physics and his Ph.D. in mathematics from the University of Wisconsin, Madison. He joined the St. Mary's College faculty in 2000 and became a full-time professor in 2012. His areas of expertise include harmonic analysis and mathematics education. He has led efforts to establish Emerging Scholars Programs at institutions across the country, and has won numerous teaching awards, including St. Mary's College of Maryland's Homer L. Dodge Award for Excellence in Teaching by Junior Faculty, and is the founder of the Southern Maryland Math Circle, an enrichment program for middle and high school students. In addition to his position at SMCM, he serves the Mathematical Association of America as Director of its professional development program for new mathematics faculty, Project NExT.
In addition to his academic pursuits, Kung is an accomplished violinist. He has studied with one of the pioneers of the innovative Suzuki method, attended the prestigious Interlochen music camp, and performed with the Madison Symphony Orchestra. He remains an active musician, playing chamber music with students, leading COSMIC (the local community orchestra), and serving on the board of the Southern Maryland Youth Symphony and Choir.