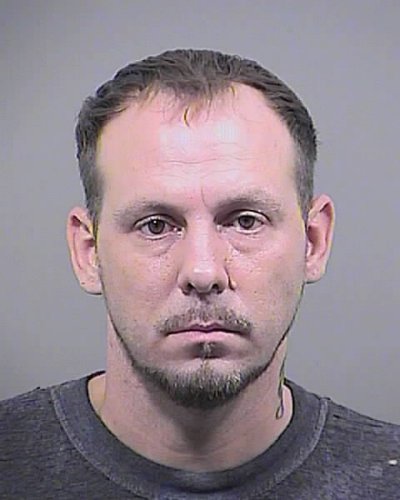 Stephen Dale Nolan, Jr., 41, of La Plata, Md. (Arrest photo)
LA PLATA, Md. (Aug. 27, 2015)—After a lengthy sentencing hearing, Charles County Circuit Judge Amy J. Bragunier sentenced Stephen Dale Nolan, Jr., 41, of La Plata, to Life plus 30 years in prison for the Sexual Assault and Attempted Second Degree Murder of his fiancé.
The sentencing hearing lasted more than 3 hours. During the sentencing hearing a number of people addressed the Court including the victim. Directing her comments to her fiancé, she spoke of his intent to victimize her, saying, "Yes, you attempted to victimize me. You tried to kill me. You tortured me for hours with our son in the house; psychologically, sexually and you beat me repeatedly. I was paralyzed and helpless. Bound and gagged. But I was not going to allow you to break me. I was not your victim."
On April 13, 2015 Nolan plead guilty to First Degree Sexual Offense, Attempted Second Degree Murder, First Degree Assault and False Imprisonment for events that occurred on May 8, 2014. On that day around 3:30 in the afternoon, Nolan began a vicious and sadistic attack on the mother of his child at their home in La Plata. Over the course of 4 hours, the defendant bound, gagged, beat, and tortured the victim. He tied her to the bed with electrical cords, hand cuffs, and rope. He struck her repeatedly with an aluminum baseball bat. He stabbed her multiple times. He violated her sexually with the bat stating that he was going to ruin her and that she'll "never be a w**** for anybody again." He also used a rag to push three of her teeth out. When the victim started bleeding profusely from the stab wounds, the Defendant bandaged the wounds, stating "You ain't f****** dying on me b****. I ain't done with you. I got too much f****** anger to take out on you. This s**** going on all f****** night. You ain't dying on me." After bandaging the victim, he forced her to clean up her own blood from the floor of the bathroom. She managed to escape through the bathroom window. The Defendant chased her into traffic as she attempted to flag cars down to get help. Concerned citizens stopped and intervened to get the defendant off of her. The defendant fled when police arrived.
Before imposing sentence the Judge told Nolan "You show no guilt, no shame and no remorse for your actions…Your drug use in this situation did not create the evil, it revealed the evil." The Judge also questioned Nolan, "…how could one human being treat another human being that way?"
In arguing for a life sentence Assistant State's Attorney Francis J. Granados told the Court, "Courts like this exist first and foremost to protect the public. And justice demands that this Court impose the harshest penalties for the worst kinds of crimes and offenders: offenders like this defendant. By his actions, he forfeited his right to be a member of this community. Charles County citizens expect this Court to impose a sentence that keeps perpetrators of such evil isolated from the community. A life sentence is the only way to do so. Anything less wouldn't be justice.
Charles County State's Attorney Tony Covington said of the sentence that, "The Court's sentence was absolutely appropriate as the defendant earned every single day of his sentence. Some people—thankfully not that many—commit acts that are so vile and vicious that society simply can't allow them to walk around free. This defendant is certainly one of those people."
Source: Office of Charles County State's Attorney Tony Covington