Federal employees help fight food insecurity through annual donation drive
By Shawn Graham, NAS Patuxent River Public Affairs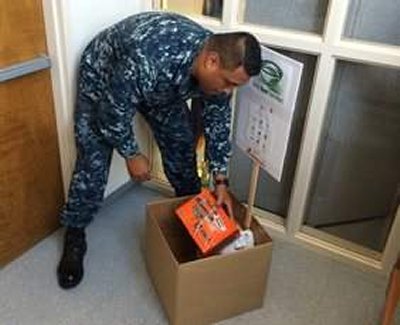 Yeoman 1st Class Rollis Talalemotu donates food to Feds Feed Families. Feds Feed Families is a program through the U.S. Department of Agriculture that provides a venue for federal employees to donate non-perishable foods that are distributed throughout their local communities. (U.S. Navy photo by Shawn Graham)
PATUXENT RIVER, Md.—NAS Patuxent River, along with other government organizations, is stepping up to participate in the seventh annual Feds Feed Families Campaign.
Last year, federal employees collected almost 15 million pounds of food and the DOD provided a record-breaking 3.1 million pounds of food to families in need.
According to the U.S. Department of Agriculture, hunger is a reality for one in six Americans. As a result, millions of Americans must turn to food banks and food pantries for emergency food assistance.
Donation boxes have been placed all over NAS Patuxent River as a way for service members and civilian employees to easily contribute.
The boxes are routinely checked by Chief Electronics Technician (SW/AW/SCW/FMF) Travis Linzmeyer, NAS Patuxent River coordinator and Lt. Cmdr. Jeffrey Augustin, NAS Patuxent River Command Chaplain.
Augustin said while many people at Pax are able to put food on their tables, some people outside the base can't.
"Our involvement in the community is important," Augustin said. "We have to help the families in the area. These are people we see every day, our friends and neighbors suffering in silence."
At Pax, Feds Feed Families has collected 12,700 pounds of food this year, with all of it going to local soup kitchens and local food pantries.
"This program is a community effort and we have community partners who feel the same way," Augustin said. "Pax is a conduit for public generosity."
Linzmeyer said summer months are the most difficult on food banks because children who might receive free lunch at school are home.
"There aren't too many programs where you give directly back to the community," Linzmeyer added. "I really think about the families who have children and I couldn't imagine my daughter struggling or going without food. Many people don't realize that most of the hungry people in our country are children.
"It's easier to garner donations during the winter because of the holiday seasons," Linzmeyer said. "People often forget that people suffering in poverty are hungry year round."
Linzmeyer said this focus on the local community distinguishes Feds Feed Families from other federal outreach programs, which are often much wider-ranging in scope.
The food drive began July 15 and will continue through Oct. 31. Employees can bring donations to one of several drop-off locations on Pax: The Commissary, Building 2173; Building 409; Religious Programs Center, Building 401; and the Read Adm. William A. Moffett Building, Building 2272.
For more information about this year's campaign at Pax, and to find out how you can help, email Linzmeyer at travis.linzmeyer@navy.mil. For more information on the program, visit www.fedsfeedfamilies.gov.