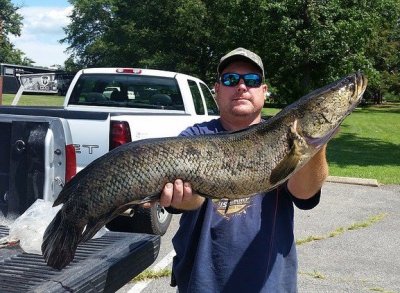 Todd Murphy of Marbury with his state record, 17.47-pound northern snakehead.
Todd Murphy of Marbury caught a state record, 17.47-pound northern snakehead while fishing with bow and arrow on Mattwoman Creek in the early hours of August 8, beating the previous record of 16.94 pounds set by Teddy McKenzie in 2014.
"I went out on the high tide expecting to find catfish up in the flooded grass," said Murphy. "I was surprised to find snakeheads instead, and ended up with seven of them and not a single catfish."
Murphy bagged the record just before 2:30 a.m.
Murphy works until 11 p.m. as a high-voltage technician. He likes to go straight from work to the creek to hunt for blue catfish and snakeheads from his custom jon boat rigged with an array of bright LED lights aimed at the water. With his schedule, he most often bowfishes alone.
Although world and state fishing records are normally awarded only for fish caught by rod and reel, there are exceptions in Maryland for its three main invasive fish species: northern snakehead, blue catfish and flathead catfish. These species may be caught by any legal recreational harvest method and subsequently considered for state record recognition.
The Maryland Department of Natural Resources includes an Invasive Species Award category in its annual Maryland Fishing Challenge, a year-long promotion of the state's excellent fishing opportunities, including more than 60 game fish species from the Atlantic Ocean and Chesapeake Bay, to the Potomac River and Western mountain streams. Anglers who register exceptional catches of Angler Award-eligible size will receive an award certificate and invitation to the challenge's finale at the Maryland Seafood Festival in September. There, they will have chances to win prizes such as a Tracker Marine boat package from Bass Pro Shops, Costa sunglasses and gear, fishing tackle from Bills Outdoor Center and cash.
As for the state record snakehead, Murphy says, "I'm taking it up to Chef Chad Wells at Alewife in Baltimore, and he's going to cook us a special dinner."
DNR maintains records for sport fish in three divisions—Atlantic, Chesapeake and freshwater—and awards plaques to anglers who achieve new record catches. To report a potential record catch, call 443-569-1381 or 410-260-8325. Anglers should keep their fish immersed in ice water to preserve its weight until it can be weighed at a seafood retailer, a grocery store, or tackle shop with a certified scale. All International Game Fish Association rules for records and Maryland fishing regulations apply.
Fish caught from privately-owned, fee-fishing waters are not eligible for record consideration. The Maryland State Record application and a list of records are on the DNR Fisheries website.
Source: Maryland DNR