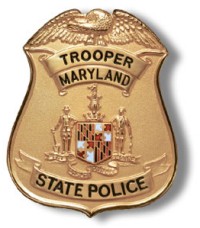 PRINCE FREDERICK, Md. (Aug. 20, 2015)—The Prince Frederick Barrack of the Maryland State Police (MSP) released the following incident and arrest reports.
POSSESSION OF SUBOXONE: On 8/11/2015 at 4:14 pm, Trooper First Class Lewis stopped a vehicle on Rt. 4 near Camaleer Pass in Owings. While speaking with the driver, TFC Lewis observed a pill bottle with no label affixed, underneath the radio. The bottle contained unopened Suboxone film. Benjamin D. Balderson, 32 of Huntingtown, was unable to provide proof of a prescription for this medication and he was placed under arrest. He was incarcerated at the Calvert County Detention Center.
POSSESSION OF MARIJUANA: On 8/12/2015 at 4:00 am, Trooper Megelick responded to the Super 8 Hotel in Prince Frederick for suspected CDS violations reported by the manager. A strong odor of burnt marijuana was emitting from one of the rooms. Christopher T. Phillips, 27 of Clinton, the occupant of the room, was found to have 29 grams of marijuana. He was arrested and incarcerated at the Calvert County Detention Center.
DUI Arrests
Kimberly A. Daugherty, 43, of , arrested on 08/12/2015 @ 07:49 am Lusby, MD TFC S. Casarella
James D. Berger, Jr., 49, of , arrested on 08/14/2015 @ 10:28 pm Owings, MD TFC S. Matthews
Samantha R. Kidwell, 28, of , arrested on 08/15/2015 @ 12:04 am St. Leonard, MD TFC J. Palumbo
Paul N. Small, 31, of , arrested on 08/16/2015 @ 12:33 am Andrews AF Base TFC S. Lewis
Cory A. Newman, 27, of , arrested on 08/16/2015 @ 03:32 am Washington, DC TFC J. Palumbo
Disclaimer: In the U.S.A., all persons accused of a crime by the State are presumed to be innocent until proven guilty in a court of law. See: http://somd.me/presumed-innocence. Additionally, all of the information provided above is solely from the perspective of the respective law enforcement agency and does not provide any direct input from the accused or persons otherwise mentioned. You can find additional information about the case by searching the Maryland Judiciary Case Search Database using the accused's name and date of birth. The database is online at http://somd.me/mdcasesearch . Persons named who have been found innocent or not guilty of all charges in the respective case, and/or have had the case ordered expunged by the court can have their name, age, and city redacted by following the process defined at http://somd.me/expungeme .