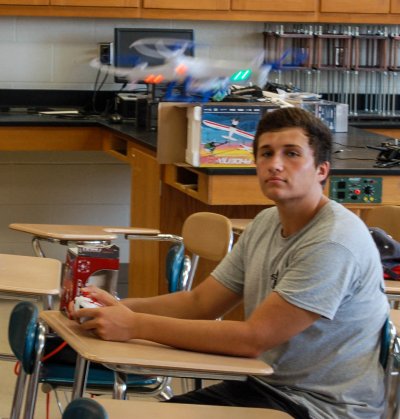 A student experiments with a quadcopter during Summer Space Camp in Great Mills. (Submitted photo)
LEXINGTON PARK, Md. (August 13, 2015)—All that can be heard as you walk down the halls of Great Mills High School is the buzzing of quadcopters, bashing of keys and beeping of robots as they battle to be number one. What could be compared to as a normal day at MIT, St. Mary's County Public Schools calls Summer Space Camp.
Summer Space Camp held two four-day sessions this year. Activities for students in grades 2 through 11 incorporated special guests, field trips, and experiments to create excitement, challenge students technically and build interest in STEM.
High school students developed coding for quadcopters, on loan from NAVAIR, which they flew autonomously through a designated course. The students also were given smaller quadcopter kits to build and take home.
The Patuxent Partnership, a key sponsor of Summer Space Camp, provided funding that included laptops and Finch robots. "Summer Space Camp gives students throughout the county the benefit to develop STEM skills in a creative and fun environment," said Bonnie Green, Executive Director of The Patuxent Partnership, "Space Camp is a great way to get students engaged in STEM activities!"
The 6th graders worked with the brand new Finch robots and developed coding through a program called Snap!. Multiple projects were developed for the Finches, such as using remote controls from a computer to control the Finch and allowing the Finch to autonomously sense dark and light areas in the classroom.
Snap! is a visual, drag-and-drop programming language that allows students to build their own programs. Snap! runs in a browser using Javascript and teaches coding through visual blocks instead of keystrokes.
The Patuxent Partnership works with government, industry and academia on initiatives in science and technology, hosts programs of interest to NAVAIR and the broader DoD community, and supports workforce development including education initiatives and professional development. Visit www.paxpartnership.org or call 301-866-1739.