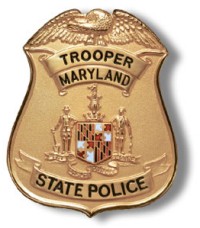 LEONARDTOWN, Md. (Aug. 13, 2015)—The Leonardtown Barrack of the Maryland State Police (MSP) today released the following incident and arrest reports.
DISORDERLY: On Sunday, August 9, Tpr. E. Krenik responded to the Maryland International Raceway for a reported disorderly subject. Investigation revealed that Troy Jermaine Brawner, 30, of Mechanicsville was involved in a physical altercation on the track with several other unknown individuals. TFC Mersman and TFC Taylor separated Mr. Brawner from the other individuals. Mr. Brawner postured himself in an aggressive stance facing TFC Mersman. TFC Taylor sprayed Mr. Brawner with his agency issued OC spray to prevent him from striking TFC Mersman. Mr. Brawner then turned toward the altercation and attempted to again become involved. TFC Mersman and TFC Taylor took Mr. Brawner into custody, and the other unknown individuals fled the scene. Tpr. Krenik transported Mr. Brawner to the St. Mary's County Detention Center, where he was charged with Disorderly Conduct. He was held pending a bond review with the District Court Commissioner. (15-MSP-028373)
THEFT, DESTRUCTION OF PROPERTY: On Tuesday, August 11, at 7:56 am, TFC S. Ditoto responded to the Fitzgerald Auto Mall for a report of a theft. Investigation revealed that unknown subjects trespassed onto the dealership lot. They damaged two brand new SUVs by removing the wheels and tires. Anyone with information concerning the identity of the person or persons responsible for these thefts is asked to contact TFC S. Ditoto at 301-475-8955. (15-MSP-028682)
Warrant Services
Amanda Abell-Morgan, 33, of Callaway, served on 8/10/2015 at 1:10 pm for Failure to Appear in Court
Harrison Pierce Wilbanks, 22, of Dunkirk, served on 8/9/2015 at 4:00 pm for Second Degree Child Abuse and Second Degree Assault
Kyle Matthew Hudson, 24, of Hollywood, served on 8/7/2015 at 7:05 pm for Failure to Appear in Court
DUI Arrests
Deena Jo Neville, 47, of Great Mills on 8/6/15 by Tpr. J. D. Greathouse
Mitchell Andrew Cizler, 29, of Waldorf on 8/7/15 by Tpr. J. D. Greathouse
Leonard Morris Goddard, 69, of Leonardtown on 8/7/15 by S/Tpr. E. M. Evans
Megan Elizabeth McAllister, 26, of Solomons on 8/9/15 by TFC M. J. Pitcher
Kaitlin Mary Fournier, 26, of California on 8/9/15 by Cpl. M. R. Grimes
Dustin James Duke, 28, of Mechanicsville on 8/9/15 by Tpr. E. M. Krenik
Emerson Javier Lopez Molina, 25, of Washington, D.C. on 8/9/15 by Tpr. E. K. Varesko
Disclaimer: In the U.S.A., all persons accused of a crime by the State are presumed to be innocent until proven guilty in a court of law. See: http://somd.me/presumed-innocence. Additionally, all of the information provided above is solely from the perspective of the respective law enforcement agency and does not provide any direct input from the accused or persons otherwise mentioned. You can find additional information about the case by searching the Maryland Judiciary Case Search Database using the accused's name and date of birth. The database is online at http://somd.me/mdcasesearch . Persons named who have been found innocent or not guilty of all charges in the respective case, and/or have had the case ordered expunged by the court can have their name, age, and city redacted by following the process defined at http://somd.me/expungeme .