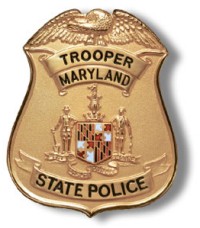 Home Invasion in Suburban Trailer Park
ST. MARY'S COUNTY—On August 9, at approximately 12:30 a.m., Maryland State Police Leonardtown Troopers responded to the 2100 block of Dana Ct. in Lexington Park (Suburban Trailer Park) for a reported home invasion and assault. Troopers arrived on the scene and made contact with a 47-year-old female victim and a 61-year-old male victim.
Investigation revealed a male and a female dressed in all black forced entry into the victim's trailer. Once inside the trailer, the female victim was struck in the head. The suspects stole items from the victim's residence and fled the scene driving a late 80's or early 90's white SUV.
The female victim sustained minor injuries and was treated and released at a local area hospital. The male victim was not injured.
Maryland State Police Criminal Enforcement Division, Central South investigators were contacted. Trooper First class Rhett Jackson responded to the scene and assumed the investigation.
Investigators are asking for any witnesses or anyone having information relating to this investigation to contact Trooper First Class Rhett Jackson of the Maryland State Police - Criminal Enforcement Division at 301-475-8955 or 410-535-1400.
Marijuana Grow Arrest; 56 Guns Seized
CALVERT COUNTY—In July, investigators from the Maryland State Police-Criminal Enforcement Division, Central South Region and MSP-Eradication Unit received information of a marijuana grow at a residence in the St. Leonard area of Calvert County. An investigation was initiated in the manufacturing of marijuana. Through the investigation, investigators were able to secure a search and seizure warrant for the residence.
On August 7, at approximately 6:10 a.m., investigators from CED-Central South Region, patrol troopers from the Prince Frederick Barrack and investigators from Homeland Security Investigations (HSI) executed a search and seizure warrant at the St. Leonard address. Investigators recovered a marihuana grow that had a street value of approximately $20,000. Contact was made with the Maryland Gun Center and investigators learned that the suspect is disqualified from possessing firearms. As a result of the disqualification, 56 firearms and numerous rounds of ammunition were confiscated from the residence.
The investigation is ongoing and will be reviewed with the Calvert County States Attorney's Office for charges.
DUI Arrests in Calvert Co.
Charles F. Pennington, Jr., 52, of Prince Frederick, arrested on 08/08/15 @ 11:35 pm by TFC S. Barlow
Cecelia L. Green, 30, of Suitland, arrested on 08/08/15 @ 11:36 pm by TFC T. Newcomer
Stephanie N. Shirley, 26, of West River, arrested on 08/09/15 @ 03:11 am by TFC W. Costello
Disclaimer: In the U.S.A., all persons accused of a crime by the State are presumed to be innocent until proven guilty in a court of law. See: http://somd.me/presumed-innocence. Additionally, all of the information provided above is solely from the perspective of the respective law enforcement agency and does not provide any direct input from the accused or persons otherwise mentioned. You can find additional information about the case by searching the Maryland Judiciary Case Search Database using the accused's name and date of birth. The database is online at http://somd.me/mdcasesearch . Persons named who have been found innocent or not guilty of all charges in the respective case, and/or have had the case ordered expunged by the court can have their name, age, and city redacted by following the process defined at http://somd.me/expungeme .