Theft of Cigarettes from WaWa in Dunkirk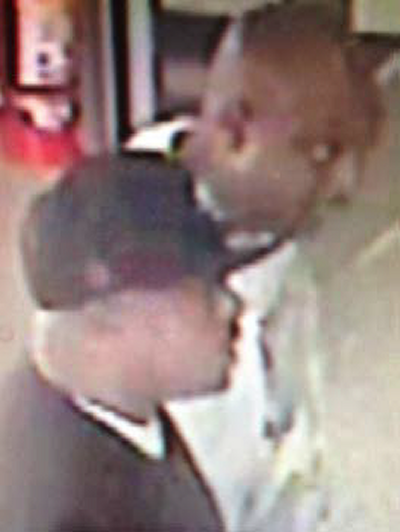 PRINCE FREDERICK—On Tuesday, July 28, Deputy J. Buck of the Calvert County Sheriff's Office initiated investigation into a reported theft of cigarettes from the WAWA convenience store, located at 10205 Kirksville Lane, Dunkirk, Calvert County. Investigation revealed the above pictured suspects leaned over an unattended cashier's counter and stole at least six cartons of Marlboro Lights cigarettes at around 5:00 p.m. on July 28.
Both black male suspects are believed to be 36 - 42 years of age. Height is estimated at between 6'-0" and 6'-2". The bald suspect is believed to weigh between 170 and 200 pounds. The weight on the suspect wearing the black hat was estimated to be between 200 and 230 pounds. The suspect vehicle is believed to be a brown in color, Volvo station wagon. The year on the vehicle was estimated to be 2009.
Anyone with information concerning the identity of the above suspects is asked to contact the Calvert County Sheriff's Office at (410) 535-2800.
Charles County Sheriff's Office Incidents
THEFTS FROM AUTOS: Between July 27 and July 28, unknown suspect(s) entered several unlocked cars in the Pinefield area of Waldorf and stole a total of $2 dollars. Officer J. Bottorf is investigating.
CITIZEN CALL AND QUICK POLICE RESPONSE LEAD TO APPREHENSION OF THEFT SUSPECT: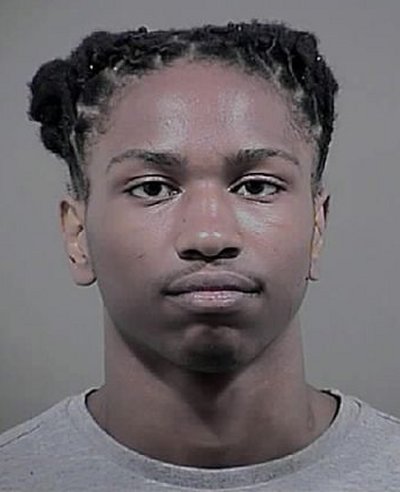 Decorey Malik Gray, 18, of Waldorf, Md. (Arrest photo)
On July 24 at 2:57 a.m., officers received a call from a citizen about a suspicious male looking inside cars in the area of Gateview Place and Northview Place in Waldorf. Officer B. Kunz drove to the area and observed the suspect inside a car, stealing items. The suspect fled upon being detected. PFC J. Hatfield, PFC R. Walls and Cpl. M. Sokoloff were on foot in the area and observed the suspect throw a bag of medications and cosmetics into a wooded area. The officers pursued the suspect who ran into the woods near Weeping Willow Court where he was apprehended by PFC D. Arends. The suspect was in possession of several items including a white iPhone with a cover, a wrench, an iPhone charger, coins and a pack of cigarettes, all of which had been stolen from at least three cars in the neighborhood. Decorey Malik Gray, 18, of Waldorf was charged with multiple counts of theft. Additional property was recovered and may have been stolen from other cars nearby. Anyone with additional information is asked to call PFC J. Hatfield at (301) 932-2222.
Serious Motorcycle Crash in Prince Frederick
PRINCE FREDERICK—On July 29 at approximately 12:46 p.m., members of the Calvert County Sheriff's Office Patrol Bureau and the Crash Reconstruction Team responded to the area of Sheridan Point Road and Fig Point Road in Prince Frederick for the report of a serious crash involving a dirt bike.
Preliminary investigation revealed a 1999 Yamaha YZ125 dirt bike was traveling along Sheridan Point Road prior to Fig Point Road. The dirt bike was traveling southwest along the solid double yellow center line when the operator began to lose control. The motorcycle traveled off the roadway, crossed a gravel driveway and struck a Crepe Myrtle tree. The operator and the motorcycle veered off the tree and struck a metal sign support post causing the operator to be ejected. The operator struck his head on the sign support post. The operator and the motorcycle came to rest at the base of the metal sign support post.
The dirt bike was being operated by Cory Jermaine Mackall, a 27-year-old male of Prince Frederick. He was not wearing a helmet at the time of the crash. The evidence on scene and witness statements suggests that Mackall had been consuming alcohol prior to the crash. Mackall was transported to the University Medical Center in Baltimore by Maryland State Police Trooper 7 and is listed in critical but stable condition. At this time alcohol, speed, and driver error are factors that contributed to the crash.
The Crash Reconstruction Team is investigating the events that led up to the crash. Anyone with additional information regarding the crash is asked to contact Dfc. J. Hardesty of the Calvert County Sheriff's Office Crash Reconstruction Team at 410-535-2800 or via email at hardesje@co.cal.md.us.
$10,000 REWARD: Construction Equipment Vandalized in Calvert
PRINCE FREDERICK—On June 7, an official with Thomas L. Hance Excavating contacted the Sheriffs Office to report damage to construction equipment and supplies. The crime occurred at the rear of The Farms of Hunting Creek subdivision on Huntsman Drive in Huntingtown, Calvert County. During the investigation it was learned that the crime occurred between the evening hours of June 6 and the afternoon of June 7, 2015. Suspect(s) damaged the construction equipment and causing over $50,000 dollars in damage to the machinery.
Detective DeFelice has been assigned this investigation, and requests any person with information related to this crime to contact him. Detective DeFelice can be contacted via phone at 410-535-2800 extension 2669 or via e-mail at defelinb(at)co.cal.md.us. If you would like to remain anonymous, you can contact Crime Solvers at 410-535-2880.
A cash reward of over $10,000 has been raised for information leading to the arrest and prosecution of those responsible for damaging the construction equipment.