Crime Solvers offering cash reward for identity of suspects in property destruction case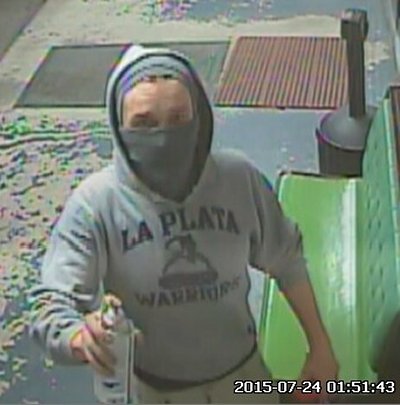 LA PLATA—On July 24 at 1:47 a.m., unknown suspects spray painted profanity and other words—with red spray paint—on the side of Wayside Store located in the 13000 block of Rock Point Road in Newburg. Officers canvassed the area and found fresh red spray paint on the side of Old Christ Church in the 13000 block of Shiloh Church Road and spray paint on two county road signs as well. Images of one suspect were captured on a surveillance camera. Another suspect is seen standing in the background.
Anyone with information about the identity of the suspects is asked to call PFC M. Hancock at (301) 932-2222. Tipsters wishing to remain anonymous may contact Crime Solvers at 1-866-411-TIPS. A cash reward of up to $1,000 is being offered in this case.
First-degree assault, departmental shooting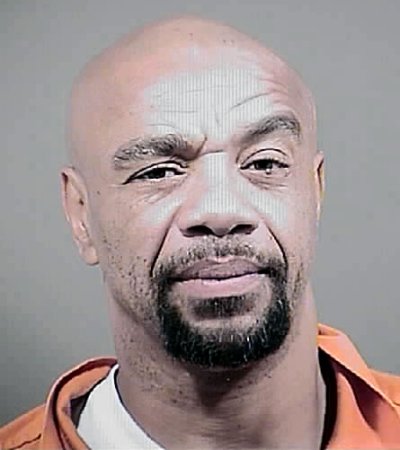 Lavon DeWayne Chisley, 49, of Bryans Road, Md.
LA PLATA—Charles County Sheriff's detectives have obtained an arrest warrant charging Lavon DeWayne Chisley, 49, of Bryans Road with two counts of first-degree assault, two counts of second-degree assault, malicious destruction of property and carrying a deadly weapon with intent to injure in connection with a domestic-related assault that occurred on July 22 in the 3000 block of Charleton Court in Waldorf. Chisley is charged with assaulting a 58-year-old woman with whom he had a relationship. Officers responded to the house after a resident called 911 three times and relayed information of a fight in progress. Two officers arrived at the house simultaneously and observed Chisley and the woman in the front yard. Chisley was holding a knife in his hand and appeared agitated. Officers gave verbal commands to Chisley to drop the knife but he refused. Instead, Chisley continued walking in a forward motion toward one of the officers. The officer, fearing for his life, discharged his firearm one time striking Chisley in the abdomen. Afterwards, the officer approached, pushed the knife out of reach and secured Chisley until additional officers arrived and provided first aid. Chisley was transported to a hospital and is in stable condition.
The officer involved in the shooting, PFC Jose Marti, has more than 25 years of law enforcement experience and is a nine year veteran of the CCSO. He was placed on administrative leave in accordance with agency policy.
Anyone with additional information is asked to call Sgt. J. Shoemaker at (301) 609-6451. The investigation is continuing.
Cove Point drowning
PRINCE FREDERICK—On July 24 at approximately 7:22 p.m., the Calvert Control Center received a 911 call in reference to two males who drowned off of Cove Point beach in Lusby. Calvert County Sheriff's Office patrol personnel responded to the scene and secured it until detectives for the Sheriff's Office Criminal Investigations Bureau arrived.
The preliminary investigation revealed that Mr. Daniel Jason Brown, age 37, white male, of Lusby; his brother Douglas Howell Brown, age 39, white male, of Mechanicsville; and a juvenile male were swimming off Cove Point in Lusby. It is believed the three entered deep water and became tired from swimming against the tide (The current in the area of Cove Point is significant). Investigators located witnesses who observed the three swimmers in visible distress. Witnesses saw both Daniel Brown and Douglas Brown disappear beneath the surface of the water. The juvenile was able to make his way back to shore where he alerted family members and authorities.
An extensive rescue effort was made by various agencies which met with negative results. The body of Daniel Brown was recovered on Saturday around 6:30 p.m. within close proximity to where the swimmers were last seen.
This case will remain open until Douglas Brown has been located.