By Guy Leonard, St. Mary's County Times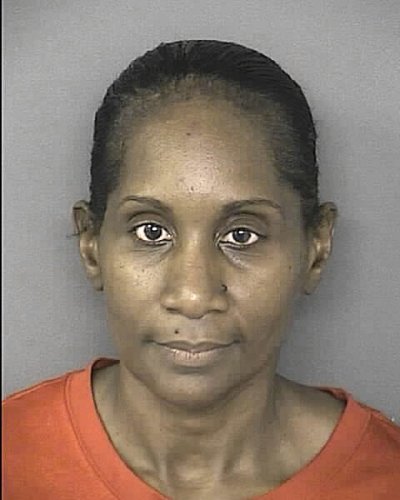 Ardena Yevette Jones, age 50, of Deale, Maryland. (Arrest photo courtesy of St. Mary's Co. Sheriff's Office)
HOLLYWOOD, Md.—A Circuit Court judge reduced the sentence of a Deale woman who recently entered an
Alford plea
to defrauding an elderly, blind man of more than $100,000 in life savings over a three-year period, so she could go back to work in order to pay restitution of $140,769.63.
Ardena Yevette Jones, age 50, admitted to falsifying checks of the St. Mary's County man, who was nearly 90 years old, while employed as his housekeeper from 2011 to 2014. The man would sign checks for Jones as payment but she would fill in an amount that was far above what he had recorded in his own financial ledger according to prosecutors handling the case.
In many instances the checks she filled out for the elderly man, who had depended on his wife to handle much of the family finances until she died, were for 10 times the intended payment.
Jones had requested that her sentence be reduced to home detention so she could find work and begin paying restitution; she claimed that while she was incarcerated at the county detention center that she was denied work release.
Judge David W. Densford, who allowed for the reduction in Jones' sentence, said he only agreed because it was part of a binding plea agreement. He said that Jones theft scheme had left the victim destitute.
My preference would be to give her 15 years in the DOC—Judge Densford
"My preference would be to give her 15 years in the DOC [Department of Corrections]," Densford said June 5 during Jones' modification of sentence hearing. "Then I would look at her case again when she makes a good faith payment."
Densford warned Jones to make good on her expressed intentions to pay back in full what she stole or face prison time in a state facility. The agreement mandates that Jones pay at least $1,200 a month until restitution has been met. At that rate, it would take 9.8 years to repay the judgment, placing the victim near 100 years of age.
"It's one of the more outrageous crimes I've ever seen," Densford said, adding that Jones took particular advantage of an elderly person who was vulnerable to her scheme. "It's an abomination.
"Miss a payment, miss a day and I'll send you to prison for six years."
This case number is 18K14000231 in the Circuit Court for St. Mary's County.
More local news stories are available in the online edition of the St. Mary's County Times