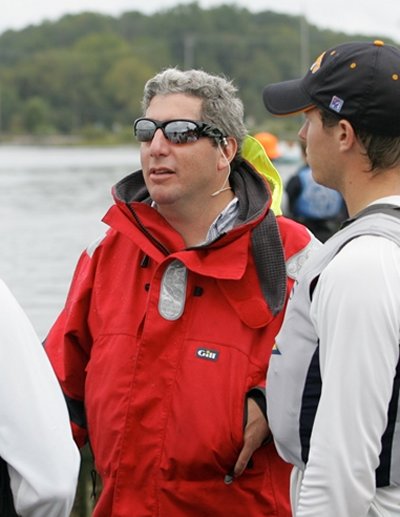 Werblow, who was recently inducted into the ICSA Hall of Fame, has led Seahawk sailors to 15 national team titles and 150 individual All-America honors. Photo courtesy of St. Mary's College of Maryland.
ST. MARY'S CITY, Md.—The Inter-Collegiate Sailing Association (ICSA) recently honored St. Mary's College of Maryland Head Sailing Coach Adam Werblow with the Graham Hall Award for Outstanding Service by a College Sailing Professional. Werblow was also inducted into the ICSA Hall of Fame for his contributions to the sport of college sailing.
Werblow will be entering his 27th season as the head coach of the St. Mary's College sailing team during the 2015-16 season. During his tenure, the team has amassed 15 national titles, while Seahawk sailors have earned over 150 individual All-America honors.
"For me, college sailing is the greatest game on the planet," Werblow said. "To be selected for the Graham Hall Award and named to the ICSA Hall of Fame is certainly one of the high honors of my life. I am so grateful for the wonderful people who have contributed to my experiences … my mentors, teammates, coaches, players, colleagues and competitors have all made the journey incredibly rewarding," he said.
A 1988 graduate of Connecticut College, Werblow was the captain of the sailing team. From 1989-1992, Werblow was a member of the U.S. Sailing Team in the Flying Dutchman class.
Werblow has been the head coach for U.S. Youth Worlds Team eight times and led the team to two gold and two silver medals in 1991, the best record ever at those world championships. In 1999, he was named the Developmental Coach-of-the-Year by the U.S. Sailing's Olympic Sailing Committee.
He is married to Amy Moore and the couple resides in St. Mary's City with their two children, Meredith and Michael.