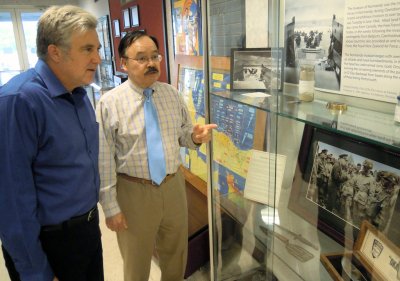 Udo Goff -- a Naval Surface Warfare Center Dahlgren Division (NSWCDD) defense contractor and avid collector of World War II artifacts -- explains the unique histories behind various Normandy D-Day invasion items to Jon Dachos, an NSWCDD Human Systems Integration lead engineer. Goff's D-Day collection is on display at the command's Electromagnetic and Sensor Systems Department lobby until June 12. The retired Navy commander is also exhibiting Battle of Midway artifacts at the Center for Surface Combat Systems and AEGIS Training and Readiness Center lobby until June 10. This is the third year that Goff displayed his personal collection at Dahlgren in commemoration of the invasion of Normandy and the Battle of Midway - major turning points for the U.S. military and allied forces during World War II. (U.S. Navy photo by John Joyce/Released)
DAHLGREN, Va. (NNS)—Equipment and weapons used by U.S. troops in the Battle of Midway and the D-Day invasion are raising awareness and conversations among hundreds of Sailors and civilian technologists at Naval Support Facility Dahlgren.
Udo Goff believes the artifacts he is exhibiting also raise crucial questions.
The retired Navy commander - reflecting on the June 4-7, 1942 Pacific naval battle and the June 6, 1944 Normandy invasion - asks: Could we do that today? Do we have the love of country? Are we willing to make those sacrifices if called upon?
"It's not really about the weapons or the uniforms, it's about the people," said Goff, explaining that he knows the answers after three years of setting up exhibits and speaking with Sailors and Navy civilians.
"I'm absolutely convinced that the answer is 'yes' to all of my questions - our military men and women are proving this every day," said Goff, who was one of the Army's youngest 2nd lieutenants at age 19 toward the end of the Vietnam War and one of the Navy's oldest ensigns at 33-years-old after a decade break in service.
"I have the opportunity to come in contact with Sailors, instructors, students, engineers, scientists and staff," said Goff, currently a defense contractor supporting Naval Surface Warfare Center Dahlgren Division (NSWCDD). "Their interest in history keeps me motivated to press on with my collection and also makes me thankful to see that the same dedication that existed in our military in World War II still exists today."
Goff's discussions with military and civilian personnel on World War II history typically takes place at the lobbies of the two buildings where his displays are featured.
The Battle of Midway exhibit is on display at the Center for Surface Combat Systems (CSCS) and the Aegis Training and Readiness Center building lobby until June 10.
Exhibit items include U.S. Navy officer swords, ship recognition models, an aviator flight cap and radio headset, various uniforms, and the battle flag of the USS Ray (SS-271) marked to reflect 12 Japanese vessels sunk in addition to crew members' personal decorations (including three Navy Crosses), a Navy Unit Commendation, eight war patrols, and 23 rescued airmen - ten from an Army Air Corps B-29. Japanese artifacts on display include a Samurai sword, a Japanese naval officer's dagger, and military helmets.
"We are very thankful that Mr. Udo Goff continues to support our Battle of Midway event with items for display," said CSCS Command Master Chief Lewis Wilson. "This year, we have some new additions and they have been noticed rather quickly by our military and civilians. The visual reference and stories told by the displays are key to generating and continuing interest in our naval legacy."
The Normandy D-Day invasion exhibit can be seen in the NSWCDD Electromagnetic and Sensor Systems Department lobby until June 12.
"Having these wonderful artifacts from Normandy reminds us of the critical role engineers play in the success of our men and women in uniform," said Cmdr. Shawn Cowan, NSWCDD senior military deputy for Human Systems Engineering. "The systems we design today may well be the key to saving lives and achieving victory in a future conflict."
Normandy exhibit items included a Normandy invasion lifebelt, WWII reserve parachute, Normandy invasion "cricket" device, a Thompson submachine gun, a German Walther PPK Pistol, and a Nazi SS officer's visor hat.
"When viewing the Normandy invasion exhibit, I immediately noticed the lack of war fighting technologies compared to what DoD (Department of Defense) uses today," said Qi Rong (Bruce) Yang, a Pathways intern assigned to NSWCDD. "Despite the lack of technological advancement, our (World War II) heroes never deterred from putting themselves in front of danger to protect our nation. As a young naval civilian engineer, I dedicate myself to design accessible equipment to protect our warfighters in the same way they do for us. I think that makes our job that much more important and special."
Both the invasion of Normandy and the Battle of Midway are recognized as major turning points for the U.S. military and Allied forces during WWII.
The Normandy invasion is credited as being essential to winning the war on the European front.
Nearly 160,000 Allied troops landed along a heavily fortified, 50-mile stretch of French coastline in the historic operation known as D-Day. More than 9,000 Allied soldiers were killed or wounded on the beaches of Normandy, but by day's end, the Allies had gained a foothold to begin liberating Europe.
The Battle of Midway - known as one of the greatest naval battles in history - changed the course of the war in the Pacific.
During the battle, seven ships sank and 3,364 men lost their lives in the service of their respective countries.
Midway was a dramatic victory. Facing four Japanese aircraft carriers, the U.S. Navy won the battle with only three aircraft carriers-Enterprise (CV-6), Hornet (CV-8), and Yorktown (CV- 5) augmented by land- based fighters, bombers, and torpedo planes from Midway. Soon after the Battle of Midway, the U.S. and its allies would take the offensive in the Pacific.
Thanks to American code breakers, Adm. Nimitz knew Japanese intentions and employed his forces accordingly. Midway Airfield was ready with 105 land-based Navy, Marine Corps, and Army Air Forces search and combat planes, providing critical support to his battle plan. Thanks to American signals intelligence, judicious aircraft carrier tactics, and more than a little luck, the U.S. Navy inflicted a decisive defeat on the Japanese navy.