Brandywine Man Charged with 3 Armed Robberies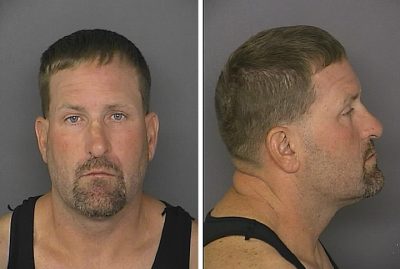 Todd O'Neil May, age 44 of Brandywine, Md.
LEONARDTOWN—Detectives from the St. Mary's County Sheriff's Office, Criminal Investigations Division, have identified Todd O'Neil May, age 44 of Brandywine, as the suspect responsible for 3 recent armed robberies which occurred at the Burchmart, Dollar General, and 7-Eleven in Mechanicsville. A warrant was issued for May's arrest.
On June 14, patrol deputies and members of the Sheriff's Office K9 Unit located a suspicious Dodge Ram pickup truck parked near a business in Lexington Park. Detectives determined the truck belonged to May. A search and seizure warrant was executed on the truck and evidence was recovered.
On June 14, at approximately 9:00 p.m., May turned himself in at sheriff's office headquarters after seeing himself on the internet and learning a warrant had been issued for his arrest. May was transported to the St. Mary's County Detention Center where he was served an arrest warrant charging him with: 3 counts - Armed Robbery; 3 counts - Robbery; 3 counts - 1st Degree Assault; 3 counts - 2nd Degree Assault; and 3 counts - Theft Under $1,000.
May remains incarcerated on no bond.
Heroin Arrest
Investigators from Maryland State Police, Criminal Enforcement Division-Central South Region and Homeland Security Investigations (HSI) initiated a collaborative investigation into the illegal sales and distribution of heroin on Lamal Lamonte Wise, 26 of Brooklyn Park, Anne Arundel County.
During the course of the investigation, several undercover buys of heroin were conducted with Wise and his associates.
On June 12, 2015, with the assistance from Maryland State Police S.T.A.T.E. Team and the MSP-Gang Enforcement Unit, four search and seizure warrants were executed within Baltimore County, Baltimore City and Anne Arundel County. The search warrants resulted in the recovery of an outdoor marijuana grow, several grams of heroin, U.S. Currency and a 2010 Acura TL.
Wise was located at a residence in Baltimore County and placed under arrest without incident. He was charged with two counts of possession with intent to distribute heroin, two counts of distribution, two counts of possession of heroin, and three counts of common nuisance. Wise was later transported to the Anne Arundel County Detention Center and is being held on a NO BOND status.
Additional charges are pending a review with Anne Arundel States Attorney's Office.
Impaired drivers arrested this weekend by state police team averaged twice the legal limit
PIKESVILLE—For the second time this spring, a trooper with the Maryland State Police impaired driving enforcement team actually had a drunk driver run into him, as the team arrested more than one dozen drunk drivers, one of them twice, who had an average blood alcohol content of more than twice the legal limit.
Maryland State Police troopers are trained in how to look for impaired drivers, but too often impaired drivers are finding the troopers by running into them. Troopers from the State Police Impaired Driving Reduction Effort, or SPIDRE Team, had that happen over the weekend, the second time it has occurred this spring.
As SPIDRE Team troopers were working in Montgomery County this past weekend, one trooper was out with an impaired driving arrest while a second trooper was parked behind him to assist, shortly after 2:00 a.m. on the morning of June 14, 2015. A driver on westbound University Blvd, east of September Lane, sideswiped the patrol car and continued on. Troopers stopped the car a short distance away and arrested the driver, who was also impaired.
In another incident, a driver was stopped by a SPIDRE Team trooper on I-95 for traveling 94 mph in a 65 mph zone. The driver said he was on his way to work. He was arrested for impaired driving and his blood alcohol content was more than twice the legal limit. He was transporting his seven-year-old child at the time.
One driver was arrested for impaired driving and, after being charged, was released to his wife. Hours later that same evening, SPIDRE Team troopers saw him driving again, while exhibiting signs of being an impaired driver. He was stopped and, upon further investigation, was arrested a second time for impaired driving. His blood alcohol content was over twice the legal limit during both of his arrests.
During the weekend, the SPIDRE Team arrested 13 impaired drivers, four of whom were repeat offenders, while focusing their patrols on Rts. 650, 29, 97, and 193, Piney Branch Road, Carroll Avenue, I-495 and I-270 in Montgomery County. The average blood alcohol content of those arrested was .17. The legal limit for impaired driving in Maryland is .08.
Throughout the rest of Maryland over the weekend, troopers arrested another 67 impaired drivers.
Charles County Sheriff's Office Announces Application for Grant
LA PLATA—The Charles County Sheriff's Office and Charles County Circuit Court announces it will apply for the Edward Byrne Memorial Justice Assistance Grant (JAG) Formula Program through the United States Department of Justice. The JAG Program provides states and units of local governments with critical funding necessary to support a range of program areas including law enforcement, prosecution and court programs, prevention and education programs, corrections and community corrections, drug treatment and enforcement, crime victim and witness initiatives, and planning, evaluation and technology improvement programs.
Charles County is eligible for $42,450 through this grant, which combines the Byrne Formula and Local Law Enforcement Block grant programs to provide agencies with the flexibility to prioritize and place justice funds where they are needed most. The program allows states, tribes and local governments to support a broad range of activities to prevent and control crime based on their own local needs and conditions.
The Sheriff's Office invites citizens wishing to make comments or review the Sheriff's and Circuit Court's JAG application to contact Karlee Adams, Grant Coordinator, at 301-609-3279. All comments should be made by July 15, 2015.